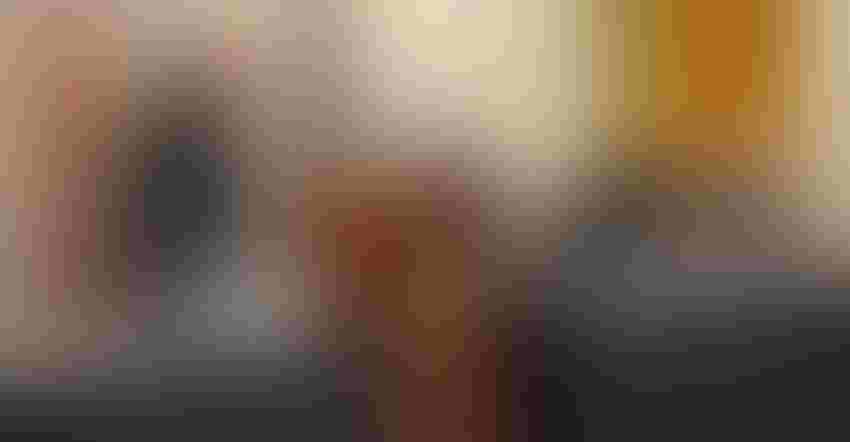 VISITING WITH FARMERS: Four of Pennsylvania's representatives visited with farmers at Farm Show for an agriculture listening session. Pictured are Glenn "GT" Thompson (left), Dan Meuser, Dwight Evans and Lloyd Smucker.
Farmers in need of emergency loans, or who want to put some acreage in a federal conservation program, will find themselves shut out if the partial government shutdown rolls on.
But at his congressional listening session, Rep. Glenn "GT" Thompson, R-15, said that, despite the inconveniences, the farmers he talks to are backing President Donald Trump.
"I talk to these folks all the time. More times than not, I'm hearing from our agriculture community … 'Construct the wall,'" said Thompson, who sits on the House Agriculture Committee. "They get it. They know that security is important."
The partial government shutdown began just before Christmas as federal funding lapsed for several agencies, including the Farm Service Agency and the Environmental Protection Agency, due to a budget standoff between Trump and Congress over border wall funding.
"They (farmers) get how important, first and foremost, the safety and security of our nation is. Although they're being impacted in some inconvenient ways, by and large they understand the importance of the issue of the day right now," he said.
Thompson said the shutdown has stopped work on the recently passed farm bill, which he lauded for its authorization of revamped dairy assistance programs, investments in rural broadband internet and more money for export assistance.
Congressional members visit farmers
Thompson hosted his annual congressional listening session on opening day of this year's Pennsylvania Farm Show. Four of the state's representatives took part in the listening session, where they answered questions and gave their insight on legislative issues in Washington.
There was a lot of talk on the newly passed farm bill and on provisions affecting farmers.
Thompson said recently passed standards that would allow schools to offer flavored and whole milk will help recruit "a whole new generation of milk lovers, and that's most important for our dairy families."
Rep. Dwight Evans, D-3, said tax policies should help support small farmers, whom he likened to small businesses. Thompson said having many small, family farms helps diversify risk.
"When you only have a handful of large farms, if you have one animal health issue on that farm, those commodities won't be trucked off, they will be quarantined," he said. "That's the beauty of our average-size farms in Pennsylvania. I think it protects us, it spreads our risk out."
Rep. Dan Meuser, R-9, said that government should help create an environment for small farms to grow, including more access to trade.
Immigration was also a hot topic during the listening session. Fielding a question from Rick Ebert, president of Pennsylvania Farm Bureau, Thompson said he is working on a bill that would target ag workforce needs, including a new visa system run by the USDA, without tackling the overall immigration issue.
"I think we should focus like a laser on food security and agriculture workforce," he said.
Evans said immigration is an issue where the Pennsylvania congressional delegation could have a big impact. "People have to make a distinction between politics and content," he said. "We need to figure out some ways to get over this hurdle."
Rep. Lloyd Smucker, R-11, said mushroom growers in his former congressional district, which included Chester County, missed pickings last year because they didn't have the people to fill spots that were available.
"It's really going to depend on whether folks will be able to work with each other," said Smucker on the prospect of passing immigration reform.
But Meuser said that border security needs to come first.
"Once that's taken care of, then the other things can come into play," he said.
Subscribe to receive top agriculture news
Be informed daily with these free e-newsletters
You May Also Like
---