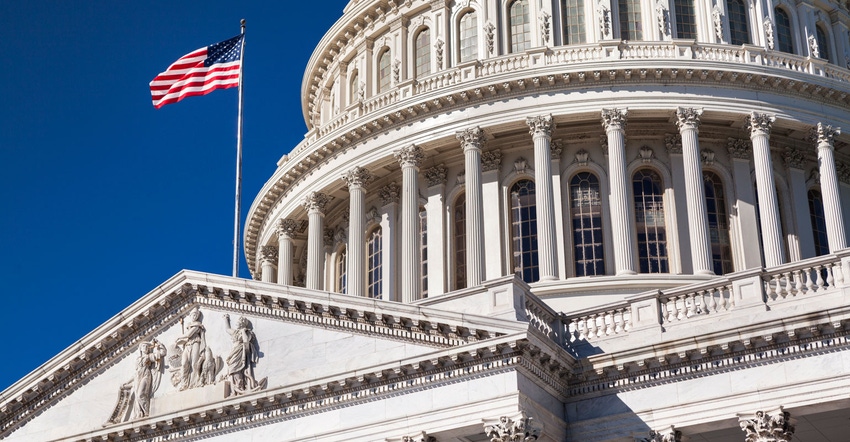 D.C. WRANGLING: Sen. Pat Roberts says the chances of another government shutdown are slim and should not hinder farm bill implementation.
Pgiam/Getty Images
Sen. Pat Roberts, R-Kan., chairman of the Senate Committee on Agriculture, Nutrition and Forestry, says he's not worried about another possible government shutdown slowing down implementation of the 2018 Farm Bill.
He told attendees of last week's Farm Foundation forum on farm bill implementation that continued concerns over trade and economic issues facing farmers make this farm bill a high priority to get implemented.
Steve Censky, deputy secretary of USDA, says the department is moving quickly to implement the farm bill and will soon announce listening sessions on farm bill implementation.
Top priorities for program implementation, he says, are the new Dairy Margin Coverage program, and the Farm Service Agency's Agriculture Loss Coverage-County and Price Loss Coverage programs.
DMC is a replacement for the previous Margin Protection Program-Dairy. It provides protection when the difference between the U.S. all-milk price and the national average feed cost (computed by formula) drop below a dollar amount selected by the producer. It is seen as a much-improved version of the previous MPP.
The new program allows dairy farmers to cover between 5% and 95% of their existing production history. It will cover margins between $4 and $9.50 in 50-cent increments up to the first 5 million pounds for Tier 1 coverage. Tier 2 coverage, more than 5 million pounds, is between $4 and $8.
Farmers will also be able to use the program together with Livestock Gross Margin and Dairy Revenue Protection.
According to the Sept. 23 update by USDA, 22,235 operations — 76.8% of operations with established production history — have enrolled in DMC. The department estimates payments of at least $297.7 million with an average $13,384 per operation.
Alan Bjerga of the National Milk Producers Federation says current forecasts are calling for dairy margins to run between $8 and $10 per cwt the next couple of years.
The ARC and PLC programs were authorized in the 2014 and 2018 farm bills, but changes were made to the 2018 version.
Program implementation for 2019 ARC and PLC started Sept. 3. Enrollment for the 2020 crop year will begin Oct. 7.
Farmers could previously only make a one-time election for ARC or PLC over the lifetime of the five-year farm bill. Starting with the 2021 crop year, however, a farmer can change their ARC-PLC election each year through 2023.
A second major change is the option to update program yields for PLC. A farmer will have a one-time option to do this update, but the formula is complicated. Go online for more information.
Crucial farm bill
Barry Flinchbaugh, professor emeritus at Kansas State University, says the 2018 Farm Bill might be the most significant legislation he has seen considering the struggles farmers are going through right now.
A vocal critic of President Donald Trump's trade policies, Flinchbaugh once again called agriculture "an innocent bystander" to a trade war that he described as stupid.
Net farm income, he says, has been cut in half in the past five years.
"That's an astounding statistic. We've got problems in farm country," he says.
While Market Facilitation Program payments are a help, they are grossly insufficient, he says.
"So ag needs this farm bill, more so than it's needed any previous farm bill since the mid-80s," he says.
Evolutionary, not revolutionary
Tara Smith, vice president of federal affairs for Michael Torrey Associates, says the 2018 Farm Bill makes incremental changes to things such as crop insurance.
Key changes include the addition of hemp crop insurance as a new product, but by and large the farm bill made small improvements to existing programs.
She says that getting the Foreign Market Development Program up and running is critical, especially with continued trade tensions.
The program, also known as the Cooperator Program, helps to create, expand and maintain long-term export markets for U.S. agricultural products.
Dairy Margin Coverage payments by state
Here is the amount of Dairy Margin Coverage payments going to states in the Mid-Atlantic and Northeast and average payments per farm. These are USDA estimates as of Sept. 23:
Pennsylvania: 76.8% signed up, $10,726 average per farm, $22.5 million total payments

New York: 75.3% signed up, $11,635 average per farm, $26.7 million total payments

Vermont: 75.9% signed up, $12,315 average per farm, $6.7 million total payments

New Hampshire: 75.5% signed up, $12,132 average per farm, $824,985 total payments

Maine: 79.91% signed up, $10,478 average per farm, $1.875 million total payments

Connecticut: 72.63% signed up, $13,470 average per farm, $930,151 total payments

New Jersey: 68.9% signed up, $11,375 average per farm, $352,637 total payments

Maryland: 78.7% signed up, $12,854 average per farm, $2.6 million total payments

Delaware: 75% signed up, $18,347 average per farm, $275,205 total payments

West Virginia: 78.9% signed up, $8,520 average per farm, $383,803 total payments
Subscribe to receive top agriculture news
Be informed daily with these free e-newsletters
You May Also Like
---