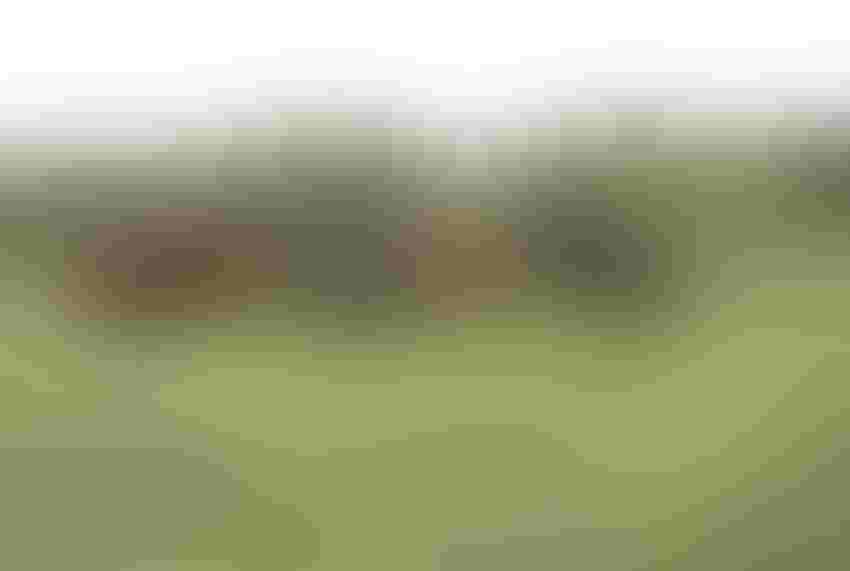 Bunched together at 800,000 pounds when they first enter the paddock, the cows soon spread out a bit and got busy grazing.
It's a common question for beef producers to ask why people would move cattle to fresh pasture every day or even more frequently.
The answer is first and foremost for profitability.
Yet many things happen under ultra-high-stock-density grazing which lead to this increase in profits.
One of these -- higher forage harvest efficiency and more weed and brush consumption -- was noted in the summer of 2015 by Oklahoma rancher Kim Barker when he had a ranch intern moving cattle on a lease property near the little town of Cleo Springs. The ranch lies right along the Cimarron River and is mostly very sandy ground, with some nice bottom land and a lot of upland sand hills. These, in particular, are very brushy and weedy.
Barker has the ranch leased, as well as the cattle which were on the ranch since about three years ago. Up to that time, the property had been managed mostly as a set-stocked cow operation and therefore in the sandy, brushy ground had a very low stocking rate; less than 100 cows on about 5,000 acres.
When Barker's intern, Jack Anderson of California,  began to move the cattle to very small paddocks several times per day, they could see the cattle grazing more thoroughly and very obviously selecting plants they normally did not seem to eat. This included but was not limited to:
A yarrow quite common on the ranch

Tamarisk (tamarack) trees
Upon leaving each paddock, very little plant material remained on the ground that had not been bitten or stepped on. Actual consumption of brush species seemed to vary a lot between paddocks.
The August afternoon this author visited the ranch, Barker and Anderson put the cattle into a temporary paddock that measured about 6,500 square feet. If one calculates the combined weight of about 75 cows and 65 calves at just over 100,000 pounds, this means that first paddock received about 800,000 pounds of stock density. This is very high stock density. Usually anything over 200,000 pounds is realistically considered ultra-high-stock-density grazing these days, although some managers work at times with densities of one million pounds and higher per acre.
The secret is to move the cattle very quickly, not making them eat everything but yet hoping they will affect nearly every plant with grazing or stomping and also provide very uniform distribution of urine and dung. These are the essence of ultra-high-density grazing.
In turn, those things protect the soil with more forage laid down, and feed the soil microbes with the urine and dung.
Further, long rest periods allow the plants to put down deeper and bigger root systems, which also feeds and houses soil life, which in turn increases natural fertility and drought resilience.
But let's get back to the stocking rate and weed consumption, because this is a clear point of advantage which happens immediately after a change to high-density grazing management.
"Jack and I figured it up after we'd been doing this a few days," Barker said, "and it would take us about 10 years to get over the ranch at this rate."
On the face of it, this implies a 10-times increase in stocking rate, or something close to it.
Historically, ranches that manage with controlled, planned grazing typically attain increased stocking rates by double and triple within a very few years.
Subscribe to receive top agriculture news
Be informed daily with these free e-newsletters
You May Also Like
---