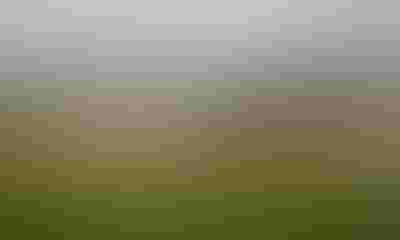 One thing's for sure — it's been an interesting year for irrigators. What started off hot and dry in March soon turned wet in late April and May. While many corn and soybean growers experienced a hot and dry June and July, some in east-central Nebraska caught ample amounts of rainfall.
Keith Byerly, Advanced Cropping Systems manager at Central Valley Ag, discusses four key takeaways from this year's irrigation season:
• Active root development early in the season pays off later. This season growers in the eastern part of Nebraska saw periods of dry weather mixed with periods of wet weather, and different regions saw rain at different times, especially during June.

TIME HEALS ALL WOUNDS: But that's not always a good thing. Keith Byerly says it's important to talk to your trusted adviser and plan for next year's irrigation season, while this year's challenges are still fresh in your mind.
"Those folks that were wet in June saw their root development limited for the rest of the season," Byerly says. "Corn plants aren't going to waste a whole lot of energy to develop active roots deeper down if they can put the same energy into growing root hairs in a shallower depth."
However, when corn plants go from the vegetative to pollination stages, root development is finished. That's why it's important to develop active roots early on.
• External stresses still dictate in-season management. When pollination rolls around, corn plants are done putting on plant matter. At that point, the crop is putting all its energy into pollination, and later accumulating dry matter in the kernels. That's why it's important to minimize the amount of stress like heat or drought on the crop, especially after tassel to optimize dry matter accumulation.
"The last 6 inches of water that goes into our corn has 50% of the dry matter accumulation tied to it," Byerly explains. During the last 30 days of the plant's growth, heat, sunlight and moisture are the determining factors in mitigating stress and realizing the remaining yield potential. "For irrigated growers, the only thing they can do to make sure stresses are minimized is to make sure that plant is actively getting water it needs up until the time we're done with growth."
• It pays to invest in technology ahead of time. Whether it's a lighter irrigation year like 2014 or 2015, or a year like 2016 with a wide range of rainfall events and dry periods, growers with soil moisture sensors have seen this technology pay for itself.
This year, when the rain shut off in late June and early July, some growers were a little late to the game when they wanted to put soil moisture probes in their fields. That's why it's important to make those decisions before the season starts. "A lot of growers in the middle of this season said, 'I need to do something better, I need more information,'" Byerly says. "Our root development was pretty well done, and if you put a probe in too late, you don't see the things and get the benefit you would if you put it in earlier."
• Time heals all wounds — and not necessarily in a good way. As growers wrap up the irrigation season, planning for next year might be the last thing on their mind. However, Byerly notes it's important to talk to your trusted adviser when this year's challenges are fresh in your mind.
"All the stresses you experienced this year are fresh in your mind in September and October. They go away in December and January, and all of a sudden when you're talking about putting a probe in a field in March, and it doesn't seem like last year's season was all that bad anymore," he says. "So talk to your adviser now, take your notes now, so after time heals all wounds and you get nostalgic about 2016, you can say 'I could have done this better and had an opportunity to improve here.'"
Subscribe to receive top agriculture news
Be informed daily with these free e-newsletters
You May Also Like
---