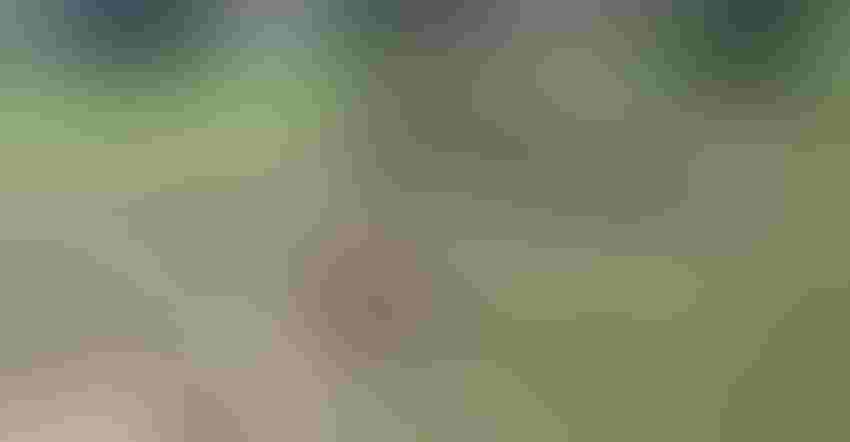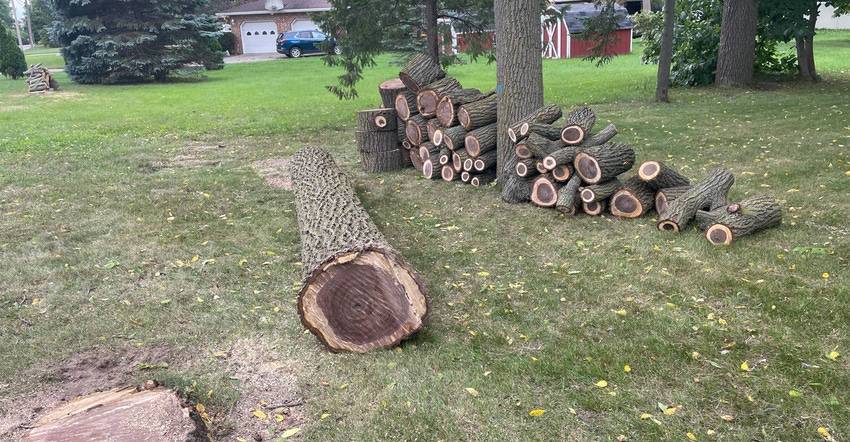 LINE CLEARING: Here is one of two black walnut trees Consumers Energy recently had cut down because its branches posed a threat to power lines. The trunks are being sawed into lumber to be made into projects or furniture.
Jennifer Kiel
Early this summer, I heard a knock on the door about 8:30 a.m. It was so faint, it was like whoever was there really didn't want me to answer.
But I did anyway and cracked the door just as a young woman was starting to leave a hanging notice on the door handle. Instead, she greeted me and identified herself as the forestry planner working with Consumers Energy's (my electric and gas provider) tree clearing service.
She went on to explain that she had marked — with a blue, spray-painted X — four of the large black walnut trees in my front yard for removal. "What … removal?" I asked with great shock. Never in the 20 years I've lived at this address had any of the trees on this property caused a power outage. In fact, those sturdy walnuts rarely lose a branch of any size.
Regardless, she explained Consumers Energy has a 15-foot easement surrounding its poles and lines, giving it legal authority to remove or trim trees. She also marked another walnut and a pine tree for trimming.
These walnut trees were planted by my grandfather — my dad's dad — some 80 years ago when this property was a farm with cows, chickens, rabbits and more. It was long before lots were broken off, and everything was absorbed into the city limits.  
These healthy and vibrant trees carry with them history and a family connection, not to mention front yard aesthetics and shade.
My reaction was unstoppable and immediate. … I simply stood there speechless, with lips pursed and tears streaming. I'm pretty sure she wished she hadn't knocked at all.
The love-hate relationship
My love-hate relationship with the more than a dozen black walnut trees in my yard continues. Some of you may recall me writing about them a year ago at this time. Read the story here. 
Black walnut trees — through their roots, leaves and walnut husks — give off a natural herbicide known as juglone, which kills off nearby susceptible plants and trees. It's the reason I can't grow a garden. The nuts require gathering, and when the husks decay, they leave a black goo and a permanent stain on everything they touch.
Even so, I never wished them dead. I appealed the decision, first to the city manager, next to the Consumers Energy public affairs manager and then ultimately to the CE forester, who proceeded to visit with me and inspect the trees himself. He made a compromise. With some strategic trimming, he agreed to allow two of the trees to stay, but two would still have to go.
Months later, in September, the crew arrived, and the deliberate and visceral sound of wood being ripped apart reverberated through my bones. I couldn't watch them take the first tree, but the house shook as it crashed down.
As they started to work on the second, removing all the limbs, I made my way to the side yard. Holding my phone deliberately not to pick up any emotion, I recorded its last day. Maybe it's silly to be attached to trees, but to me, they were monuments of life at 710 W. Park Street.
The smaller limbs were chipped up on-site, and the larger limbs were chunked up. For a few dollars, I offered them on a trader website, thinking they could be sliced into slabs for wedding centerpieces or other rustic-chic uses. Sure enough, a gentleman in a nearby town stopped to pick up enough for his daughter's wedding. It brought a smile to my face to know its journey was not yet over.
The 10-foot-long trunks were loaded up and taken to a family friend with a mill, where they will eventually be sawed into boards, dried and hopefully crafted into furniture. In that way, their existence is preserved, and in my case, treasured for many more years to come.
Subscribe to receive top agriculture news
Be informed daily with these free e-newsletters
You May Also Like
---