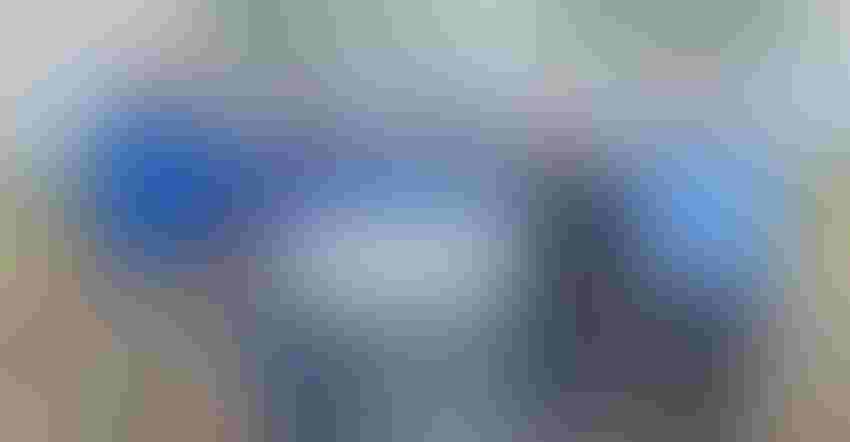 BIG CHECK: Joe Potts, Verdesian (left); Mark Endres, Mark Van Dyke, Jeff Cleveland, all of CHS Farmers Alliance, Ethan, S.D.; and Dave Schwartz, Verdesian, all pose with a $30,000 check Verdesian awarded to CHS Farmers Alliances to spend on community projects as one of the winners in Verdesian's Performance Guarantee program.
It's not often a small farm town gets a check for $30,000. But that's what happened recently in Ethan, S.D. (population 329).
CHS Farmers Alliance Co-op, Ethan, S.D., won $30,000 from Verdesian Life Science to spend on local community causes.
Verdesian's donation was part of its Performance Guarantee Program. The program allows farmers to try two of Verdesian's products risk-free. Verdesian promised a full refund if first-time users of Avail-Phosphorus Fertilizer Enhancer or NutriSphere-N Nitrogen Fertilizer Manager didn't see a return on their investment.
"We strongly believe in our technologies and how they can benefit growers," says Dave Schwartz, vice president of sales in plant nutrition at Verdesian. "The Verdesian Performance Guarantee program is a way to introduce our company and prove to growers our commitment to providing solutions that are both sustainable and profitable."
Go online for more information about Verdesian and its products.
To enter the giveaway, retailers were asked to sign their customers up for the Verdesian Performance Guarantee. At the end of the enrollment campaign, Verdesian representatives drew two names out of a hat: one grower to win a brand-new truck, and one retailer to receive $30,000 in charitable donations. A Wisconsin farmer won the truck.
Mark Endres, CHS Farmers Alliance manager, divided the $30,000 between five programs in Ethan: $8,000 to upgrade the baseball diamond park, $10,000 for the public school, $5,000 for the city, $4,000 to complete the American Legion memorial park, and $3,000 to fund children's art classes and other needed resources at the community center.
It seems there were a lot of winners in this — farmers got to try some new products risk-free, which is always a plus; Ethan got some unexpected cash for its community projects; and Verdesian got some good publicity.
It seems like a good deal all around.
Subscribe to receive top agriculture news
Be informed daily with these free e-newsletters
You May Also Like
---