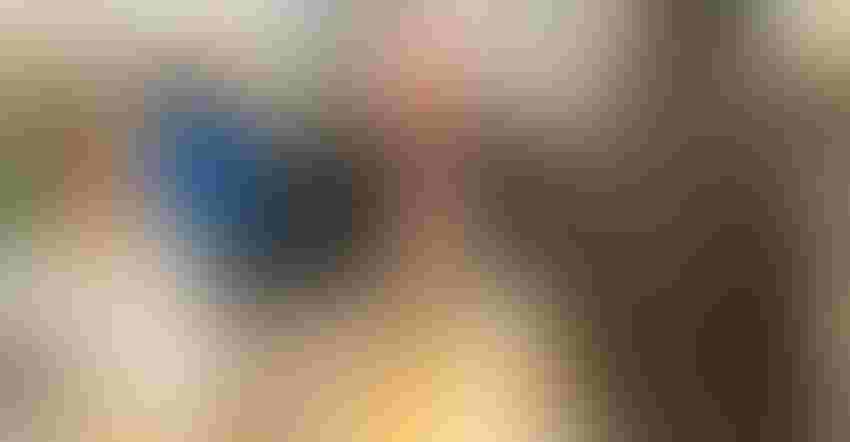 LUNCHROOM REBEL: USDA Secretary Sonny Perdue had lunch with students in Virginia before announcing an interim rule providing flexibility to the National School Lunch Program that includes increasing the fat content in chocolate milk.
Lance Cheung, USDA
I can still remember picking up the hard orange plastic divided tray at the start of the school lunch line. I placed it on the rails and moved it down in haste. Honestly, it did not matter what went on the tray — as long as I made it to the milk case in time to land one of the highly coveted chocolate milk cartons. If I did, I snatched it up with a great thrill of victory.
Sitting with my friends, I opened it up and took a long drink. I savored it. Why? Growing up the farm we had milk all right, but not chocolate milk. That was just one of those extras we could not afford. On a rare occasion, my mom would buy chocolate flavoring to mix with the milk, but it still didn't taste like those small cartons from school.
Changes to school milk
Back then, 2% chocolate milk was allowed in schools as part of the National School Lunch Program. When my eldest child was in school, it was 1% chocolate milk. By the time my youngest graduated in 2012, all the chocolate milk left in the case was fat-free.
Now, I am one for healthy living and eating, but if I am drinking chocolate milk, well, I want it to taste as good as it sounds. Fat-free chocolate milk to me is watered-down chocolate syrup in your mouth. That is exactly how I explain the taste to others.
So when USDA Secretary Sonny Perdue made one of his first actions at the USDA to allow school districts to again offer at least low-fat or 1% flavored milk as part of the school lunch program, I shook my fist at the computer screen and yelled, "Yes!"
Decline in consumption
When the USDA eliminated low-fat flavored milk as an option in the school meal and à la carte programs, consumption of school milk declined. In just the first two years after low-fat flavored milk was removed from the program, 1.1 million fewer school students drank milk with their lunch, according to Jim Mulhern, president and CEO of the National Milk Producers Federation. Mulhern says that adding a variety of milks and other healthy dairy foods is integral to child nutrition programs in schools.
Perdue not only brought back chocolate milk, he also brought back strawberry-flavored milk.
While it is not quite back to that 2% or even whole chocolate milk standard, it is a step in the right direction. What individuals fail to realize is that the drinking of occasional chocolate milk at school does not lead one to obesity. For many, like me, this was a school treat.
Bring back the milk drinkers
My parents did not look for the government to dictate my food calorie, source or nutrition intake. That was done at home. However, I understand that many children are not that fortunate. They lack the emotional and financial backing of parents. So while there is a need for nutrition values in the school lunch program, those requirements can go too far. Perdue agrees.
"If kids aren't eating the food, and it's ending up in the trash," he says, "they aren't getting any nutrition — thus undermining the intent of the program."
So his recent actions to bring back higher fat content in chocolate milk represent that of any mother, father, grandmother or grandfather. He wants kids to eat healthy — but above all, he wants them to eat.
"I've got 14 grandchildren, and there is no way that I would propose something if I didn't think it was good, healthful and the right thing to do," Perdue says. It is a sentiment echoed by dairy farmers across the country.
So, lift a glass to milk — the one beverage, whether white, chocolate or strawberry —that brings joy to millions of students during lunch.
Subscribe to receive top agriculture news
Be informed daily with these free e-newsletters
You May Also Like
---