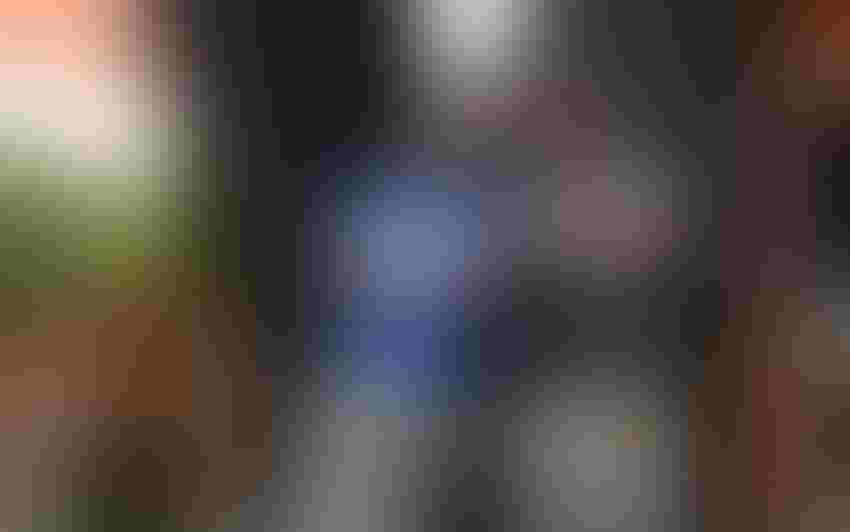 Forest entomologists Steve Seybold (right) and Jackson Audley stand in front of a black walnut tree in Davis.
Kathy Keatley Garvey/UC-Davis
UC Davis doctoral student and forest entomologist Jackson Audley has received the 2019 Western Forest Insect Work Conference (WFIWC) Memorial Scholarship Award for his research on the chemical ecology of an invasive bark beetle, the walnut twig beetle.
Audley, who conducts his research in a commercial orchard near Winters, investigates behavioral chemicals that repel the walnut twig beetle from landing on English walnut trees. The walnut twig beetle (Pityophthorus juglandis), in association with a canker-producing fungus, Geosmithia morbida, causes the insect-pathogen complex known as thousand cankers disease.
 "The disease threatens both native black walnuts across North America and agriculturally important English walnut, particularly in California," Audley said, who received the $1000 award at the recent conference in Anchorage. "My research focuses on improving our understanding of the walnut twig beetle's chemical ecology and developing a semiochemical repellent tool to manage the threat."
The scholarship memorializes Mark Duane McGregor, a bark beetle management specialist who died in April 1990 while conducting forest entomology research in Idaho. The scholarship has since expanded to honor other deceased WFIWC members.
Audley, who expects to receive his doctorate in entomology by December 2019, is co-advised by Steve Seybold, lecturer and faculty affiliate with the UC Davis Department of Entomology and Nematology and a forest entomologist and chemical ecologist with the Pacific Southwest Research Station, USDA Forest Service, Davis; Associate Professor Louie Yang of the UC Davis Department of Entomology and Nematology, and Professor Richard "Rick" Bostock of the UC Davis Department of Plant Pathology. The Bostock lab is heavily involved with the chemistry side of Audley's repellent research. Seybold and Bostock have shared a California Department of Food and Agriculture grant with the doctoral student.
Audley is invited to deliver a plenary lecture on his dissertation at the WFIWC meeting next year in Calgary, Alberta.
Growing up in Georgia
Audley, who was born in Washington D.C., but spent most of his childhood in Atlanta, Ga., was first introduced to forest entomology while he was a student at the University of Georgia, Athens, where he received his bachelor of science in wildlife biology and natural resource recreation and tourism in 2009. He then received his master's degree in forestry in 2015 from the University of Tennessee, Knoxville, where he focused his thesis on managing the walnut twig beetle (WTB) in cut black walnut logs, live edged boards, and nursery stock. He joined the UC Davis doctoral program in September 2015.
"My academic and work history have shaped my interest in researching invasive bark and wood boring beetles," Audley said in his award application. "I am fascinated with the biology and ecology of these invaders and their interactions with native, often naïve host trees. My plan is to continue to pursue research pertaining to the ecology and management of invasive bark and wood boring beetles, focusing on chemical ecology and semiochemical disruption."
His research at UC Davis includes conducting field-based research relating to the chemical ecology of WTB in northern California walnut orchards and native riparian forests; assisting on several WTB-related research projects, including a trial on the efficacy of emamectin benzoate in protecting walnuts from WTB and thousand cankers disease (TCD), and a project assessing the impact of WTB and TCD on the productivity of English walnut orchards in California. In addition, Audley has monitored and sorted the trap catches from numerous walnut twig beetle flight intercept traps, maintained year round in northern California and performs sorting and identification for similar traps maintained by the Tennessee Department of Agriculture.
Active in WFIWC, Audley delivered a presentation on the walnut twig beetle in 2018 as part of an invasive species symposium. He also serves as the student representative on the Founders' Award Committee. At UC Davis, he teaches and mentors students on forest entomology.
His career plans? "I plan to devote my career to conducting chemical ecology-based research of bark and wood boring beetles that threaten trees in forest landscapes in the western U.S.," Audley said. "In this capacity, I plan to continue adding to the scientific understanding of bark beetle ecology and management."
Audley aims to engage with the scientific community and public alike in the arena of forest health issues and sound forest management practices. "Our western forests are in dire need of sound forest management to return them to a healthier state, and I plan to conduct and disseminate research to help achieve that goal."
Source: University of California-Davis Department of Entomology and Nematology, which is solely responsible for the information provided and is wholly owned by the source. Informa Business Media and all its subsidiaries are not responsible for any of the content contained in this information asset. 
Subscribe to receive top agriculture news
Be informed daily with these free e-newsletters
You May Also Like
---