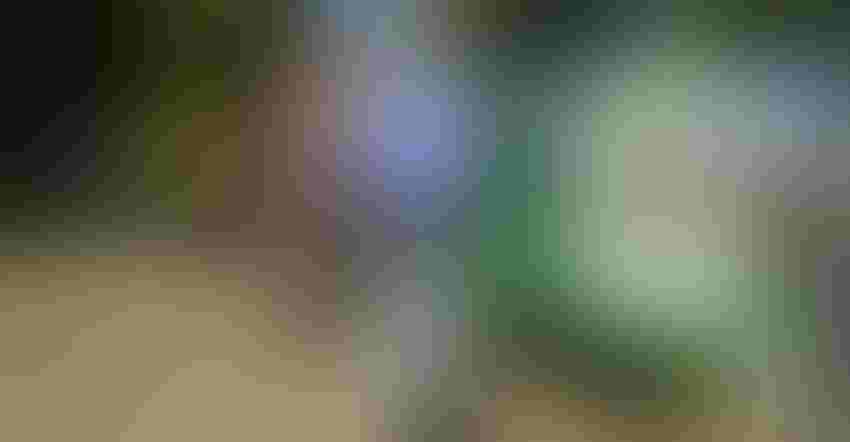 TRACTOR ENTHUSIASTS: Floyd and Nancy Koerner pose with the tractors they drove across the Mackinac Bridge this year — a 1963 Oliver 550 and a 1952 diesel Oliver 66.
When I talk to people like Floyd Koerner and his wife, Nancy, it makes me want to go out and purchase an antique tractor. They belong to the new 185-member Heart of Michigan Antique Tractor Club, and it sounds like they're having more fun than should be allowed.
Out of the 53 participating clubs this year, their club had the most tractors crossing the Mackinac Bridge – 143 with about 25 buddy riders.
In total, 1,466 antique tractors crossed this year, and each workhorse has a tale. However, Floyd's story is a little unique.
He has gone every year since its inception. That's noteworthy, but there are a number of others who are 10-year loyalists. However, not many of those can say they've not only driven over the bridge, but they drove to the bridge. That's no small feat because Floyd lives in Laingsburg, 260 miles away! And he's done it for the last six years. Floyd leads the group, which had 14 this year, in making the open-air trek.
Out of his personal fleet of about 20 antique tractors, Floyd drove his single-wheel 1952 diesel Oliver 66 this year. It tops out at 14 mph and it took 8.5 gallons of diesel fuel for the ride up and over.
For the trip up, Nancy drove a support vehicle hauling two tractors —her tractor to cross the bridge and an extra in case someone's breaks down. This year she was on a 1963 Oliver 550, which her father bought new. She has driven across every year except the first, because her tractor wasn't done.
To make the Friday morning crossing, rain or shine the group leaves at 7 a.m. the Tuesday before. They pick up a few more drivers in Bannister before breaking for lunch in Breckenridge. "We call ahead, so when we walk in, lunch is ready," Floyd says. They also stop in Coleman for ice cream — all along attracting some attention. Three miles  north of Harrison they hit old U.S. Highway 27 and parade into Houghton Lake where they spend the night, after logging 120-plus miles for the day.
The next morning starts at 8 a.m. The lunch stop is in the town of Waters, where Floyd says the Gobblers restaurant is a must. They chug into Indian River about 4 p.m. and leave the tractors at the motel. Others driving cars pick them up for dinner in town. Mackinaw City is the destination the next morning. They take little-known backroads to the staging area, arriving around 11 a.m.
"I don't know why we do this," Floyd says. "It was a harebrained idea, and we just ran with it. It's fun. We just have a ball."
It's also a family affair. This year, Floyd was joined by his son, Floyd III, and grandson, Caleb Stroup, for the ride up. In all, two sons, a son-in-law and five grandchildren all drove across the bridge, as well as two grandchildren as buddy riders.

MORE FUN: To add even a little more fun to tractor events, why not add ice cream? The Koerners installed this 5-gallon ice cream maker on the back of their 1963 Oliver 550. Nancy says they've made at least nine batches this year.
All along the route, Floyd says it's pretty peaceful. He's seen a lot of wildlife. He gets a special kick out of farmers waving while working the fields.
Nancy says, "The people we meet and the friends we've made over the years are just wonderful."
Most of the bridge crossing group is from central Michigan. However, one couple, George and Kay Hindever, trailer their tractor to Laingsburg and then ride the rest of the way.
It's not the only event of the year for Floyd and Nancy. They have logged about 1,100 miles this year on tractor drives. Another annual event involving a group of about 20 is a trip to Clare to have a sit-down supper at an Amish house.
They also run in "late parades" at Christmas time. "The Corunna parade is a really nice," he adds.
I asked if he ever gets fatigued or "tractor butt." He quickly replies, "It's not any worse than working in the fields all day."
And Floyd is still farming. He's out of the dairy business, but he farms about 750 acres of cash crops with son Floyd III.
Subscribe to receive top agriculture news
Be informed daily with these free e-newsletters
You May Also Like
---