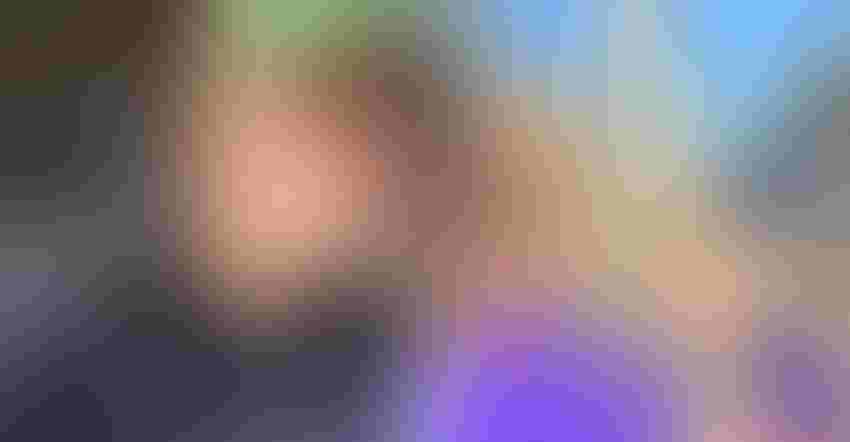 SPEAKING UP: Jamie Johansen knows why she is involved in forging agriculture's future — her young daughter, Harper.
Young farmers and ranchers need to be a voice in agriculture discussions.
"You can't go home and complain, if you are not willing to get your boots on and get dirty," says Jamie Johansen, Missouri Farm Bureau Young Farmers and Ranchers chairwoman.  
Johansen recently took the helm of the state's largest young farmer program. She says advocating for agriculture needs to be done at the county, state and national level.
"We need to be taking our voice to elected officials," she says. "If we aren't doing it, who will?"
The fourth-generation cattle producer spends her career traveling the world, telling the story of agriculture and its producers as an agricultural journalist. Still, she feels a need to be involved on the local level.
Heading home
Johansen, along with her husband, Kevin, and daughter, Harper, recently moved back to the family farm in Laclede County. The couple raise Hereford and Charolais cattle, selling purebred seedstock, show prospects, semen, embryos and breeding-age bulls to purebred and commercial producers.
"When we moved to Lebanon (Mo.), we knew it was going to be our forever home," she says. "We have family ties to the area and wanted to set down roots there." The move opened the door for the couple to start serving agriculture in their local community.
Admittedly, the pair was involved in Missouri Farm Bureau Young Farmers and Ranchers at the state and national levels, but never really invested the time and effort at the local level.
"We knew we wanted to serve and learn more," Johansen says.  So, they became members of the Laclede County Farm Bureau. Her husband serves on the County Board. Last year, the couple were delegates for District 8 on the state young farmers and ranchers committee. This year, Johansen serves as committee chairwoman.




DELIVERING THE MESSAGE: Laclede County cattle producer Jamie Johansen is the new Missouri Farm Bureau Young Farmers and Ranchers chairwoman. She took over during the conference in February. 
Learning the ropes
"I've been a part of Farm Bureau for many years," Johansen says, "from attending conferences to covering it in the media, but this is an even deeper side."
As chairwoman, she is an advisory member on the state board. Attending meetings allows her to see the insurance side, federation side and policy side of the Farm Bureau.
Johansen will make trips to the state capital in Jefferson City, along with one to Washington, D.C. "It will be good to learn about what is going on with agriculture issues at the state and national levels," she says. "My goal is to see how it impacts farmers and ranchers at the county level and then offer some insight to our members to take back to their local boards and communities."
Taking action
Missouri's young farmers are getting their boots dirty. "It is time we brag about ourselves," Johansen says.
Missouri consistently ranks among the top-10 producing states in beef cattle, hogs, soybeans, corn, rice, cotton, hay, poultry and goats, according to the Missouri Department of Agriculture. Not only are young farmers an important part of farming operations, but they also are investing time to educate and advocate for themselves.
Last year, there were more than 500 people attending the annual young farmers and ranchers conference. This year, organization leaders had to stop registrations at 615.
"They could be anywhere else," Johansen says, "but they are here." It is a sign of their commitment and passion for the industry.
With her young daughter already enjoying farm life and another child on the way, preserving the farm for the future is more personal now. Johansen says young farmers and ranchers need to carve time out of their busy schedules to get involved.
"It is important for us to use the tools organizations like Missouri Farm Bureau give us," she says. "We need advocacy and agriculture education at the county level. It's about getting back to local."
Subscribe to receive top agriculture news
Be informed daily with these free e-newsletters
You May Also Like
---