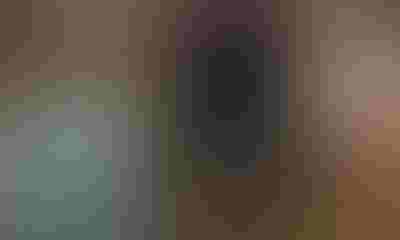 You can still find plenty of horse-drawn buggies in Indiana, especially in Amish country. Odds are you won't find many like this one, even around Amish settlements.
Two things make this buggy unique. The first is its design. Note how the large wheels allow the buggy to sit higher than usual above the ground. Buggies like this one from days gone by were generally called "high-water" buggies. They allowed drivers to get through roads with higher water than they might try to cross in a regular buggy. If the horses could make it across, the driver had a decent shot at making it across as well.

SEEK AND FIND: Tell us where you can find this unique buggy on display and you will be entered in a drawing for a $25 gift certificate.
There are places in Indiana, particularly southern Indiana, where this buggy came in handy more often than just when it flooded. Especially decades ago, some small country roads required fording a creek to get across and continue on the other side of the road.
The second thing that makes it unique is its use. Doctors used it to travel in all types of weather. Back when doctors made house calls, it was also known as a "doctor's buggy."  
Tell us where you can find this buggy on display. Identify both its location by town and facility, and the name of the display within that facility where you can find it. Here's a hint: In about six weeks, the museum housing the buggy will be in full swing again.  
Either mail your entry to: Indiana Prairie Farmer, P.O. Box 247, Franklin, IN 46131, or email it to [email protected]. Please include your name, address, email address if you have one and home and mobile phone numbers. One entry will be drawn from all correct entries to receive a $25 gift certificate.
 Found Dave!
 Dave Redmon, a retired Purdue University Extension educator, made a special appearance in the April issue. He was hanging out at a very well-known farm, where he still volunteers time to help with the Indiana Beef Evaluation Program. He lends a hand when bulls are weighed in and weighed out at the Indiana Bull Test site. Summer bulls are on test right now.
Janet Armstrong, Springville, recognized that Dave was spotted at the Feldun-Purdue Ag Center near Bedford, where the IBEP bull test station is located. She also drew attention to the spring sale of bulls from the IBEP winter test.
Held at the Springville auction facility in late April, the sale of more than 100 bulls from the test resulted in the fifth-highest selling average in the history of the program. The sale this spring was the 77th sale conducted since the program began.
Janet also won the gift certificate drawing. Congratulations, Janet!
Subscribe to receive top agriculture news
Be informed daily with these free e-newsletters
You May Also Like
---