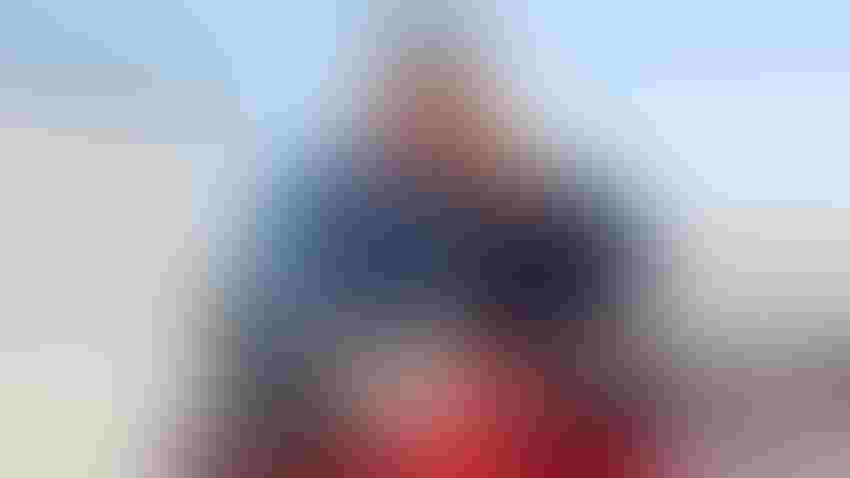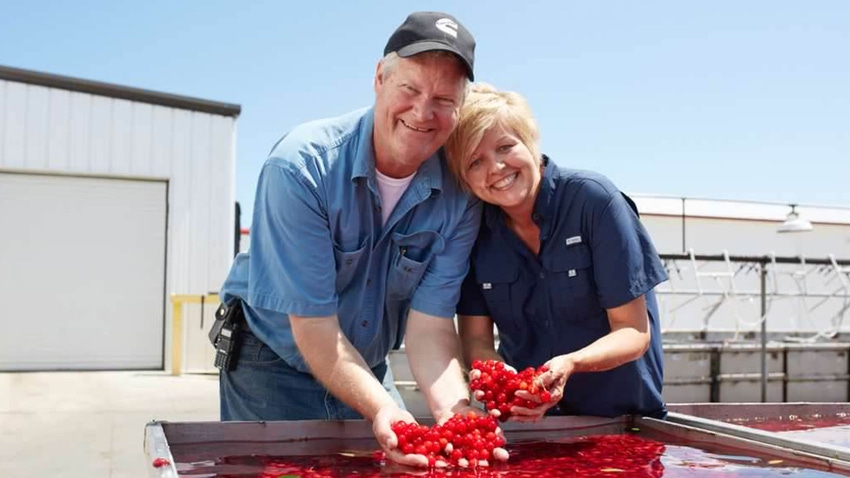 FAMILY OPERATION: Jim and Robin Seaquist and their family grow 1,300 acres of tart cherry trees and 40 acres of apple trees in Door County, Wis.
COURTESY OF SEAQUIST FAMILY
Even when Jim Seaquist was a teenager, he enjoyed helping his parents grow and harvest tart cherries. Back then, the Seaquists grew 180 acres of tart cherry trees near the tip of Door County, Wis.
"My dad, who is 90 now, worked harder than anyone else, but he didn't care to run the crew or do the office work," Jim explains. "He doesn't like to be bothered with details. But even at 16, I was open to working with the employees and paying the bills. I liked doing that."
After graduating from high school, Jim was eager to learn more about growing fruit and obtained an associate degree in horticulture at Michigan State University. He returned home after graduation.
"I was just 20 years old when I came back in the spring of 1982," Jim recalls. About that time, he began dating Robin.
"When we first started dating, my mom said, "I thought you were going to go to school and marry someone normal," Robin says, laughing.
In 1983, Jim became a 50% owner in the business. "We grew quickly after that," he says. "We leased more land, bought more land and planted more trees."
When Jim was 22, his mother died, and just six months later, tragedy struck again when a fire destroyed his parents' house.
"My dad [Dale] decided to build a new house himself," Jim says. "It took him 18 months, but he got it done."
During that time, Dale shifted his focus to finishing the house and relied on Jim more to run the fruit business.
In 1985, Jim and Robin married.
Jim says the number of tart cherry growers in Door County was 700 in 1949. By the 1960s, that number dwindled to 400. Today, he says, there are only nine tart cherry growers left in Door County, which is the only county in the state where tart cherries are grown commercially.
In 1990, tart cherry prices were low, and Jim joined a group of growers with Farm Bureau trying to organize a tree pull.
"We were going to pull a percentage of our trees out of the ground to lower production in an attempt to raise prices," Jim says. "The tree pull failed, but I knew all of the farms that wanted to get out. In 1991, we had a widespread freeze."
Expanding the business
The Seaquists bought and leased several orchards from growers looking to retire and from one large grower who went bankrupt and had a cherry processing facility at Egg Harbor.
"Between 1990 and 1992, we literally tripled our production," Jim says.
In 1992, Robin took over running the office and doing the bookkeeping, which freed up Jim to manage employees and the business. Today, their operation includes four separate companies:
Seaquist Orchards LLC. The orchard includes 1,300 acres of tart cherry trees and 40 acres of apple trees. A farm shop is managed by family members Zach Moore and Jeff Ehmke. They are also involved in planting, spraying and harvesting. The farm crew consists of Hispanic employees, some of whom, like Rafeal Ramos and Enio Castillo, have worked there since the 1980s and are part of the family, Jim says.
Seaquist Orchards Processing Inc. This enterprise includes the tart cherry processing plant where they handled 11.7 million pounds of cherries in 2022.
Seaquist Canning Co. LLC. The canning company includes a fresh apple packing line. "It also has a wholesale delivery business of our fresh, canned and frozen products," Robin says.
Seaquist Orchards Farm Market LLC. The retail farm market in Door County is open from May through November. An on-site bakery specializes in cherry pies.
"We have four businesses, but they are all complementary of each other," Jim says.
Full-time employees work at the canning company, which operates year-round.
"Our oldest son, Cole, and his wife, Lisa, manage the canning company," Jim says. "We shut down the canning company the four weeks we do the cherry harvest, starting the end of July. When we are harvesting cherries, the processing plant is going 22 hours a day. We shut down two hours a day to clean everything."
Jim's sister Ann is also a production manager at the canning facility and has run a cherry harvester for close to 40 years.
During the cherry harvest, Jim, Robin, Cole and their youngest son, Justin, take turns working at the plant. One of them is always there during the four-week harvest. Total employees top 125 during harvest.
The Seaquists make a lot of Door County Cherry Pies at their bakery. They also make jams, cherry juice, apple juice, apple pies, applesauce and apple cider. They sell a lot of cherries to wineries and to companies that make dried cherries.
"We buy a lot of apples for apple cider," Jim says. "Cherry pies are our biggest seller. We deliver a lot of jam, cherries and pies to area restaurants, farm markets and grocery stores."
They grow over 30 varieties of apples. The harvest starts in August and finishes in late October. "Our apple harvest helps extend our growing season," Jim says.
The Seaquists deliver their products around the country. "We have industrial customers who take a truckload of fruit," Jim explains. "Robin handles a lot of those sales and deliveries of fruit. Lisa and Cole sell and deliver the smaller loads."
Justin works with Jim and Robin in the processing plant.
"He is taking that over more," Jim says. "Justin is very involved with food safety. He has a mind for complying with all the details that drive me crazy." Justin's wife, Kirstin, is manager at Ashbrooke Suites.
Jim says in the past 20 years, they consider three years as being a crop failure.
"We store a lot of our crop, so we didn't suffer too bad financially," he says. "We never want to be in a situation where we have two bad years in a row take us out."
Jim's dad remarried in 1985. His wife, Kristin, has been in charge of the farm market for the past 35 years or more.
"My dad likes to help Kristin in the farm market," Jim says. "He also stays busy cutting grass three to five days a week. He's the tour guide and he's very proud of the whole thing."
"He's been Jim's biggest cheerleader over the years," Robin adds.
Jim serves on the Wisconsin Cherry Board and Cherry Industry Administrative Board. He was board chairman of a National Cherry Cooperative from 2000 to 2021.
Master Agriculturists at a glance
Jim and Robin Seaquist
Ages: 60 and 58
Location: Ellison Bay, Door County
Farming enterprises: Tart cherries, apples, processing plant, canning company, farm market
Size of farm: 1,000 owned acres, 600 rented acres
Family: Sons Cole (Lisa) and Justin (Kirstin), six grandchildren
Subscribe to receive top agriculture news
Be informed daily with these free e-newsletters
You May Also Like
---