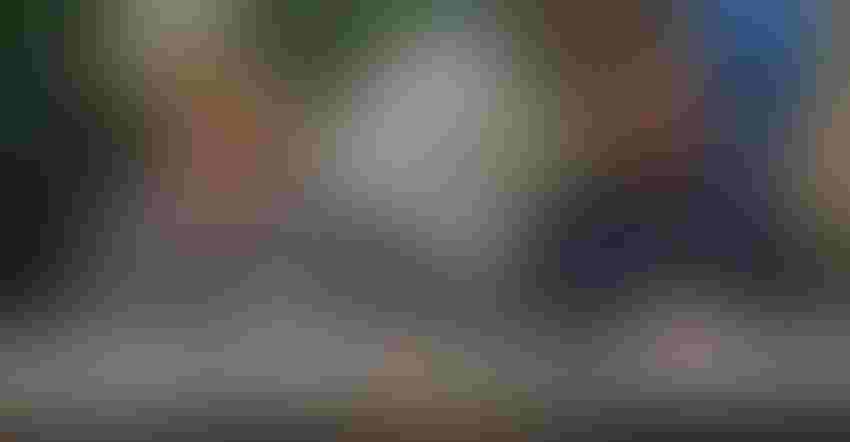 THERE TO LISTEN: U.S. Reps. Pete Stauber and Michelle Fischbach recently attended a workforce development roundtable at Central Lake College in Staples, Minn.
Paula Mohr
There are tremendous career opportunities for folks who want to live and work in rural Minnesota.
The challenge, however, is ensuring that those potential employees have the skills for the jobs, and that the communities where they live provide the basics — affordable housing, quality of life, childcare and high-speed Internet capability.
Those were the recurring themes that 18 industry participants brought forward during a workforce roundtable in early April held at the Farm Ag Center at Central Lakes College, Staples., Minn. The morning event was hosted and coordinated by Keith Olander, executive director of AgCentric & Agricultural Partnerships and dean of agriculture at Central Lakes College.
U.S. Reps. Pete Stauber and Michelle Fischbach, both of Minnesota, also attended. The lawmakers were interested in listening and learning from speakers and attendees.
SHARING THEIR STORIES: Eighteen business representatives participated in the workforce development roundtable. Some intending include Rick Utech (left), executive director, Todd County Economic Development Corp.; Tamie Barber, director of employee experience, Long Prairie Packing Co.; and Troy Halvorson, vice president, Arctic Cat.
Here are some of the issues raised that day:
Housing. Nearly every speaker mentioned adequate, affordable housing as a challenge in rural communities. Some shared that their businesses helped build housing for its workforce. Arvig, a telecommunications and broadband service company in Perham, built more than 230 units over the last several years for its workers, said Dave Schornack, director of business management and sales.
"We need people to be local," he said, adding that they compete for employees with other businesses in town. "If we don't solve issues [such as housing], people will move out of state."
Others said housing options must include subsidized housing, too.
Childcare. Several speakers mentioned that flexible, affordable childcare is a must for employees.
"Daycare available from 8 to 5 doesn't work for everyone," said Tamie Barber with Long Prairie Packing Co. Others noted that daycare businesses will not survive without other businesses supporting them. Another speaker suggested, rather reluctantly, that subsidized childcare may have to come into play.
Current job openings. The pandemic forced people to limit gathering inside in numbers but not exploring nature. Troy Halvorson, a vice president with Artic Cat in Thief River Falls, said demand for product has increased so much that products are only pre-ordered now. There are no products available to buy in person from a store.
Both Barber and Schornack said their businesses are short-staffed and need workers. The packing plant was short about 100 employees. The Lindar Corp. in Baxter, which makes plastic components, had 20 openings, said Tom Haglin, the company's CEO.
Job training. Industries and businesses do not always need workers with a four-year college degree. Rather, they need employees with specific skills or training. Case in point: large equipment used in the forestry industry.
"We need vocational training on forestry equipment," said Rod Enberg, Timber Producers Association. "People think it's the same as farm machinery, and it's not. It's specialized."
Enberg added that some equipment manufacturers require specialized training before they will sell them machinery. They've sent employees to Sweden for two to three weeks of specialized training on one $750,000 machine.
Vocational schools and community colleges help provide technical training for dozens of well-paying careers. At Central Lakes, they offer eight pathways or programs of ag-related study: plant, environmental, biotech, natural resources, agribusiness, animal, food products and processing, and power, structural and technical.
"Because of labor shortages, we have to look at more automation," Haglin said. "We look to technical schools to educate and train students with the knowledge required for that."
Yet, there is also need for employees with a good work ethic and basic skills for other jobs.
"We need both skilled and unskilled," said Miles Kuschel, a beef producer near Sebeka. "We need people who can do computers and who can turn a wrench."
Exposure to potential careers should begin when children are younger, at least middle school age. That would help educate parents, too, that there are more career possibilities beyond a four-year degree.
Some local businesses partner with schools to help provide internships and student experiences. Nicole Fernholz with the Alexandrea Area Economic Development Commission said that's what they help do, working with area high schools and industry. Halvorsen said Artic Cat works online with an alternative learning center in Thief River Falls that teaches students soft skills needed for jobs, such as being reliable, showing up for work daily and doing quality work.
Broadband. The pandemic really heightened the need for high-speed internet for both personal and business use. We've all heard the stories about parents driving children to town and sitting in their parked vehicles as their students did homework via a business's Wi-Fi connection.
"Broadband is especially important to us to connect with patients and to get people to live in the area," said Tim Rice, Lakewood Health Systems, Staples.
Schornack added that his company appreciates the federal and state funding offered thus far for expanding broadband. However, the folks that remain unserved live in the most sparsely populated areas of the state. Companies such as his need ongoing financial support to continue to expand the network and reach those people.
The roundtable discussion gave everyone the opportunity to share challenges they face. Kudos to Olander for organizing and hosting the event. Now we shall see if any movement happens at the federal level.
Subscribe to receive top agriculture news
Be informed daily with these free e-newsletters
You May Also Like
---