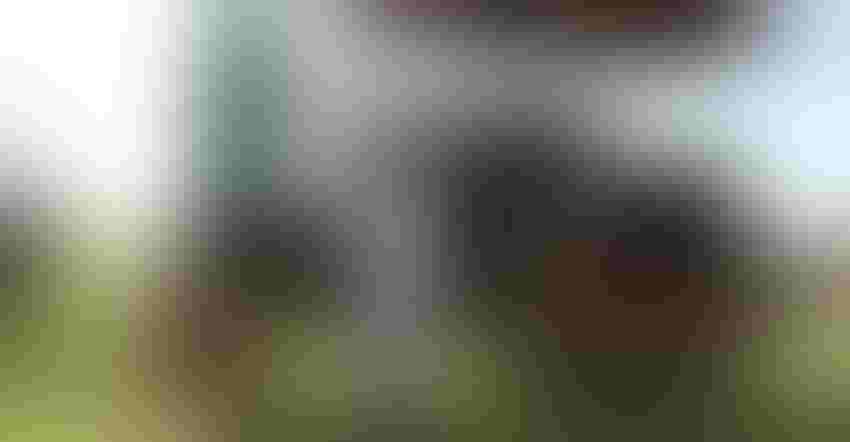 VERSATILE TRACTOR: Besides threshing and operating a sawmill, Robert Strieter's Rumley Oil Pull was used on an eight-bottom, 10-inch moldboard plow.
Harlen Persinger
Robert Strieter of Ixonia, Wis., doesn't mind that a 1912 Rumley Oil Pull model F tractor takes up excessive space in one of his sheds. That's because this machine, while slow-moving, clumsy and weighing 8.5 tons, is a highly regarded piece of farm equipment in the tractor collecting world.
Even though Strieter had a 1930 model X on rubber tires, he always wanted an Oil Pull from an earlier era. However, it took him several decades and a stroke of luck to get one.
Century-old tractor
This was the first Oil Pull F, No. 6899, ever sold for $3,000 in Wisconsin by Frisch Implement Co. in Madison. The original buyer was William Christian from Watertown. Next, it went to a group of 12 farmers in Jefferson County who ran a threshing ring through 1947. The F then sat outside and idle for nine years, where weather and rust took a toll. Ivan Baxter from Hartland, Wis., who worked for the Waukesha Engine Co., found the F resting in a ditch along Highway 26 near Watertown and managed to move the mammoth tractor to his home place.
Strieter struck up a friendship with Baxter, who wanted to know if he had a building tall enough to store the tractor because the roof is 14 feet high. So, the Oil Pull was driven to Strieter's farm. In 2008, Baxter's son moved to Colorado and decided not to transport the machine such a great distance, so he put it up for sale. Strieter; his son, John; and John's three children, Sam, Abby and Robbie, paid $45,000, which was a very reasonable price.
The Rumley Oil Pull was developed by Advanced-Rumley Co. 1909 and sold from 1910 to 1930. Most were powered by an internal combustion engine designed to burn all kerosene at any loads. The tractors were unique because they were cooled by oil instead of water. The F had a single-cylinder 10-inch bore and 12-inch stroke.
The tractor was started by the operator stepping out of the cab via the large iron rear wheel, climbing onto the flywheel and using his body weight to get it turning, then quickly reaching back into the cab to adjust the choke and try to keep the engine running. Model F's were built from 1910 to 1923, with 3,235 being produced in La Porte, Ind. The model was later updated to an 18/35, but the company became a casualty of the Great Depression and was bought out by Allis-Chalmers in 1931.
Besides threshing and operating a sawmill, Strieter's Oil Pull was used on the eight-bottom, 10-inch moldboard plow. The shake, rattle, roll and sitting on the steel pan seat all day was a man killer. There is excessive space in the cab, so the operator had a clear view in every direction. The mechanisms — gear shift, clutch, foot brake, carburetor and steering wheel — are easy to reach. Because of their hot-riveted steel frame, these tractors lasted through years of harvests.
"My fascination with early-model tractors began as a boy, because my father, Fred, had one to power the silo filler," Strieter says. "When I was 18, the local John Deere dealer found an Oil Pull model X in a burdock patch north of Sussex. The owner was going to sell it for scrap, so I paid him $60 and took it home. Even though I now have 20 different machines, including a 1930 Hart-Parr 28-50 and 1931 Rumely 6, the X is my second favorite tractor.
"Each year, the family loads up the F and takes it to the Sussex Antique Power Show. This event is a great opportunity for folks to view an earlier period of American agriculture. That Oil Pull F will always be special. It was very popular and proved to be dependable, rugged and reliable. I always wanted a steam engine, but the F is priceless and good enough for me."
Persinger writes from Milwaukee, Wis. To have your favorite tractor featured, email or send in a photo of yourself with your tractor, along with a 300-word write-up about the tractor, to: [email protected] or Wisconsin Agriculturist, P.O. Box 236, Brandon, WI 53919.
Subscribe to receive top agriculture news
Be informed daily with these free e-newsletters
You May Also Like
---