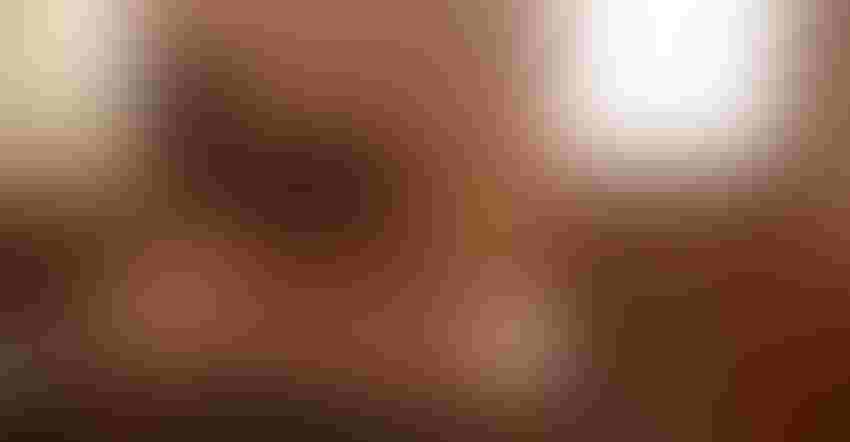 STORIED HISTORY: For a while, the original Nebraska Farmer desk made its home in Arthur County, before the Simons and the Heaths moved to California in 1947. This spring the desk came home to Nebraska after Carolyn Simon donated it to the Brownville Historical Society.
Most of the time, when a letter from out of state lands on my desk, it's someone requesting a change of address for a subscription. Earlier this year, however, I was nicely surprised to get a letter from Chowchilla, Calif. For those who have been following along in previous articles, the rest of the story is, quite literally, history. This letter was from Carolyn Simon, who wrote that she had the original Nebraska Farmer desk in a farmhouse in the California Central Valley.
According to Carolyn, the Simon family came into ownership of the desk after it was given to William Simon, father-in-law to Lloyd Heath. Lloyd was son of Fred A. Heath, who was given the desk from his cousins, Harvey E. and Alfred B. Heath, who purchased Nebraska Farmer in 1886.
The desk was passed down to William's son, Loyal Simon, and on to his son, Jack Simon. Last year, Jack passed away, and his wife, Carolyn, seeing the need to preserve the history of the desk, donated it to the Brownville Historical Society in April.
The timing couldn't have been more perfect. BHS has been working on several projects as part of the "Preserving Our Past, Protecting Our Future" campaign — an ongoing campaign to preserve, restore and reconstruct historical properties in Brownville. As the place where Nebraska Farmer was founded, one of the projects will be dedicated to the history of southeast Nebraska agriculture, including Nebraska Farmer and its founder, Robert Furnas, who went on to become the second governor of Nebraska.
So, when Carolyn contacted us earlier this year to see if we would be interested in preserving the desk, it wasn't hard to decide who to call next. The Brownville Historical Society is now restoring the desk and plans to showcase it in Brownville's Wheel Museum, which is being renovated.
More connections made
Recently, Carolyn helped us further connect the dots by connecting Nebraska Farmer with William Heath — Fred Heath's grandson and Jack Simon's cousin, who now lives about 54 miles down the road in Sanger, Calif. Fred Heath, born in England, was a county assessor in Arthur County, a place where William notes, "Even the jackrabbits carry their lunch." That's not much of an exaggeration; Arthur County is the fifth least-populous county in the United States.
Both families came from the Sandhills of Nebraska, but were drawn to California in 1947, and the desk came with them. The desk made its home on the Simon family's farmhouse near Chowchilla for the last 70 years. However, both families maintain a strong connection to their Nebraska roots.
William Heath's dad, Lloyd, was a mechanic who owned a garage in Arthur, where he kept the desk and used it to store tools. After moving to California, Lloyd worked as a teacher for several years before deciding to put his jumpsuit back on and work as a mechanic again.
Although William Heath left Nebraska when he was only 10 years old, he recalls, "My granddad's house in Nebraska was a baled hay house. It was made out of hay bales stacked on top of each other and cemented over. It made a pretty warm house. I remember when I was a kid, even with the blizzards we had back there, it was pretty warm in that house."
William Simon raised cattle with his family in Arthur County before moving to California. While he worked as a school administrator in California, the family continued to raise cattle on a smaller scale.
Although Carolyn was born in Fresno, her mother was born in Lincoln, and she lives in a largely agricultural part of California. "We have 20 acres where we raised cattle for a while, and now we lease it out for almond trees, pistachios and walnut production. The Simons raised cattle for their own private use for FFA and 4H projects," she adds. "They kept the acreage because you can't take the farm out of the farm boy. Farming was in their blood."
Subscribe to receive top agriculture news
Be informed daily with these free e-newsletters
You May Also Like
---