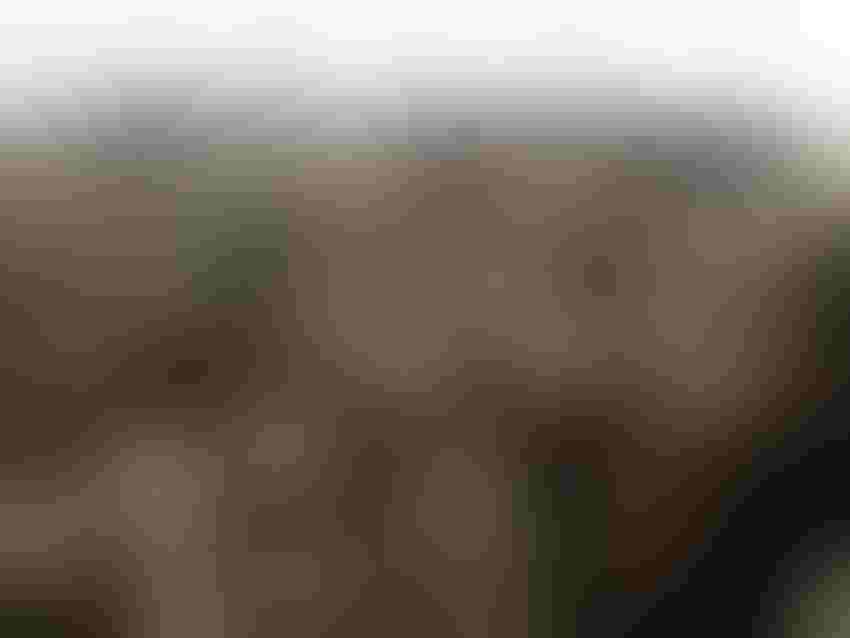 Iowa State University swine specialist Erik Potter welcomes questions from producers and others in Iowa's pork industry.
In the few weeks since he started work at Iowa State University, Erik Potter has co-authored an informational handout on the Veterinary Feed Directive, attended his first professional development session and participated in Iowa Master Pork Producer visits with colleagues from Iowa State and the Iowa Pork Producers Association. And that's just the beginning for the newest swine program specialist whose office is located in 109 Kildee Hall, home of the Iowa Pork Industry Center.
"My roots are firmly planted in the state of Iowa and this position will allow me to further my passions in the pork industry while also strengthening agriculture in the place I call home," Potter says. "I bring a unique perspective to IPIC's team of six field specialists, based on my experience in the industry."
Experience includes working for large hog producing company
Prior to coming to ISU, Potter worked for a large pork integrator with farms in various states across the U.S. with primary responsibilities of on-farm auditing of animal welfare, employee safety and environmental impact.
"In that job, I developed employee training materials, conducted trainings, and established standard operating procedures," he explains. "One of my goals here at Iowa State with IPIC is to strengthen our relationships with various departments across campus and look for research opportunities between faculty and pork producers in the state. This will be an ongoing endeavor as I get more connected to the faculty and staff at ISU."
Potter will also serve as swine field specialist for southwest Iowa
Although Potter's office is on campus, he will be the swine field specialist point of contact for producers and others in several southwest Iowa counties. Through phone calls, email and personal contact, he intends to maintain and improve existing connections, and work to open new lines of communication and cooperation.
"IPIC has tremendous potential to strengthen the pork industry in Iowa through its network of industry professionals, world-leading academics and research at Iowa State University, and the extensive breadth of knowledge throughout ISU Extension and Outreach," he says. "I've worked in a variety of swine barn systems including natural to power ventilation, group-housed sows, and varying nutrient management systems, and will use that experience and knowledge in my new role."
Goal is to strengthen IPIC relationship with Iowa producers
Potter says he also wants to strengthen the name of IPIC across Iowa. "The center offers a tremendous amount of knowledge and educational programming that can be beneficial to producers of any size, including the release of a redesigned and much improved website just prior to me starting here," he says. "Now we need to work to increase its use by promoting and publicizing it, so folks become better connected to what all we have to offer."
As the newest member of the ISU Extension swine field staff, Potter says he's ready for the challenge of moving himself and IPIC forward.
Focus is on providing information and help for hog producers
"One of my favorite quotes is 'If you don't like change, you'll like being obsolete even less.' Continuous improvement is the foundation for business success and IPIC is no exception," he says. "The needs of pork producers have changed from when IPIC was created and as we look to the future for the industry's need-based programming, we need to continue to ask ourselves, 'Will this add value for producers?'"
Potter is available by phone 515-294-8797 and by email [email protected].
IPIC was established in 1994 as a coordinated effort of the Colleges of Agriculture (now Agriculture & Life Sciences) and Veterinary Medicine at ISU. Its mission is to promote efficient pork production technologies in Iowa, maintain Iowa's pork industry leadership and strengthen rural development efforts. IPIC focuses its efforts on programs that are integral and complementary to ISU Extension and Outreach. Through IPIC, Iowa producers receive accurate and timely information to make their operations more efficient and profitable.
Subscribe to receive top agriculture news
Be informed daily with these free e-newsletters
You May Also Like
---