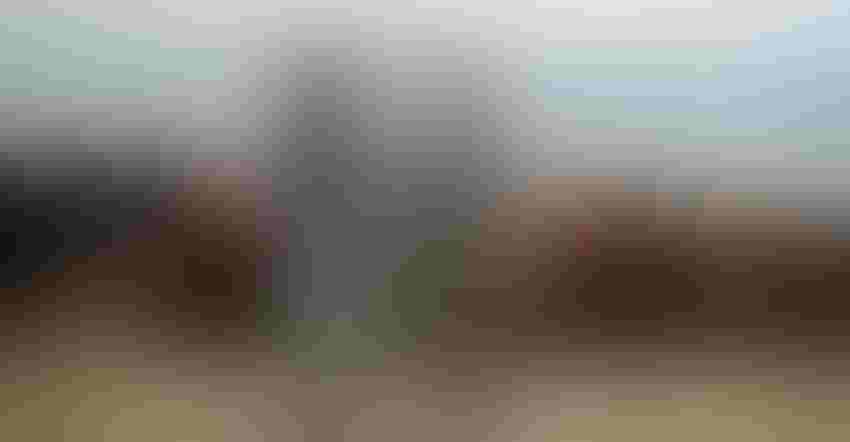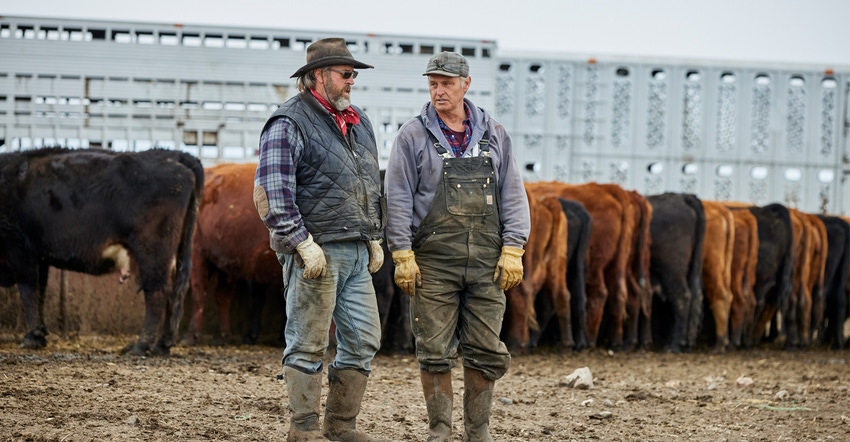 BROTHERS AND PARTNERS: Clark and Curt Coleman are partners and the fourth-generation farmers in central North Dakota.
photos courtesy of ADM
A new online series called "Faces of Food" from ADM celebrates the "individuals who collectively feed the world," and brings farmers and ranchers to the mainstream consumer. The first episode of the series centers on DJ Coleman Farmers in Baldwin, N.D.
Clark Coleman farms alongside his brother Curt, and twin sons Cooper and Clint just outside of North Dakota's capital city of Bismarck.
"ADM had contacted me wanting to do this interview, and we had the time set up, which happened to be when we had that really bad blizzard," Coleman says, of the historic blizzard that hit North Dakota in April. "We managed to get one good day where we could sit in the shop and do the interview because that storm was a tough one."
In the video, titled "Spring Blizzard," Coleman recounts how his son got lost checking for calves after going out to check them in the corral. "We went out on Rangers to check cattle and got lost. My one son had to follow the fence line to make it back to the Ranger and back to the yard. It was horrible," Coleman says.
Other discussions in the video share Clark and Curt's decision to join the farm in the 1980s, their journey to where they are today and their relationship marketing crops with ADM facilities.
Farm's background
"We farm around 8,000 acres, run 600 head of stock cows, and do custom corn chopping and combining," Coleman says of their farming operation. "We manage to keep pretty darn busy."
Coleman's two sons joined the operation full time in 2021, following their graduation from North Dakota State University. They received degrees in general agriculture and agriculture economics before returning to the farm.

NEXT GEN: Clint Coleman, Clark's son, along with his twin brother, Cooper, joined the operation following their graduation from North Dakota State University in 2021.
"They've always wanted to come back to the farm, and they both came back, and we're just getting set up where they can be decision-makers and be part of the operation," Coleman says. "They're the fifth generation on our farm."
Their farm includes a little bit of everything, with small grains, peas, sunflower, corn, and sometimes, canola and oats. "We do a lot of different varieties of crops, not all of them every year," Coleman says. "On every given year, we probably have seven or eight different crops."
"Our main goal is to be able to have a warm- and cool-season grass, and a warm- and cool-season broadleaf," Coleman says.
With this method of crop rotation, Coleman says they stay ahead of weeds. "We have very little residual weeds on our land, because we switch it up so much and use different modes of chemical to control our weeds," he says.
DIVERSIFICATION IS KEY: Clark Coleman says that their farm always aims for warm- and cool-season grasses and broadleaf plants on their operation.
They've also been no-till on their operation for over 30 years. "We were probably the first guys in our area doing no-till corn," Coleman says.
Aside from weed control, Coleman says the ability to grow what the market tells him is another benefit. "It's just nice to have that flexibility," he says.
Coleman also works with North Dakota Tourism's agritourism program to help connect producers to consumers and educate them on agriculture. Sara Otte Coleman, Clark's wife, works as the tourism and marketing director for the state of North Dakota.
"The interest from visitors wanting to see sunflowers in bloom made us think about how we could connect visitors to sunflower fields. So a map of sunflower fields was put online for people to find locations to take pictures or experience a sunflower field. It's been very popular, and the idea started on our farm."
The Colemans also host a corn maze on one of their fields.
View the feature on DJ Coleman Farms and the rest of the "Faces of Food" video series on ADM's website.
About the Author(s)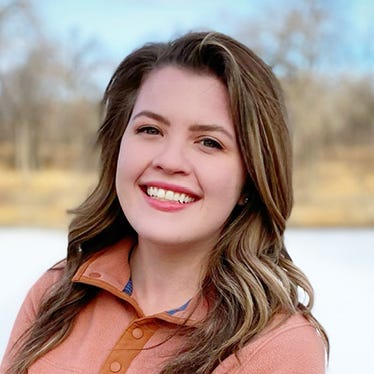 Editor, Dakota Farmer, Farm Progress
Sarah McNaughton is a graduate of North Dakota State University, with a bachelor's degree in agriculture communications, along with minors in animal science and Extension education. She is working on completing her master's degree in Extension education and youth development, also at NDSU. In her undergraduate program, she discovered a love for the agriculture industry and the people who work in it through her courses and involvement in professional and student organizations.
After graduating college, Sarah worked at KFGO Radio out of Fargo, N.D., as a farm and ranch reporter. She covered agriculture and agribusiness news for North Dakota, South Dakota and Minnesota. Most recently she was a 4-H Extension agent in Cass County, N.D., teaching, coordinating and facilitating youth programming in various project areas.
She is involved in agriculture in both her professional and personal life, serving on the executive board for North Dakota Agri-Women, and as a member in American Agri-Women, Sigma Alpha Professional Agriculture Sorority Alumni and Professional Women in Agri-business. As a life-long 4-H'er, she is a regular volunteer for North Dakota 4-H programs and events.
In her free time, she is an avid backpacker and hiker, enjoys running with her cattle dog Ripley, and can be found most summer weekends at rodeos around the Midwest.
Sarah is originally from Grand Forks, N.D., and currently resides in Fargo.
Subscribe to receive top agriculture news
Be informed daily with these free e-newsletters
You May Also Like
---