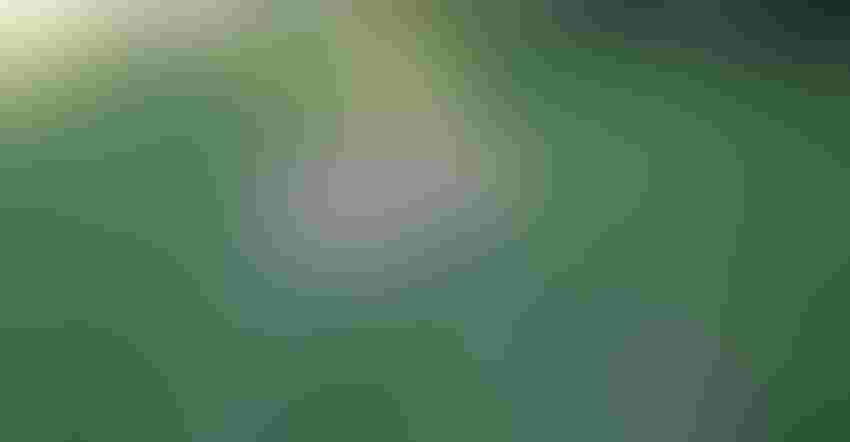 ALL THAT'S LEFT: A pile of mulch is all that remain of a the 43-year-old cottonwood that was weakened by prolonged drought and killed by cottonwood borers.
It's been a very disheartening beginning to the 2019 growing season. I've visited flooded farm fields, examined damaged roads and bridges, and talked to dairy farmers hanging on by a thread and thinking of letting go. I've talked to a dozen people about what to plant "instead" as planting dates go by.
On June 18, a normally bright day because it is my sister's birthday, I got a reminder of what loss of prized vegetative life feels like, even to an urban dweller like me.
That was the day the arborist arrived to remove the 43-year-old cottonwood in my backyard, which had succumbed to cottonwood borers and the drought years from 2012 to 2014. Only a couple of hours after my 90-foot tree was reduced to a mound of stump mulch, the skies grew black and a severe thunderstorm moved through, bringing with it high winds, golf ball sized hail and drenching rain.
It was too much for the already-once-fractured redbud in the front yard, which split, dropping two-thirds of its branches and leaving only the study branch that grew back after the previous split of two years ago.
This comes after the 30-year-old wisteria bush bit the dust earlier in the spring, and after we started work with an arborist to try to save the silver maple at the edge of the driveway, which is fighting borer and drought damage but fully leafed out this spring and has benefitted from monsoon season.
I spent two days in depression. Like any aging homeowner, I'm thinking of the time it took those trees to grow and I'm thinking: Will I live to see anything I plant grow enough to begin to fill their space?
WHAT'S NEXT: The 30-year-old wisteria just didn't turn green this spring. I'm considering a lilac bush to replace it.
So, today, I went tree-investigating. And I came across one of the trees I always most wanted to own – a Wichita Osage orange. I'm actually excited about the opportunity to pick a spot and plant one to replace something I have lost.
I was introduced to the Wichita Osage orange by John C. Pair almost two decades ago when he developed the cultivar at the Kansas State University Research Center in Haysville that now bears his name. He developed an Osage orange (or hedge, as it is popularly known to farmers) that does not have thorns and that does not bear fruit. Get rid of the thorns and the mess and you have the greatest shade tree imaginable.
It's fast-growing, but unlike most fast growers it's hard. Any farm kid who ever tried to cut down a hedge tree or cut up one for firewood can tell you that you'd better have a couple of spare chainsaw chains handy. It's durable, holds up to storms and is resistant to disease and insects. It doesn't mind marginal soils and it's incredibly drought resistant. It typically grows 60-feet tall with a 40-foot shade canopy.
In Kansas, it's called the Osage orange because the Osage tribe loved it as a source of wood to create bows. Early pioneers called it "bow tree" for the same reason. The "orange" comes from the unique color of the wood.
The oldest and "national champion" Osage orange tree in America stands on the lawn of the historic home of Patrick Henry in Virginia. In 2003, a dendrochronologist from Virginia Tech determined the tree to be at least 330 years old, making it the oldest and largest Osage in the country. The tree is still alive and well. It stands more than 60 feet tall and its branches span more than 80 feet. It has a circumference of more than 349 inches.
So, yeah, I want one.
I'm also shopping for a multi-blooming lilac to replace the wisteria. I saw an ad on a nursery page and I think a bush that doesn't need a trellis would be a good yard tree, especially if it bloomed more than one time a year.
HEARTBREAKER: Already mourning the loss of the wisteria and the cottonwood, it was almost too much to bear when high winds and golf ball size hail that lasted 15 minutes meant the end of the redbud, too.
Finally, deep in my heart, I want another cottonwood. The one we lost was a cottonless one and I would want to go that route. But there is no sound more soothing than the rustle of the wind in the leaves of the cottonwood. Our part of town, while not on the river, has a very high water table so cottonwoods thrive in most years.
So, OK, I've mourned the losses. And now I'm excited about what to plant next. I'm investigating options, looking at what works agronomically. Sound like anyone you know? Yeah, you can take the kid off the farm, but the farm never leaves the kid — or the grandma.
Subscribe to receive top agriculture news
Be informed daily with these free e-newsletters
You May Also Like
---