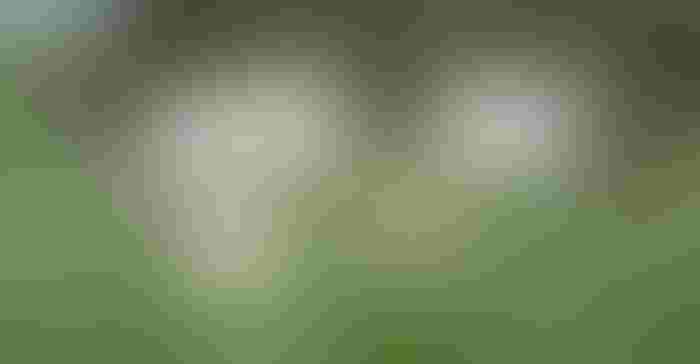 We've had a small problem here at Prairie Farmer: You all sent in so many great dog stories, and we want to share them all! But we figure that's a good problem to have.
So if you've already met Colby, Shelby and Sammi Grace, and you caught honorable mentions Ruby, Stella and Willie, take a gander at a few more entries in the Prairie Farmer Favorite Farm Dog Contest. They may not have placed in the official contest, but we still think these are some pretty fantastic dogs.
You can check out their essays below, and click through the gallery for some really great photos of these favorite farm dogs in action. Guardians of the farm, loyal to their people — these dogs do it all!
Jack and Ellie
This dynamic duo complements each other perfectly and are inseparable, so I couldn't possibly enter one without the other! Jack is a 1-year-old Anatolian shepherd, and Ellie is a 3-year-old Corgi. Jack is head of farm security and is there to help welcome every baby goat into the world. Ellie is an all-around helper who spends her springs filling the planter and the fall on the tractor making sure harvest goes smoothly. When she is not in the field, the two can be found playing fetch, romping through a muddy field, helping their family work goats, and eliminating the mice and rabbits from the farm.
Hannah Darr, Catlin
Roxie
My dog's name is Roxie. She is an Australian shepherd and is 8 years old. Roxie and I go way back to when I picked her out in third grade for my 4-H project. I still remember the day I picked Roxie out. It was a cold day in January. I was so upset because my dad didn't tell me what we were doing and I didn't want to get out of the car. But I got out and was surprised to see a whole pen of puppies that I got to choose from. Roxie was the very first puppy to greet me, and she whined when I had to leave. From that moment I knew Roxie was the one, and I picked her to be my new best friend. Since then, Roxie has been my sheep barn buddy, company for when I kayak on the pond, and the best friend I can always talk to. I was the one to train her, feed her, water her and make sure her doghouse was always cozy with wood chips. Roxie and I became an inseparable team. We won Best of Show at the Fulton County Fair Dog Show two years in a row, and that made our bond grow even stronger. To me, Roxie is more than just a farm dog. She has been in my first-day-of-school picture every year since fourth grade and has always been there to pose with me in each of my school dance pictures. Showing sheep would not be the same without her. My family wouldn't be the same without her. Roxie has been there for my family and me for a long time and will always hold a special place in our hearts.
Hannah Spangler, Avon
Pee Wee
Mr. Pee Wee is the apple of his father's eye. He is a Llasapoo who arrived at the Held farm 11 years ago as a new puppy. When Mr. Pee Wee was just 6 months old, he had a run-in with a coyote. Luckily, with the help of his trusted friend Spot, he came back from the adventure, and after a few days in the animal hospital, he returned home with a permanent limp. He's also been on opossum and skunk patrol. He even got to sleep in bed the night the skunk sprayed him. Mr. Pee Wee believes he's human. His daily routine involves going to the convenience store with Dad, to the farm where he takes care of any unwanted critters and keeping the cats in line. In the afternoon, it's power nap time. As soon as the sun starts to set, Mr. Pee Wee is ready to head home. During the spring, Mr. Pee Wee helps his mom get water and load the sprayer. He loves to occupy the buddy seat in the big red tractor while Dad prepares to plant. During the fall, he rides with his dad in the grain cart. Sometimes he goes with Mom to take grain to the local elevator, where he sits patiently by the driver's door just in case someone wants to pet him. He helps haul grain to the grain bins also. He sits in the golf cart and makes sure his mom doesn't let the grain run over. After harvest, he supervises his dad when fixing tile holes. Trips to the local Rural King store include shopping for his favorite treats and checking out the chickens and rabbits for sale.
Dennis Held, Raymond
Molly
The dog I am writing about is Molly, a 4-year-old black Lab-English shepherd cross. Molly came to us from the Ubersoxes' dairy farm in Shullsberg, Wis. At the time, my 90-year-old mother wanted a dog for a companion here on the farm. She found an ad in the local farm shopping news that read: black Labrador/shepherd cross puppies to a good home. Molly was the last puppy left. My mother held her on the way home, bringing joyfulness and youthfulness to an elderly person in the final years of her life.
Molly grew up on our Century Farm with the respectfulness of the likes of the cows and cats, and squeaky dog toys of pigs and chickens. She would go do chores, almost like a kid who's eager to ride the tractor. She sits directly behind you on the tractor seat, always having your back, as a true friend would. She stays on the tractor seat as you take hay out and cut the net wrap off. As a friend of the animals, rather than foe, she sits not barking and showing no intimidating behavior. With barn chores she always maintains her presence and doesn't roam away. Doing chores, she does her socializing with the calves and heifers by giving them a face lick, which they mutually enjoy, as best friends.
If a trip to town is needed, Molly rides in the cab of the truck, with a little lifting assistance. She rides to the feed mill, hardware store, sale barn and has. on certain special occasions. taken a ride through the drive-through at McDonald's. She sits as proud as can be, as a true friend would.
In closing, Molly loves farm life. She looks out for the farm both night and day; she is a loyal friend of the farm.
Les Virtue, Galena
Zoey
During our near 35 years of marriage, Sandy and I have always had a farm dog. We have had a Lassie collie, an Australian blue heeler, a yellow lab and a few Heinz 57 mixes. They have all been faithful companions on our farm.
Never have we had a dog like Zoey. She is an Australian blue heeler-border collie mix. She is wound up in road gear all day long. Zoey is up early in the morning, never to miss a ride in the farm pickup to go do cattle chores and inspect the new calves born overnight. During calving, these trips can be every couple hours, since our cattle are 3 miles away, and as I put on my boots and winter jacket, she is waiting at the door to be sure she doesn't miss her ride.
In the spring and fall, it's not unusual that she is in the tractor working ground, the combine or chisel tractor, with her blanket on the floor gracefully watching the landscape go by. She reminds me of my children in their early years when riding on farm equipment was still fun.
Zoey is a very compassionate dog that always seeks your approval. She can work alongside me on the farm and vineyard all day long and still want to play ball when we get home and call it a day.
Frequently after evening supper and before bed, she will find a place on my lap in my chair to also lay back and ponder the day's activities.
In closing, when I think of Zoey, I am reminded of a quote from Roger Caras: "A dog is the only thing on earth that loves you more than she loves herself." How true that is of our special dog and companion, Zoey.
Bill and Sandy Christ, Metamora
Ginger
Hard work doesn't seem so hard when we have Ginger to make us laugh along the way. She is an adventurous, obedient, fun-loving 3-year-old miniature Australian shepherd-beagle mix. From her love for equipment to her love of the land, Ginger doesn't want to miss out on any part of farm life.
She can't seem to pick a favorite as she enjoys the view from the tractor, truck bed, trailer, bulldozer, wheel barrow, picnic table, lawn mower, straw bales, tree stumps or even the top of her dog house. Heights do not frighten this dog. She has even been known to climb trees! Although she loves to sit and enjoy the view, don't think she's lazy. Ginger loves hauling hay as she runs from one bale to the next, showing the haulers which one to throw.
When logs are in the yard, Ginger uses them as an obstacle course. Fearless of the bulldozer, she watches the big machine with envy. She must be wishing her mouth and paws could do the work of the dozer as she digs for moles in the yard. Ginger protects our garden with pride and never enters even when tempted. Frequently, we see her running deer out of the pasture mix and alfalfa fields.
Ginger never turns down a trip to our local farm store to pick up supplies. The free dog biscuit is the last thing on her mind as she patiently waits for shoppers to notice her and maybe give her a pat on the head. Even when we have been away at St. Jude Children's Research Hospital for Ross' hip replacements, Ginger hasn't taken a break, continuing her work on Ross' dad's farm. Ginger is a vital part of our operation and an even more important part of our lives.
Ross Heern, Mulkeytown
Cash
Cash, an 8-year-old chocolate Lab, was born in Michigan but found a love for the windy plains of central Illinois while visiting his grandparents in 2010. He has stayed on the farm ever since. Cash's day-to-day includes staying by our side (when awake) and barking if not getting his share of attention. He's been spoiled and loved by us, family, friends and neighbors (who visit and on occasion bring leftovers for him!). Cash lives the good life on the farm, and we thank him every day for just being a silly old dog. He especially enjoys his stuffed ducky, belly rubs, Milkbones and rides on the Kubota.
Robyn McQueen, Franklin
Diesel and Bud
Diesel and Bud are the happiest of farm pups and have virtually human personalities. They are the masters at varmint control and protectors of the sweet corn patch, and even choose to enjoy the labors of their hard work by the ear. Diesel joined our family nine years ago and is truly the life of the farm. We gained his forever sidekick, Bud, through adoption in the past year. It has been an ideal experience to bring them back together, and we have no concerns that they'll stay close to home and safeguard the farm. This is what makes our pair of yellow Labs, and full-blooded brothers, the greatest of farm dogs.
Brock and Natalie Boelens, Cambridge
Subscribe to receive top agriculture news
Be informed daily with these free e-newsletters
You May Also Like
---