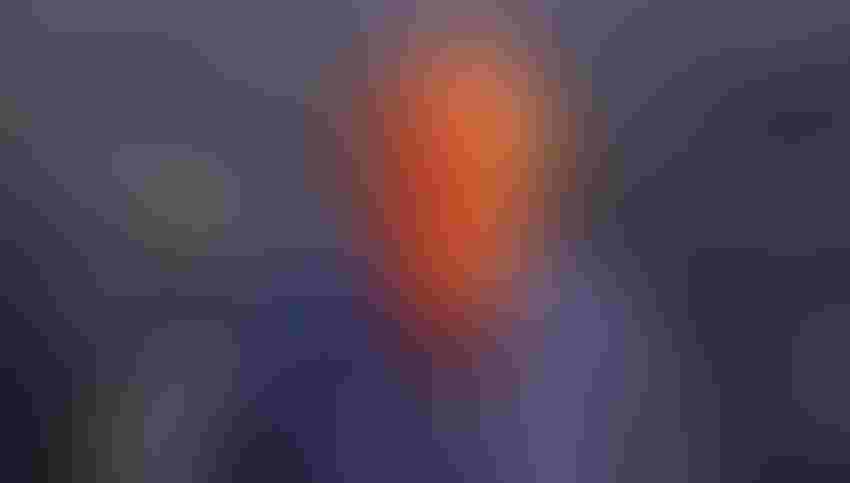 The agriculture community and the community at large was blessed with Kenneth Hood's unique, unselfish, untiring, and extensive working knowledge of farming, his fellow man, and the Christian way, according to John Freeman.
Bill Barksdale
The late Kenneth Hood began farming on his own while he was a junior in college, driving home to Gunnison, Miss., from Mississippi State University on weekends to grow cotton on 625 acres rented from a neighbor. 
That early drive and determination played out again and again during Hood's 62 years of farming in ways that will have an impact on the cotton industry and U.S. agriculture far into the future. 
Through all those years, Hood refused most attempts to recognize his efforts. Asked several times to accept the A.L. Vandergriff Cotton Pioneer Award, which the Southern Cotton Ginners Association (SCGA) presents annually for pioneering work in advancing cotton ginning and the industry, he declined. 
Last fall, Hood agreed to accept the award on behalf of H.B. Hood & Sons, a large farming and ginning operation owned by Hood and his brothers, Howard, Curtis and Cary, in Perthshire near Gunnison, Miss.  
Thus, Hood knew they would be receiving the award when he passed away at 81 last December. The award was presented to Hood's family at the SCGA's annual Awards Banquet on the eve of the Mid-South Farm and Gin Show Feb. 23. 
Industry giant 
"Kenneth Hood was a giant in the cotton industry," said Tim Price, executive vice president of the Southern Cotton Ginners Association. "He was involved in so many aspects of the cotton business from precision farming to crop protection to harvesting equipment to ginning to marketing; yet he was a humble person who never talked much about his accomplishments." 
At various times in his career, Hood served as president of the Stoneville, Miss.-based Delta Council; president of the Southern Cotton Ginners; president of the National Cotton Ginners Association; chairman of the National Cotton Council and president of the National Association of Farmer-Elected Committeemen, the organization representing farmers who serve on county FSA committees. 
But it was as chairman of the Cotton Advisory Committee of the Mississippi Farm Bureau that Hood made two of his greatest contributions to the cotton industry. 
The Boll Weevil Eradication Program began with a pilot project in southern Virginia and eastern North Carolina in 1978. After the concept proved viable there, USDA's Animal and Plant Health Inspection Service began trying to expand it westward. 
APHIS and farm organization leaders moved the program into North Carolina, then to South Carolina, Georgia, Alabama and middle Tennessee. The program required the approval of two-thirds of cotton farmers with APHIS paying 30% of the cost and growers 70%. 
When the program came to Mississippi in the mid-1990s, many opposed it, arguing their boll weevil numbers weren't high enough to justify the cost of the program. Others didn't want the federal government or boll weevil management personnel on their farms. 
Hood and other Farm Bureau leaders like David Bennett and Bobby Miller disagreed, saying Mississippi cotton producers could not compete if they had to continue spraying for boll weevils while those in other states did not. Without Mississippi's participation, eradication leaders weren't sure they could make the national program work.  
Boll weevil eradication 
As the debate on eradication became more heated, Hood presided over meeting after meeting as the chair of the Mississippi Farm Bureau's Cotton Advisory Committee, calmly answering growers' questions and emphasizing the importance of the eradication effort. In the end, growers approved the program. 
"It revolutionized the way we grow cotton," said Will McCarty, former Extension cotton specialist with Mississippi State. "Growers here once had to spray 16 to 18 times for weevils – now it has been eradicated." 
In the late 1990s, Hood was attending an American Farm Bureau Cotton Committee meeting in Denver when the group made a side trip to the North American Aerospace Defense Command in Colorado Springs. During the tour, the leader of the unit asked Hood if any of the technology he was seeing might apply to agriculture. 
He was intrigued with the resolution and high reflectance values of NASA's satellite imagery and how it might be used to assess crop conditions and variability. But agriculture needed timely imagery – anything older than a week would not be helpful. 
"I told them I needed the satellite camera on an airplane," he told Delta Farm Press' Elton Robinson in 2014. "That's how I ended up with the imagery, how we got started with NASA and how InTime, Inc., got started." 
Hood also became involved in another ground-breaking event – the development of the Case IH Onboard Module Building Cotton Picker. The Case Module Express 625 was introduced on the Hood Farm in 2006. 
Module builder 
Case IH engineers had been tinkering with the idea from the time module building equipment became available in the 1980s. But the concept took on new urgency when labor shortages became an issue. 
If you were operating 12 pickers, 12 boll buggies and 12 module builders the way the Hood Brothers were in the early 2000s, "then you've just reduced your work force by 24 men," Hood said. "Not only do you save money, but it's difficult to find those extra 24 people in our area these days." 
Along with fellow Mississippi producer Frank Mitchener, Hood grew the first field-sized trials of cotton genetically altered to contain the Bacillus thuringiensis or Bt trait that controlled tobacco budworms in cotton in 1995 
Hood also collaborated with researchers at the USDA Cotton Ginning Laboratory and industry specialists like John Freeman from Greenwood, Miss., on innovations in cotton ginning. 
Ultra-narrow row 
Freeman, who worked with Hood for eight years on his precision farming research, remembers an experiment with 1,700 acres of ultra-narrow-row cotton behind the Mississippi River Levee at the Hood Farm after Roundup Ready cotton was introduced in the late 1990s.  
Because of the row spacings – as narrow as 10 inches – the cotton had to be harvested with a cotton stripper, which strips the bolls and parts of the plant as it moves through the field. Stripper cotton, which is prevalent on the Texas High Plains, is rarely grown and ginned in the Mid-South. 
To prepare the Hood's Perthshire Gin for ginning stripper-harvested cotton, Freeman suggested A.L. Vandergriff, for whom the Vandergriff Award is named, be consulted. Hood agreed and asked Freeman to travel to California to meet with A.L. Vandergriff and his son, Loyd,  
"The Vandergriffs had several innovative and promising concepts that were incorporated into the designs of the gin machinery fabricated especially for ginning ultra-narrow row cotton at the H.B. Hood and Sons Gin at Perthshire," Freeman said. "We worked hand-in-hand with Vandergriff and Loyd Vandergriff on this project, and the gin's performance exceeded everyone's expectations.  
"Ultra-narrow-row cotton never caught on for a variety of reasons. However, the Vandergriff gin machinery designs along with their cleaning and drying principles incorporated in the project are being used extensively in modern cotton gins in far-reaching corners of the world today." 
And there was another side to Hood. Freeman remembers Bill Barksdale, a photographer from Memphis, taking photos of Hood in the ultra-narrow-row cotton that was being harvested by stripper machines, including two John Deere strippers. Hood, who owned several Case IH dealerships, only ran red equipment. 
"Bill was fixing to snap the picture, when all of a sudden two green strippers appeared in the frame of the picture behind Kenneth," Freeman said. "I said 'wait, wait, the two John Deere pickers are in the background.' Kenneth smiled and fired back: 'Are they running?'" 
Besides the cotton and ginning industry, Hood made significant contributions to his local community and to the Delta region of Mississippi. He was an active member of the Duncan, Miss., Baptist Church where he served as a deacon for many years. 
"The Agriculture Community and the community at large was blessed with Kenneth Hood's unique, unselfish, untiring and extensive working knowledge of farming, his fellow man and the Christian way," Freeman said. 
Subscribe to receive top agriculture news
Be informed daily with these free e-newsletters
You May Also Like
---