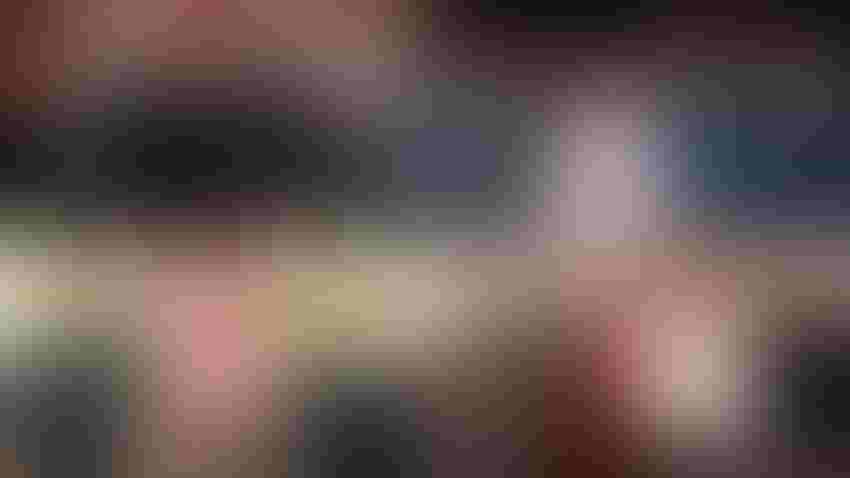 ROLL CALL: The 2023 Master Farmers join an accomplished list of "who's who" in Illinois agricultural production. Pictured are (clockwise, from upper left) Martin Barbre, Ron Moore, David Meiss and Curtis Strode, who join 2022's Curt Zehr, Darryl Brinkmann, Doug Schroeder and Jim Raben; 2020's Ted Mottaz, Joe Pickrell, Susan and John Adams, and Dale Hadden; and 2021's Kenneth Hartman Jr., Paul Taylor and Kent Hodel.
Betty Haynes and Holly Spangler
The 2023 Master Farmer class joins Illinois' best agricultural producers. Here's a look at every Master Farmer and Honorary Master Farmer named by Prairie Farmer since the awards program was reinstated in 1968.
1968
Clarence Albriten
Glenn Brown
A.J. Cording
Arthur Essington
John Harber
Frank Kern
Jack Moran
William Travis
Harry Turley
Bob Yoder
1969
John Ammon
Dick Anson
Fred Baumberger
Jack Brown
Wayne Fell
Albert Gehlbach
Eddie Gilmore
Allen Hoffman
John Keller
John Kinscherff
Richard Muehling
Philip Snell
Albert Webb
William Wyffels
1970
John Albin
Bob Armstrong
Edmund Daily
Dave Dickey Sr.
Carl Guebert
Ray Larson
Bill Pfeffer
Harold Steele
Daryle Tegeder
1971
George Brauer
Jim Cravens
Ken Gorden
Walt Stemler
Wilbert Stevenson
Don Wilken
1972
Wayne Clark
Harold Council
Bob Gilmore
Russ Jeckel
Cornelius Rietveld
Dale Schaufelberger
Frank Simpson
1973
Bill Curry
Bill Furry
Laverne Johnson
Jim Monier
Al Unverfehrt
1974
Stewart Carlisle
Elliott Y. Johnson
Keith Jones
Harold Kuehn
Jack Rundquist
Richard Stone
1975
Lyle Grace
Paul McClure
Dale McKee
Wayne Maschhoff
Donald Morris
1976
John Beckett
Bob Hamilton
Paul Kermicle
Harold Rice
Lester Stone
Charles Weingart
1977
Carl Behme
Rollie Main
Carl Marriott
Wayne Niewold
Wilbur Paulus
1978
Paul Beetz
John Huftalin
Jerry King
Bill McFadden
Harold Milliman
Bob Provines
1979
Bill Baumgartner
Melvin Parkhurst
Leo Pfeiffer
Del Scheider
Roger Wegehenkel
Jim Willrett
1980
Wayne Heberer
Don Huftalin
John Irwin
Ken Riskedal
Elmo Springer
1981
Sherwood Danner
Charles Diehl
Kenneth Kesler
Willard Severns
Roger Steimel
Don Zimmerman
1982
Maurice DeSutter Jr.
Eldon Gould
Gilbert Hennenfent
Paul Montavon
Orlo Ruppert
1983
Allen Aves
Ross Gates
Virgil Rosendale
Richard Rubenacker
J. George Smith
Marvin Warner
1984
John Curtin
John Kellogg
Bill Lenschow
Dale Mowery
1985
George Helman
I. Ron Lawfer
Ralph Sloman
1986
Hilding Allen
Ned Brown
Richard Rayburn
William Taake
1987
Joe Bicknell
Neil Pistorius
Ken Rehn
Harold Stahl
1988
Preston Carson
Donald Grubb
Harry Herrmann
Robert Wilson
1989
Laverl Byers
Sonny Eddleman
Dean Ganschow
Glenn Meyer
1990
Leland Behnken
Tom Fenstermaker
Stephen Moser
Melvin Offenheiser
1991
Edward Arndt
Floyd Bohlen
James Smith
Levi Yoder
1992
Erval Borgic
Milo Thurston
Howard Vohland
Ronald Warfield
1993
Ernest Garbe
Gerald Hartmann
Norman Karg
Russell Stewart
Gary Timpner
1994
William Beeler
Gerald Carney
Ray Hankes
Edward Peterson
1995
Wilbert E. Buchholz
Dennis Endress
Larry Fesser
Keith C. Kesler
1996
Wayne Danekas
Mike Hennenfent
Dan Meinhart
Rollie Moore
1997
Jerry Bemis
Darrell Lasswell
John Reifsteck
Ralph Walter
1998
Bob Johnson
Melvin Schweizer
Leroy Scott
Duane Torrance
1999
Kendall Cole
Wayne Gleim
Marvin Perzee
Terry Wolf
2000
Gene Lane
Richard Maloney
William Olthoff
Gene Youngquist
2001
Kent Krukewitt
Philip Nelson
Wendell Shauman
Ralph Timpner
2002
Jack Erisman
Randy Newcomb
David Ruppert
Bob Thurston
2003
Henry Bullock
Brad Daugherty
David Erickson
Kevin Green
Randy Sims
2004
Stanley Blunier
Lamar Fesser
Thomas Mueller
James Niewold
2005
Rollo Burnett
Richard Martin
Doug Miller
Russell Rosenboom
2006
Richard Guebert
Steve Stierwalt
Jim Walter
Larry Wernsing
2007
David Downs
Ronald Fehr
Bill Gray
Henry Kallal
2008
Roger Allaman
Leon Corzine
Jim Patterson
Gary Wachtel
2009
Doug Block
Tom Block
Randy Lambdin
Rick Nelson
Kent Schleich
2010
Raymond E. Defenbaugh
Garry Niemeyer
Terry Pope
Jamie Willrett
2011
David C. Bliss
Ken Greene
Linnea Kooistra
Jim Purlee
Ron Tombaugh
2012
Scott Bidner
Tim Lenz
Tim Seifert
Mel Von Bergen
2013
Ron Bork
Neil Fearn
Doug Scheider
Jim Sheaffer
2014
Ronald Bremmer
Craig Buhrow
Michael J. Kenyon
Gregory M. Leigh
2015
Bill Christ
Randy DeSutter
Don Schrader
John Werries
2016
Mark and Karen DeDecker
Reggie and Norma Jean Dowell
Ron and Julie Lawfer
Bill and Brenda Raben
2017
Allen Entwistle
Tracy Jones
Kent Kleinschmidt
Joel Kooistra
2018
Tom Martin
Jim Rapp
Fred Reichert
Darell Sarff
2019
Martin E. Marr
Jim Robbins
Bill Sahs
Boyd Schaufelberger
2020
John and Susan Adams
Dale Hadden
Ted Mottaz
Joseph S. Pickrell
2021
Kenneth Hartman Jr.
Kent Hodel
Paul Taylor
2022
Darryl Brinkmann
Jim Raben
Doug Schroeder
Curt Zehr
2023
Martin R. Barbre
David Meiss
Ron Moore
Curtis Strode
Honorary Master Farmers
1972
Charles L. Gunn
Robert J. Webb
1973
Harry G. Russell
1974
Charles B. Shuman
1976
Earl M. Hughes
1977
George McKibben
John K. Morris
1978
G. R. Carlisle
1980
Harvey Woods
1986
J.M. Holcomb
1989
Nye Bouslog
1994
Len Gardner
2003
Orion Samuelson
2010
James F. Evans
2018
Max Armstrong
2023
Robert A. Easter
Subscribe to receive top agriculture news
Be informed daily with these free e-newsletters
You May Also Like
---