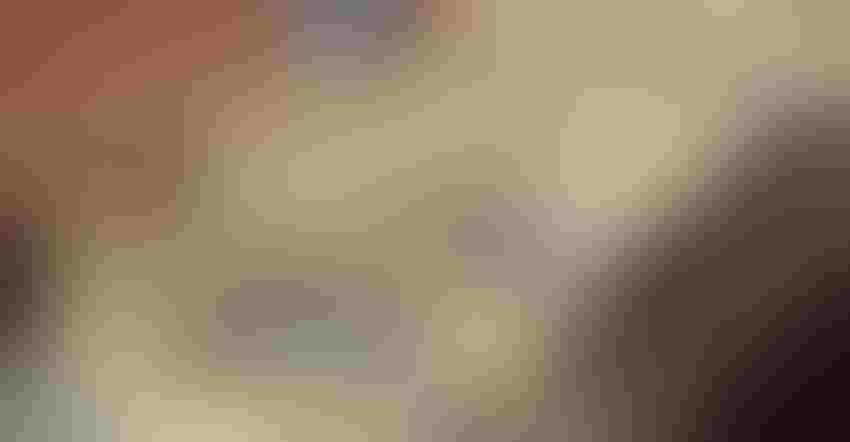 PORK SUBSTITUTE: Omnipork is a new product being launched in China and was recently taste tested in dumplings. It is a vegan product made to have pork-like taste and texture.
CoolBKK/iStock/Thinkstock
Let's talk pork. I could ramble on about China's recent move to slap tariffs on $3 billion worth of U.S. imports, including a 25% tariff on U.S. pork, but given the political tit-for-tat taking place, the situation may be totally different by the time you read this.
So instead, I'll bring you up to speed on what is trending in pork — pork substitutes. One such product that caught my attention recently was Omnipork, which is made from a recipe of soy, pea, mushroom and rice proteins, all to try and mimic the taste and feel of real ground pork so revered in Chinese dumplings.
A new vegan startup, Right Treat, founded by David Yeung, is banking on the palates of millennials preferring less calories and fat and higher amounts of fiber, calcium and iron that Yeung claims Omnipork has. Another consideration Omnipork is marking is the benefits to the environment with less animals lowering greenhouse gas emissions.
Pork is the most consumed meat in the world, and 65% of the meat consumed in China is pork.
They prefer it over beef.
People in China will eat about 56 million tons of pork this year, more than any other country, according to USDA estimates.
However, this love affair with pork is beginning to dwindle. Less meat is trending, and sales of pork have now fallen for the past three years, most believe because of growing obesity and heart health concerns. This wasn't foreseen, as many modern pork facilities have been built in China in the last few years, hoping to reduce imports — particularly from the U.S. — and to keep those profits at home.
Omnipork will be making its debut in Hong Kong in June at the Cantonese Ming Court in Cordis Hotel and JW Marriott Hotel restaurants.
It's said to be versatile and available for many recipes and methods of cooking. It can be pan-fried, deep-fried, stuffed, crumbled or turned into meat balls. 
According to the company's website, Right Treat was established with the mission to innovate food that will treat the planet right, treat animals right and treat ourselves right.
Who isn't for that? But, does it taste right? Online, I watched CNNMoney reporter Sherisse Pham and three of her colleagues do a blind test of Omnipork soup dumplings alongside regular ones. She reported that everyone could taste the difference, but that everyone also agreed that the Omnipork soup dumplings were still tasty.
"The philosophy behind Right Treat is that we believe achieving long-term win-win-win among the planet, mankind and animals is possible," Yeung states on the company webpage. "There should be no trade-off between food enjoyment and personal well-being. Consumption and enjoyment of this generation should not become liability and suffering of future generations and other beings."
Sustainable food choices are buzzwords these days, especially for millennials. I have nothing against exploring additional opportunities for growth that gives consumers more choices.
I do, however, question the name of the company. I first thought it was a special something you give to buddy for rolling over.
Subscribe to receive top agriculture news
Be informed daily with these free e-newsletters
You May Also Like
---