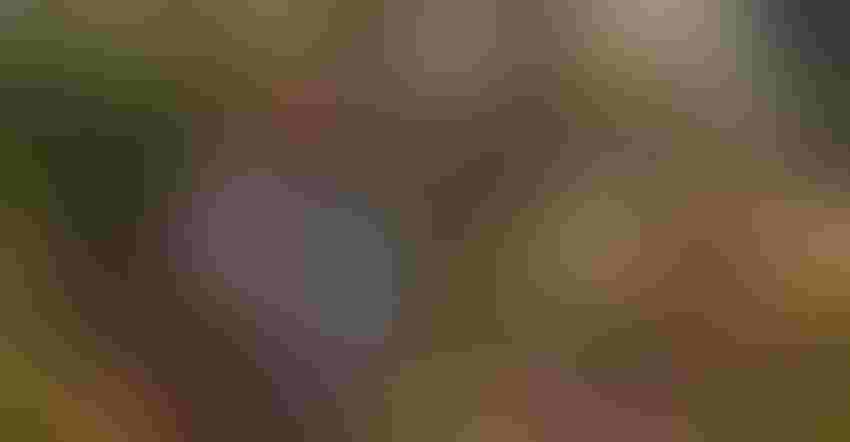 BATTLING EEE: Bill Teichman, 57, is a third-generation owner of Tree-Mendus Fruit Farm outside Eau Claire, Mich. He is trying to recover from eastern equine encephalitis.
Photos courtesy of Teichman family
By Stan Maddux
A southwest Michigan fruit grower still was fighting for his life seven weeks after contracting eastern equine encephalitis during a major outbreak of the deadly mosquito transmitted virus.
On Oct. 2, Bill Teichman was transferred from Spectrum Health-Blodgett Hospital in Grand Rapids, Mich., to nearby Mary Free Bed Rehabilitation, which specializes in long-term recovery, according to Teichman's family.
Teichman, 57, is a third-generation owner of Tree-Mendus Fruit Farm outside Eau Claire, Mich. The farm has hosted the International Cherry Pit Spit contest for 47 consecutive years.
Gary Wesolowski, market manager at the farm for about 12 years, says Teichman was taken off a respirator in late September. Teichman now opens his eyes and occasionally squeezes a hand, but whether he suffered any brain damage was not known, Wesolowski says.
Wesolowski also says Teichman still is not able to speak and is not out of the woods yet in terms of recovery, despite some encouraging signs.
"We're not going to know an awful lot for a while," Wesolowski adds.
According to the Centers for Disease Control, one-third of people contracting the virus that causes inflammation of the brain die, while many survivors have ongoing neurological problems. There is no cure, according to the CDC.

EEE PREVALENT IN MICHIGAN: Bill Teichman has contracted eastern equine encephalitis. Michigan has recorded nine human cases of the virus in six counties.
Teichman's farm is in Berrien County, one of 15 southern Michigan counties where spraying for mosquitoes began Oct. 7 to try to keep the spread of the virus in check, according to the Michigan Department of Health and Human Services.
This year, Michigan has recorded nine human cases of the virus in six counties and three deaths, as of Sept. 30, MDHHS says. The deaths were in Kalamazoo, Van Buren and Cass counties.
At least six other human deaths related to the virus have been reported in Massachusetts, Connecticut and Rhode Island.
"We are taking this step to help protect the health and safety of Michiganders in areas of the state that are being affected by this dangerous mosquito-borne disease," says Dr. Joneigh Khaldun, chief medical executive and chief deputy for health with MDHHS.
The risk for infection will continue until a hard frost, he says.
Until then, people are advised to wear long-sleeved shirts and pants, use mosquito repellant containing DEET or some other EPA-approved product, and not go outside while it's dark when mosquitos are most active.
Whether Teichman contracted the virus on his farm is not known.
According to the CDC, the species of mosquito that carries and spreads the virus most often are found in and around hardwood forests and freshwater swamps and bogs.
Symptoms such as high fever, headache, nausea and vomiting start four to 10 days after being bitten by an infected mosquito, the CDC reports.
Quick progression
Teichman's condition spiraled quickly after exhibiting many of the symptoms, including slurred speech and disorientation, Wesolowski says.
"In an eight-hour span, he probably didn't know what was hitting him," Wesolowski says. "He was out of sorts; that's for sure."
As of Oct. 7, a GoFundMe page to help the Teichman family raised more than $67,000 of an $80,000 goal. 
Apples, cherries, peaches, plums, pears, nectarines, apricots, and black and red raspberries are grown at the more than 450-acre farm.
Also on-site is a country market offering products such as cherry topping, ciders and apple butter. The grounds are made available for private events such as weddings, receptions, church outings and group picnics.
According to the family, the farm was started more than 80 years ago when William and Leone Teichman planted 15 acres of Jonathan apples on a hillcrest. Known then as Skyline Orchards, it evolved into a U-pick operation three years after being purchased by the Teichmans' son Herb in 1969.
Wesolowski says employees at the farm are doing extra work to make up for Bill Teichman not being there during the ongoing U-pick and harvest. He described Teichman, with his tall frame and easy-going demeanor, as a "gentle giant."
"He's a really good guy to know," Wesolowski says. "He'd give you the shirt off his back."
Bee concern
Southwest Michigan beekeepers expressed concern that the pesticides used in the mosquito spraying also could kill some of their bees.
In a Facebook post, Great Lakes Bee Supply advised farmers to put an entrance reducer on their hives and to keep bees inside for the duration of the spraying.
"We recommend leaving your bees blocked in the hive for at least 12 more hours after all of the spraying has stopped," GLBS said. "If you are concerned about food or water supplies during this time, add water or sugar water to your hive.
"The residual effects of this pesticide are unclear, so we would also recommend that you pull any honey you wish to process and consume for the 2019 season from your hive before the spraying begins. We would not recommend eating any honey from your hive after the spraying has occurred for the rest of the year."
According to MDHHS, 33 animals in southern Michigan contracted eastern equine encephalitis as of Sept. 30.
Eleven horses in Indiana contracted eastern equine encephalitis. Nine of the 10 horses that died were in Elkhart County in the far northern part of the state, according to the Indiana State Department of Health.
Maddux writes from New Buffalo, Mich.
Subscribe to receive top agriculture news
Be informed daily with these free e-newsletters
You May Also Like
---