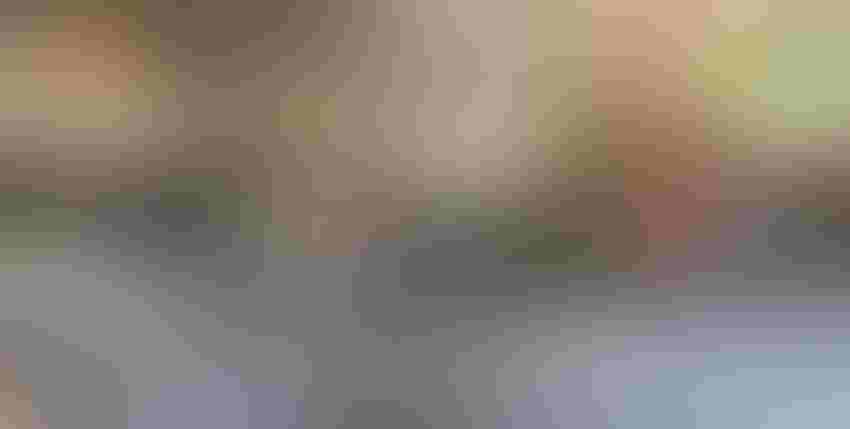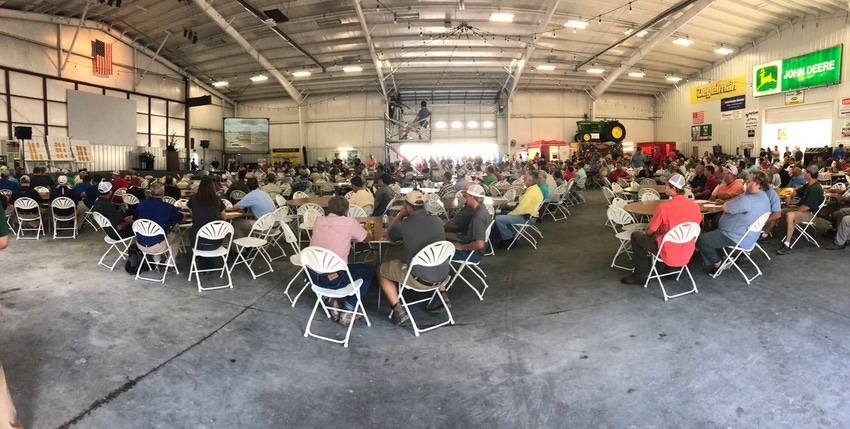 A crowd of more than 650 people showed up for the Blackland Farm Managers Tour at 3B Farms in Pinetwon, N.C. Aug. 1.
Shelley Smith/Growers
 Back in the 1990s, NBC used the slogan "must see TV" to promote its Thursday night lineup that included such favorites as Friends and Seinfeld. While the shows were entertaining and worth watching, you would be just fine if you missed them. It really wasn't a "must" for you to watch NBC on Thursday night in the 1990s.
 However, "must attend" is a good way to describe crop field days that are held in the summer as harvest approaches. Summer is a busy time in the fields for farmers, but it really is a must that they get away from the farm for part of a day to learn the latest research, network with others in agriculture and discover ways to better produce crops.
 The Blackland Farm Managers Tour truly is "must attend" for North Carolina those who farm the fertile blacklands in the northeastern corner of the state. The 48th Blackland Farm Managers Tour was held on the first Wednesday of August this year as it always has been in years past.
 Beaufort County Extension Agent Rod Gurganus, who helped organize the tour with his fellow Extension agents and other folks, says a large crowd of more than 650 people showed up for this year's tour at 3B Farms near Pinetown. While excessively wet weather prohibited plot tours this year, the tour was a success and went well.
 "We had a really nice set of test plots we were excited to show, but the weather just didn't cooperate," Gurganus noted in an email. "We had almost steady rainfall for a week and a half leading up to the event, and that prevented us from getting the fields ready for touring. Luckily, we had scheduled a dynamic speaker like Dr. Fred Below (a professor of crop physiology at the University of Illinois) to be with us, and his presentations, along with the other NCSU specialists, provided the attendees with the quality program they always expect from the event."
 Gurganus says most folks appreciate the effort that goes into the field day and understand when they can't tour the plots because of muddy fields. "Luckily, we always choose host farmers that are willing to help us make the event great, and who have the infrastructure to provide what we need. 3B Farms came through for us in a big way this year," he says.
 This year's Blackland Farm Managers Tour was my fifth to attend representing Farm Press. For me, the tour has a family feel and even a taste of the old camp meetings held back in the day. The meal is always good, plus retired Beaufort County Extension Agent Gaylon Ambrose even made homemade butter pecan and peach ice cream for dessert, a favorite tradition of the tour.
 More field days are to come in the Carolinas in September. On Sept. 6, the peanut field day begins at 8:30 a.m. at the Peanut Belt Research Station in Lewsiton-Woodvile, N.C. On Sept. 11 beginning at 10 a.m., the Southeastern North Carolina Peanut Field Day is set for the research station in Whiteville.
 On Sept. 13, the Pee Dee Research and Education Center in Florence, S.C. will hold its annual field day beginning at 8 a.m. The North Carolina Cotton Field Day is set for the same day at the Upper Coastal Plain Research Station in Rocky Mount beginning with registration at 11 a.m.
 September is a busy time on the farm, but these field days are still "must attend" events. You are guaranteed to learn something, reconnect with friends and take away a new idea or two. Even fans of "must see" TV can appreciate that.
About the Author(s)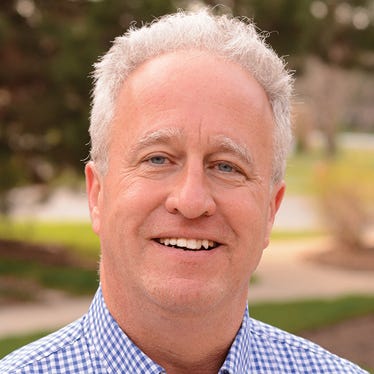 Associate Editor, Southeast Farm Press
John Hart is associate editor of Southeast Farm Press, responsible for coverage in the Carolinas and Virginia. He is based in Raleigh, N.C.
Prior to joining Southeast Farm Press, John was director of news services for the American Farm Bureau Federation in Washington, D.C. He also has experience as an energy journalist. For nine years, John was the owner, editor and publisher of The Rice World, a monthly publication serving the U.S. rice industry.  John also worked in public relations for the USA Rice Council in Houston, Texas and the Cotton Board in Memphis, Tenn. He also has experience as a farm and general assignments reporter for the Monroe, La. News-Star.
John is a native of Lake Charles, La. and is a  graduate of the LSU School of Journalism in Baton Rouge.  At LSU, he served on the staff of The Daily Reveille.
Subscribe to receive top agriculture news
Be informed daily with these free e-newsletters
You May Also Like
---