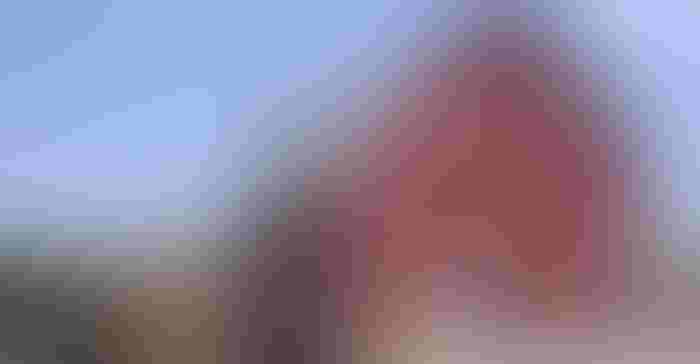 BEAUTIFUL BARNS: The Ellis barn a few miles north of Lytton in Calhoun County, is on the west- central Iowa tour. A landmark red barn currently used to raise Red Rock Arabian horses, it's called the "big red barn" by locals. Built in 1918, it is 40 feet high to the eaves.Iowa Barn Foundation
Historic restored barns will be open to the public during the Iowa Barn Foundation's free, self-guided all-state barn tour Sept. 22-23. Hours for this Saturday and Sunday event are 8:30 a.m. to 5:30 p.m. both days. People interested in the history of Iowa agriculture are encouraged to hop in their cars and drive the part of the tour in the area nearest them.
Driving directions are available online at iowabarnfoundation.org.
18 years of Iowa All-State Barn Tours
"We are celebrating our 18th year of Iowa All-State Barn Tours," says Jacqueline Andre Schmeal, a longtime member of the foundation and organizer of the tours. "There are actually nine different areas or parts of the tour this year, as we divide the state tour into areas to make it easier for people to drive and see the barns closest to them."
Most barns on the tour have been restored with matching grants from the Iowa Barn Foundation. Other property owners received awards of distinction from the foundation for restorations they undertook themselves.
The Iowa Barn Foundation is an all-state, nonprofit organization founded in 1997 by a group of folks with Iowa roots. It raises money from individuals, foundations and corporations to give matching grants to property owners to restore their barns. The barns must be restored as closely as possible to the original. The property owner must sign a perpetual easement when receiving a grant.
Roxanne Mehlisch, another longtime active member of the foundation, notes, "This is the only group of its kind in the country."
Pride in Iowa's agricultural heritage
The purpose of the annual Iowa All-State Barn Tours, says Mehlisch, is to encourage barn preservation, to teach young people about Iowa's rich agricultural heritage and to renew pride in this unique heritage. "At many of the stops on the tour, the barn owners will discuss the barns and their histories. Visitors on the tours come from Iowa and other states, too."
The tours and other efforts of the foundation have encouraged barn preservation throughout Iowa and beyond. "The tour is free, although donations to support the foundation's work are appreciated," says Mehlisch.
For more information about the tour and the foundation, visit iowabarnfoundation.org or email [email protected].
For a preview of some of the barns on this year's Sept. 22-23 tour, click through the slideshow above. All photos are provided courtesy of the Iowa Barn Foundation.
Subscribe to receive top agriculture news
Be informed daily with these free e-newsletters
You May Also Like
---