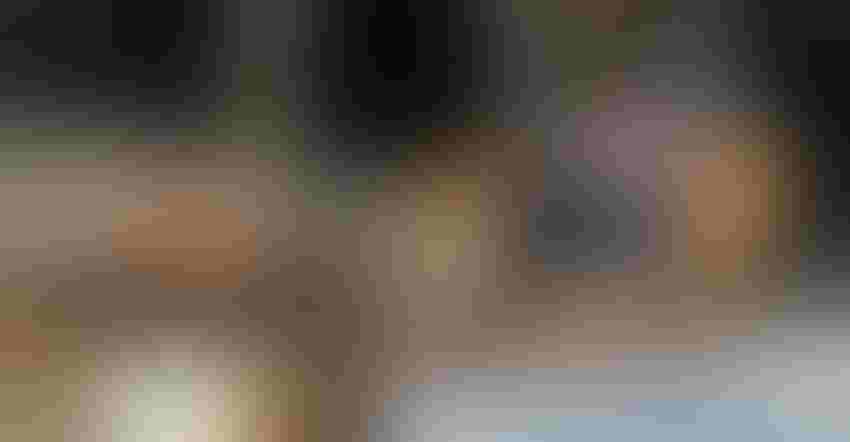 FROM THE GROUND UP: This freestall facility and parlor were the Hunsbergers' first major investment after buying their farm.
As a boy, David Hunsberger always heard it was impossible to start farming without a farm in the family. His dream was not to be denied, though.
Raised in Bucks County, Pa., his first taste of farming was via his parents' large truck patch and on dairy farms of his extended family. It was enough to wet his appetite for more — a lot more.
As a teen, his first job was picking apples for a neighbor. He also helped on another neighbor's crop and livestock farm along with other part-time jobs while finishing high school. Then came two years of work as a carpenter, plus nine months of voluntary service for the Mennonite Church.
After running an L2 Gleaner combine during the Great Plains wheat harvest, Hunsberger chose to "book it" at college in Hesston, Kan., where he met his wife-to-be, Christina. After returning to Pennsylvania, he milked cows while attending Delaware Valley College and finished school. Along the way, he and Tina married, beginning "with a $12,000 school debt, one John Deere 620, a 1967 Rambler and a 1982 Renault," he recalls.
In 1985, with Hunsberger armed with a new job as an Agway salesman, the couple made their first foray into farming — custom-feeding dairy heifers on a rented 60-acre farm. Three years later, they bought an 8-acre farmette, rented cropland and continued custom-raising heifers, adding their own purchased heifers along the way.
When Hunsberger was 27, the couple purchased what's now their home farm — a defunct dairy with 130 acres. That year — 1994 — they started milking with 16 cows in a 36-stall barn.
"Back then, we were still a bit too optimistic, and started making payments on the dairy before we sold the farmette," adds Hunsberger. "It was another valuable lesson in leveraging. It took us 18 months of double mortgage payments until we sold our former home."
Since starting, the Hunsbergers have had three cow sales, a partial dispersal, a buyout of lactating cows and a complete dispersal. "We used these events to pay down capital debts on land and building projects," he explains.

HIGHLY MOTIVATED:

Hunsberger is achieving his dream and looking to the future.

Hunsberger, a regional seed sales coordinator, has always had an off-farm job with income covering 100% of family living expenses. All farm returns go back into the farm.

Today's transitioning business
Despite other financial "hiccups" along the way, Happy Hollow Dairy is a mostly owned, 370-acre dairy with a 200-cow milking herd averaging 25,000 pounds of milk per cow per year, with a swing-16 parlor and three-times-a-day milking.

Cropland is no-tilled and intensively double-cropped to generate feedstuffs and hold milk breakeven costs down. His target goal is $16.20 per cwt. The cropping mix includes double-cropped corn silage, triticale plus combinations with crimson clover and hairy vetch as a winter cover crop and spring forage crop, and ryegrass for grazing. They also grow barley for silage harvest at soft-dough stage and dwarf forage sorghum. Alfalfa/grass is baled for dry hay.

To hold down equipment costs, planting and silage harvest is custom-hired. This year, Hunsberger experimented with interseeding cow peas into the corn. The goal: Increase silage protein content and digestibility.

 
A peek at Hunsberger's accomplishments
Location: Mifflintown, Juniata County, Pa.
Family: Hunsberger and wife Christina have five grown children: Nathan, Abram, Isaac, Hiram and Hannah.
Education: Associate agriculture degree at Hesston College in Kansas, and a dairy husbandry degree at Delaware Valley College, now Delaware Valley University.
Leadership roles: Hunsberger is vice president and founding board member of Juniper Community Missions. He has also served on boards of the Maryland Virginia Milk Producers cooperative, Pennsylvania Forage and Grasslands Council, Pennsylvania Dairy Stakeholders and Juniata Clearing House.
Notable: Hunsberger believes it's still possible to start farming today — "if you have the drive and will to do what it takes."
Subscribe to receive top agriculture news
Be informed daily with these free e-newsletters
You May Also Like
---