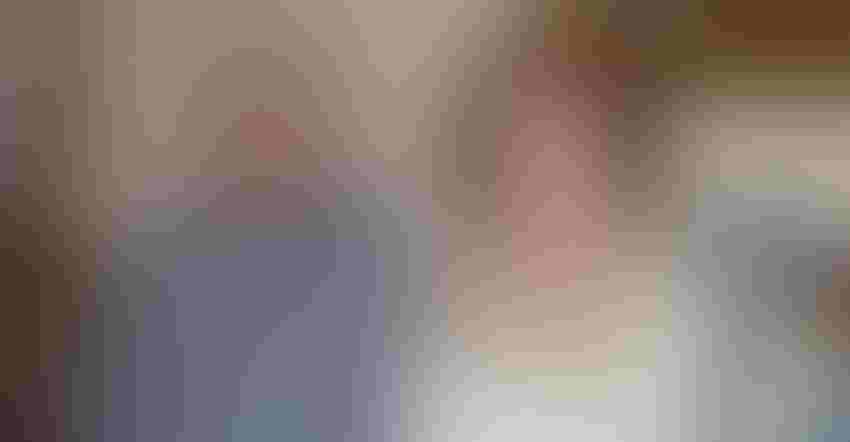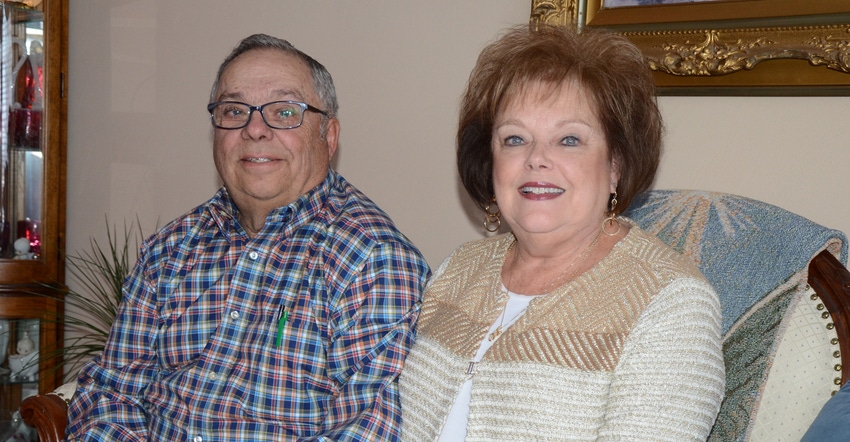 MASTER FARMER: Dale Profit was named a 2018 Ohio Master Farmer during the Ohio Conservation and No-Till Technology Conference in Ada, March 6. He has been married to his wife Judy for 48 years.
Farming is an evolution, and Dale Profit will tell you that technology and technique continue to change how he farms and how the agriculture industry progresses.
He's seen many changes since he started farming fulltime in Van Wert, Ohio, with his father, Kent, in 1965 — most for the better. He's been a quick adopter of technologies and methods that make sense financially, but just as importantly, improve the environment and pave the opportunity for the next generation.
Dale was named a 2018 Master Farmer in conjunction with the Ohio Conservation and Tillage and Technology Conference in Ada on March 6.
Dale was a pioneer in no-till. "He has been successful with no-till when the conventional wisdom was that it would not work on northwest Ohio lake-bed soils," says Randall Reeder, retired OSU Extension agricultural engineer who co-nominated Dale for the award with Jan Layman, a 2016 Master Farmer from Hardin County.
Dale uses ag consultants to pull samples on every field, every other year. Once sampled and gridded, he variable rate applies fertilizer according to Tri-State recommends.
And, in the late 1990s, he was one of the first two in Van Wert County to have a tractor that steered itself.
Early on
Dale's father started the farm in 1938. When the farm was big enough, Dale left his factory job at the age of 20 and joined his dad. With more growth, his brother,Charles also joined the operation to form a corporation growing row crops, but also tomatoes for several years and sugar beets for a time.
"The tomato canning company was only three miles away, but we quit tomatoes in 1973 because of many different issues," Dale says.
They went to corn, beans and wheat for several years before starting out small in popcorn in 1986. By the early 1990s, they got out of field corn and replaced that acreage with popcorn. "We decided that we would be more efficient with one or the other," Dale explains. "It was also about the time we got into the seed bean business."
NO-TILL PIONEER: Dale Profit has been no-tilling ground since the early 1980s.
He bought his brother out of the operation around 2006.
Today, Agracola Farms is about 2,000-plus acres and is operated by Dale and his son, Trent, with part-time help from son-in-law Troy Bowersock and two grandsons, Alek and Evan Bowersock. They grow popcorn, seed beans, and once in a while, wheat.
"He (Trent) keeps me young, and we get along well," Dale says. "Sometimes we have different opinions, but that's OK. I tell everybody he does 90% of the work, I do 10%."
Just as Dale's father helped him and his brother get into farming, he plans to do the same with Trent and Troy. "I will help both of them the best I know how," he says.
By Dale's side since they wed in 1970 is Judith. "She is the gopher and meals on wheels when things need to happen," Dale says. "She's supported me whenever I've needed it."
In addition to Trent, they have daughters, Tricia and Tonya, and in total they have 10 grandchildren.
"Dale, and other family members, are generous with their time for the community," Reeder says. "They were active supporters of the annual Farm Focus event for many years."
Getting better
A benchmark of the operation, Dale says, "is to get better before we get bigger." That objective has included several good decisions, but also some not as good.
After taking a trip to Illinois in 1979 to hear from a farmer who was successful with no-till, Dale and his brother tried their hands at no-till in the early '80s. "We played around with no-till and were not successful initially, but we kept at it," he says, "We had a lot of failures, with some successes once in a while."
More land was converted to no-till in the early 1980s and, instead of converting it all over, they added strip till on bean ground that was going to corn.
"There weren't any strip-till machines around," Dale recalls. "So, we went here and there and sourced parts to put our own together."
It was a 12-row machine that maxed out at about 5 mph, which made it tough to get the work done alongside harvest. "Trent decided we needed a 16-row that went faster," Dale says. "Instead of shanks, it has discs that allow us to put fertilizer right in the ground. We don't spray anything on top the ground anymore."
What Dale was doing got noticed, as other farmers in the area began to adopt no-till. "I'd like to think we may have been influential in that," he says.
Tile drainage is important in Northwest Ohio, and Dale has been diligent in tiling his land and encouraging his landlords to do so as well. "I try to demonstrate to them the advantages of doing so, not only for income, but for how it can improve the soil."
Dale started with 50-foot tiles and has now gone to plastic in a 35-foot spacing.
Farming will continue to evolve, and technology will continue to change farming, Dale says. "My job is to do the best job I can with the tools I have. It's my goal to do the best I'm mentally and physically able to do, and leave the land so it's better for the next generation."
Name: Dale Profit
Spouse:  Judith
Farm: Agracola Farms Inc. raising popcorn, seed soybeans, wheat
Nominator: Randall Reeder and Jan Layman
Leadership: Member of Farm Focus Committee and served as treasurer for many years.  Served as host farmer in 1981.  Served as church Sunday school teacher, Sunday school superintendent, trustee and chairman of the building committee.  
Ag Leadership: Member of Farm Bureau, and Ohio Soybean Association. Served on the Ohio Soybean Association Board where he was on many committees and was a past president. Member of the Ohio Soybean Council from 1997 to 2016. He was appointed to the United Soybean Board in 2008 through 2016, and serviced on numerous committees. Van Wert County Soil and Water Board, serving as president. 
Awards: Van Wert County JC Farmer of the Year. Top popcorn producer for Weaver Popcorn Company in 1991
About the Author(s)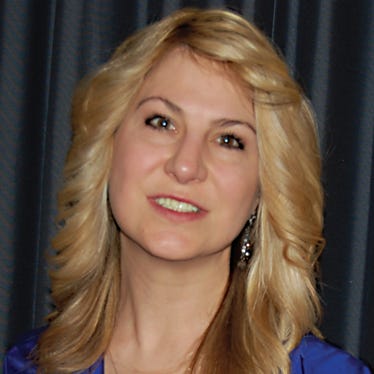 While Jennifer is not a farmer and did not grow up on a farm, "I think you'd be hard pressed to find someone with more appreciation for the people who grow our food and fiber, live the lifestyles and practice the morals that bind many farm families," she says.
Before taking over as editor of Michigan Farmer in 2003, she served three years as the manager of communications and development for the American Farmland Trust Central Great Lakes Regional Office in Michigan and as director of communications with Michigan Agri-Business Association. Previously, she was the communications manager at Michigan Farm Bureau's state headquarters. She also lists 10 years of experience at six different daily and weekly Michigan newspapers on her impressive resume.

Jennifer lives in St. Johns with her two daughters, Elizabeth, 19, and Emily 16.
Subscribe to receive top agriculture news
Be informed daily with these free e-newsletters
You May Also Like
---