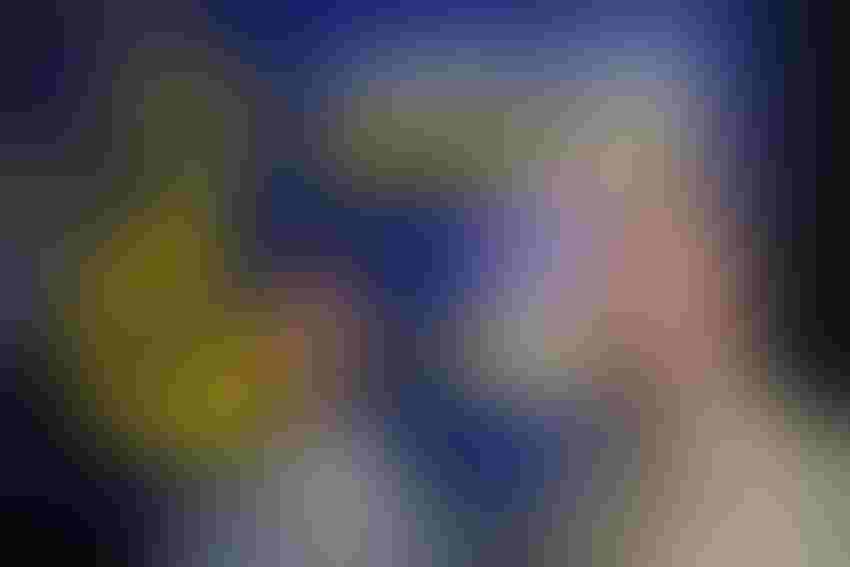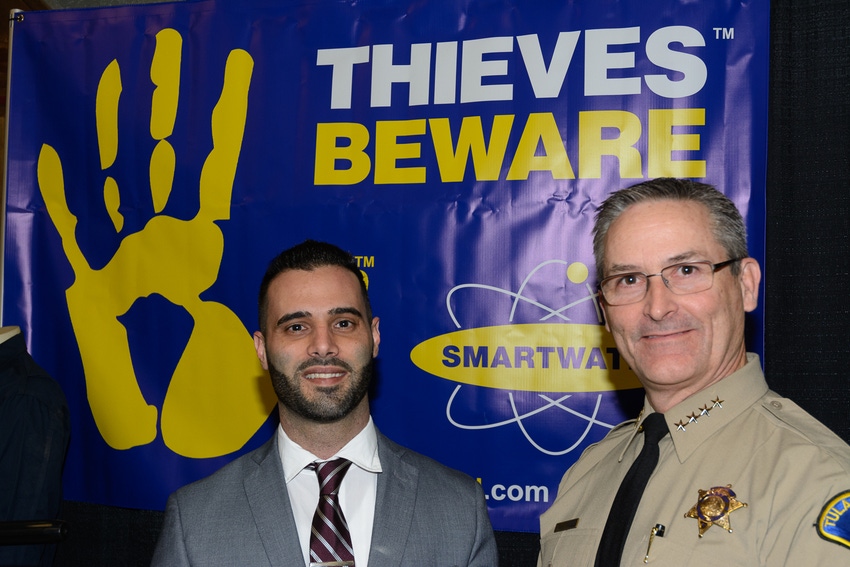 Antonio Arserio, general manager of Smartwater CSI, left, and Tulare County Sheriff Mike Boudreaux have teamed up to utilize an innovative, high-tech tool to link criminals and stolen property back to victims of crime.
Todd Fitchette
Technology straight out of a television crime drama will soon be employed by the local sheriff to address rural crime in America's largest agricultural producing county.
Tulare Sheriff Mike Boudreaux recently introduced a spray-on technology that can link thieves to property crimes and that property back to its victims.
The technology isn't new. It was developed about two decades ago by a retired police officer and his scientist brother in the United Kingdom, according to Antonio Arserio, general manager of Smartwater CSI's American headquarters in Florida.
According to Arserio, once applied to an object, the traceable liquid material can transfer onto the skin and clothing of thieves, providing a unique forensic fingerprint of sorts that law enforcement can use to connect criminals with a crime.
The material contains a unique chemical signature. Each chemical signature is registered to an individual owner and thus can be forensically traced.
The material glows under a specialized ultraviolet lamp with light waves different than those typically viewed by black lights. The material glows a bright yellowish-green under the special lighting. On objects the material can remain for up to five years and on clothing it's generally permanent. On human skin it can remain for several days.
Common black lights will not reveal the material.
Boudreaux says he is still working with the Tulare County District Attorney's office on legal admissibility issues in court proceedings.
Nevertheless, Boudreaux says the same technology will be installed at all jail locations in the county so when a prisoner is brought into the facility the sheriff will be able to detect the material on an individual.
Deputies will have portable lights in their patrol vehicles for investigative purposes as well.
If a person is detected with the material on them, samples can be taken and sent to a lab for examination that can link the residue to a particular crime.
Some U.S. cities are already using the technology to link criminals to property crimes. Agencies in Florida claim to be having positive impacts in returning stolen property back to victims and linking criminals to property crimes.
Boudreaux recently met with the Tulare County Farm Bureau's board of directors to share the news about the technology with area farmers. According to Tricia Stever Blattler, executive director of the organization, farmers on her board appeared excited about the new technology.
"This type of product puts just another tool in the tool box of our law enforcement, and our farmers and ranchers, to help be a part of their own solution," she said. "It really gives us a lot of faith that our law enforcement places such a high priority on deterring rural crime in the area."
Roger Everett is a beekeeper in Terra Bella and president of the local Farm Bureau board. He said the recent presentation Boudreaux made to the organization's leadership seemed well-received and he remains excited about the ramifications of the technology.
Everett sees the ability to use this technology to mark bee hives and the frames inside them for easier identification.
"I'm excited about this technology," Everett told Western Farm Press.
Subscribe to receive top agriculture news
Be informed daily with these free e-newsletters
You May Also Like
---