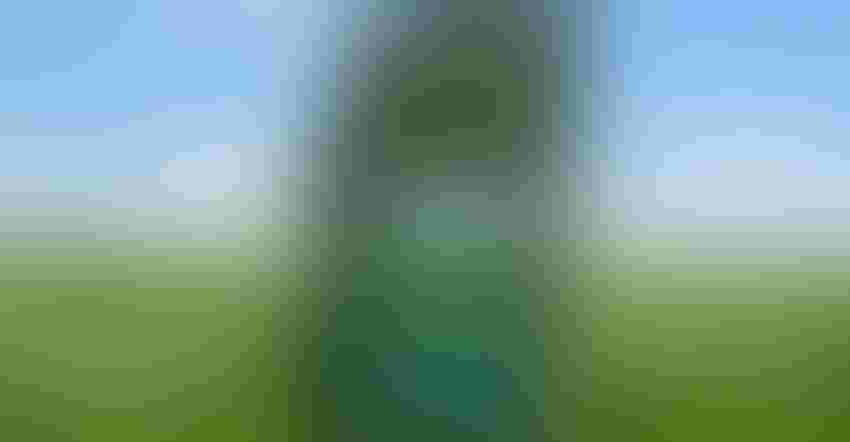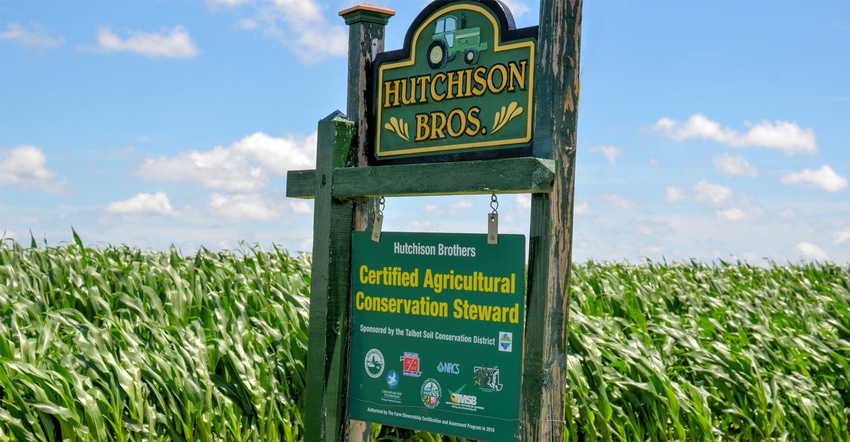 ENVIRONMENTAL MODEL: Hutchison Brothers farm has long served as an environmental model.
When farmers and environmentalists on Eastern Shore Maryland think of farmer-advocates, Robert "Bobbie" Hutchison is at the list's top. He has long been a humble, articulate spokesman for agriculture.
As a young farmer, Hutchison foresaw the need for farmers to be active and on the front line of the Chesapeake Bay cleanup. Thanks to his family, he was able to invest time and effort to be a "farmer's voice" in the regulatory process that shaped Maryland agriculture into a national environmental model — countering radical environmentalists.
Hutchison is a partner in Hutchison Brothers, a 4,000-acre cash grain and vegetable cropping business now owned with brother Richard, son Travis, and nephews Kyle and Robert. He and four brothers grew up on their father's farm and went through several stages of partnerships since starting farming in 1973.
After attending nearby Chesapeake College, Hutchison spent two years as an agronomy research technician at University of Maryland. That whetted his thirst for learning about technologies and research to improve nutrient and economic efficiencies — variable-rate nitrogen and planting, buffers, bioreactors and more  — now crucial to reducing agriculture's environmental impact. All of these, plus cover crops, have been incorporated into Hutchison Brothers' farming system.
Managing today's operation
While Richard and Kyle oversee the financial and marketing side of the business, Bobbie Hutchison's prime responsibilities are for field operations involving corn, small grains and cover crops. Their grain enterprise includes corn, soybeans, barley and wheat. They have diversified their business with vegetables such as peas, lima beans and pickling cucumbers, replacing livestock.
Sandy soils on owned and leased ground make 28 pivot-irrigation systems an economic must on close to 2,300 acres. The five-year average yield gap between dryland and irrigated corn and soybeans is 82 bushels for corn and 22 bushels for soybeans.
"Today, 60- to 70-bushel soybeans barely pay for irrigation," points out Hutchison. "We've figured out how to consistently get 80 bushels with irrigation, with liquid fertilizer, planting early and maybe late irrigation."

A FARMER'S CHAMPION:

From his work to fund hull-less barley potential to finding innovative solutions to the Delmarva's poultry litter overabundance, Hutchison has been a tireless ag advocate.

The farm uses Greenseeker technology for on-the-go variable-rate nitrogen application on corn and small grains. "We're gaining confidence in it," he adds, "but dependable algorithms aren't yet written for high-yield corn. Even so, about 80% of our tests show using this technology can save nitrogen on corn."

To do their part in the Chesapeake Bay cleanup, Hutchison Brothers also installed three wood chip bioreactors in ditches. The goal is to remove nitrogen and phosphorus from water going to the steams and Bay. "They're too expensive to justify for a five-year life; 20 years would bring costs down," he adds. "But we need to tackle runoff at that point and with buffers around fields."

 
What makes Hutchison tick
Location: Cordova, Talbot County, Md.
Family: Hutchison and wife Mary Lou have two children, Jodi and Travis, and four grandchildren.
Education: Associate degree in agriculture at Chesapeake College.
Leadership roles: Hutchison has served as president of Talbot County Farm Bureau, Maryland Grain Producers Association, Maryland Grain Producers Utilization Board, and as a member of the National Barley Improvement Commission. He's also secretary of the Hughes Center for Agro-ecology and co-chair of the Delmarva Land and Litter Workgroup.
Notable: Hutchison foresaw the need for ag research and development to preserve agriculture on the Delmarva, and worked tirelessly with others to make it happen. Recognized as Man of the Year in 2002 by Maryland Grain Producers Association.
Subscribe to receive top agriculture news
Be informed daily with these free e-newsletters
You May Also Like
---