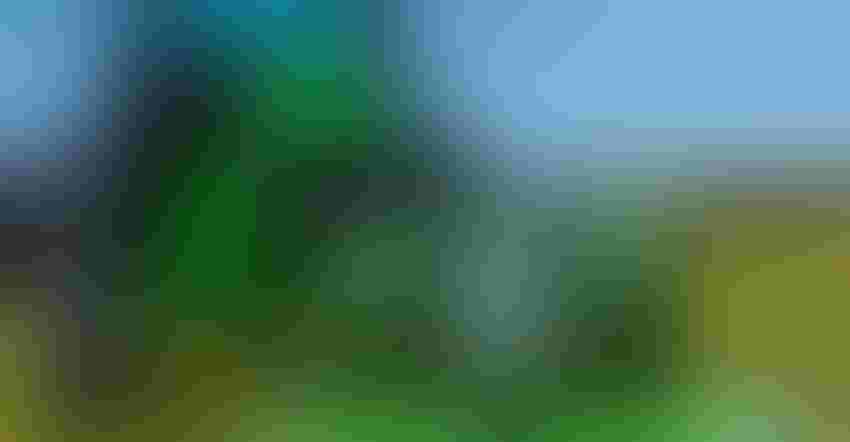 LIMITED EDITION: Anheuser Busch/InBev with its Busch Light brand is teaming with John Deere for a limited edition can. The two partners are also holding an event on May 21 – Cornfield Cornhole – where a giant version of the popular yard game will be played in West Bend, Wis.
Courtesy of Busch Light
Twitter users may have seen the new Busch Light cans with a John Deere 'look,' which is an early preview for a program being announced today – May 9. The limited edition cans – "For the Farmers" – will be distributed across the country and is a collaboration between the two firms. And beyond the limited edition cans the two companies are launching a new event.
While Anheuser Busch LLC shares that the limited edition cans will be available starting May 16, there are already enough social media posts showing farmers making early purchases. The limited edition cans will be available May 16 through July 3 and consumers can purchase 24- or 30-pack cases. A portion of the proceeds from the release will benefit Farm Rescue.
Krystyn Stowe, head of marketing, Busch Family Brands at Anheuser Busch InBev, shares with Farm Progress that the company is showing farmers support because "we realize the impact farmers have on our physical product and on America's economy and, as a brand that shares in their values, we are honored to play an active role in helping these communities."
Bringing out Cornfield Cornhole
While the limited edition cans will push the farm message, John Deere and Busch Light are teaming to bring awareness for Farm Rescue on a grander scale with a giant game of cornhole. On Saturday, May 21, Busch Light and John Deere will host Cornfield Cornhole, a free, one-day fan experience in Big Bend, Wis., southwest of Milwaukee.
Stowe says Busch and Deere created Cornfield Cornhole to celebrate their partnership and "demonstrate our commitment to farmers in a big way – literally. As with anything we do, bringing a larger than life experience to our fans and the communities we impact has been at the center of it all."
At the event, a John Deere tractor and ground-posted slingshot will catapult hay bales wrapped in "For the Farmers" graphics across the cornfield to reach an over-sized cornhole board. There will be four rounds, with a group of lucky attendees competing in the final game to close out the day.
"While the event is fun-spirited and takes the classic lawn game to a whole new level, our ultimate goal is to use this oversized event to raise greater awareness for our partner Farm Rescue and the American farm families they support," Stowe adds.
To attend Cornfield Cornhole and possibly snag a spot in the big game, you can reserve tickets at busch.com/forthefarmers. The event is free, but tickets are required.
Busch and Farm Rescue
Stowe explains that Busch Light has been a partner with Farm Rescue since 2019 and has delivered more than $750,000 in donations to date. "We are proud to continue our work with the non-profit and raise awareness and funds for the farming community that we care so deeply about," she adds.
The work has included limited edition corn cans and redirecting advertising dollars to create barn and shed billboards to support farmers across the country.
In a release announcing the new John Deere/Busch Light cans and the cornhole event, Bill Gross, founder and president, Farm Rescue says "both companies have been incredible supporters of our mission, and this latest partnership truly solidifies their commitment to American agriculture. With the money raised through this one-of-a-kind promotion, Farm Rescue will be able to extend a helping hand to many more farm families in crisis."
Jenny Ose, director of marketing, agriculture and turf, John Deere says the collaboration "presents an exciting, valuable opportunity to celebrate farmers, the ag industry as a whole and the important work of Farm Rescue."
You can learn more about Farm Rescue at farmrescue.org.
Subscribe to receive top agriculture news
Be informed daily with these free e-newsletters
You May Also Like
---