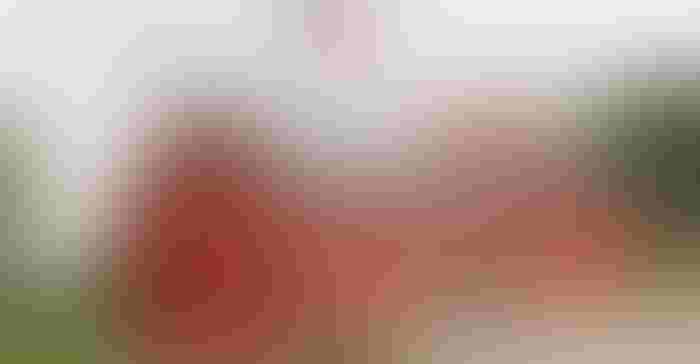 People envy their neighbors for different reasons. Maybe it's their in-ground pool or classy home remodeling. Maybe it's the shiny SUV in the driveway. Or just maybe it's their barn. Yes, their barn.
For several years, Arnie and Char Schwerin of Metamora, Mich., lived next door to a farmstead that dates to the mid-1800s. The house had been built in 1847, while a 24-by-68-foot portion of the hand-hewn, timber-frame barn may date back to 1850.
The couple wasn't looking to buy property, but when the farmstead was put up for sale in 2006, they could not pass up an opportunity to own it. 
"We've always loved old barns," Arnie says. "We admired that barn." An honest case of barn envy.
At the time of purchase, the couple was still working full time. The barn had no issues that demanded immediate attention, so rather than have it stand empty, which hastens the demise of a barn, they rented it to a family who used its four stalls for their riding horses.
Eight years later, retired and able to devote more time to the farmstead, the Schwerins pulled on their work gloves and tackled renovations in earnest.
"We started with the house, which still has the log-beam floor joists with the bark intact," Arnie says. "Major interior upgrades were made, including new flooring and replacing half the home's old wiring."
They moved into the farmhouse, selling their home next door to a son. Next came the removal of a tumble-down corn crib and upgrades to the chicken shed to become a storage building. 
Then, their attention turned to the barn.
"I have not been able to find any history on the barn and would love to learn more," Arnie says. "We know that previous owners built an addition in the early 1900s, which is the gambrel-roofed section about 36 by 48 feet in size. The basement portion, built into the hill, is still set up with 12 stanchions for cows, a calf pen, and a run-in for the cows where they could shelter from the weather. According to writing in the concrete, it was poured July 12, 1937."  Thoroughly cleaned, it serves as storage space.
Stopping the leak
The first order of business for barn repairs was to stop a leak that had started in the roof and to add additional bracing to beams, ensuring continued structural soundness.
"The barn got a fresh coat of paint, top to bottom," Arnie notes. "In 2018, we turned the four horse stalls into parking for two vehicles. The grain room became a private entertaining area with a bar."
"We found miscellaneous old tools and antiques when the barn was cleaned," Arnie adds. "Now, we are always on the lookout for old items to decorate inside and out."
Over time, the flooring in old barns often becomes unlevel, stained, weak in places, or may even have boards missing as shifting, repetitive use and weight took their toll. 
"We had a local sawmill cut new boards that are 1.5 inches thick by 8 inches wide and 16 feet long," Arnie explains. "The new boards were screwed to the original floorboards. We chose pine to minimize added weight load."
He estimates that about two-thirds of the main floor was replaced. Steps were also built from the barn's main floor to the ground-level milking parlor with a latched gate for safety.
With the inside of the barn in good order, attention turned to the area around it. In long-ago days, a team of horses, harnessed and ready for work, might have grazed near the barn, waiting for the farmer to grab the lines and head for the field. Or a wandering cow, seeking grass a little greener on the other side of her fence, might have been guided back to the barnyard by the farm dog nipping at its heels.
Today, landscaping accents the barn like medals proudly pinned to a military uniform. The stone walls to the drive-up were tuckpointed, and a walkway, timber steps and flowerbeds were added. Some 25,000 pounds of cobblestones were brought in. 
The west, back wall of the barn was sheeted with metal in 2019. In 2022, the north and south walls will be done. On the east, a smaller portion of the barn's wood siding will be left natural. "We decided to go with metal to preserve the aging siding and keep the interior patina," Arnie says.
"We have held family reunions, weddings and birthday gatherings in our barn," Char says. "And we hosted a Veterans of Michigan meeting. In addition, Reining in Warriors Ranch, a program focused on the human-horse bond, is next door, and works with veterans who suffer from PTSD. We have hosted three open houses for them."
The Schwerin barn is only used for family and friends on a no-fee basis. To use the barn for income purposes would have required a more rigorous process of code compliance.
Arnie and Char Schwerin easily say their barn has been worth the energy and resources they have expended as its happy owners. People watching as the barn gained a new lease on life have been in awe and offered words of praise along the way. Now, some of them are experiencing barn envy.
"It is such a good feeling being a small part of saving barn history," the Schwerins agree. "All good." 
Arnett is the author of "American Barns" and co-founder of Barn Believers Community Project Fund. Visit barnbelievers.org. Arnett writes from Battle Creek, Mich. Visit jancoreyarnett.com.
Subscribe to receive top agriculture news
Be informed daily with these free e-newsletters
You May Also Like
---