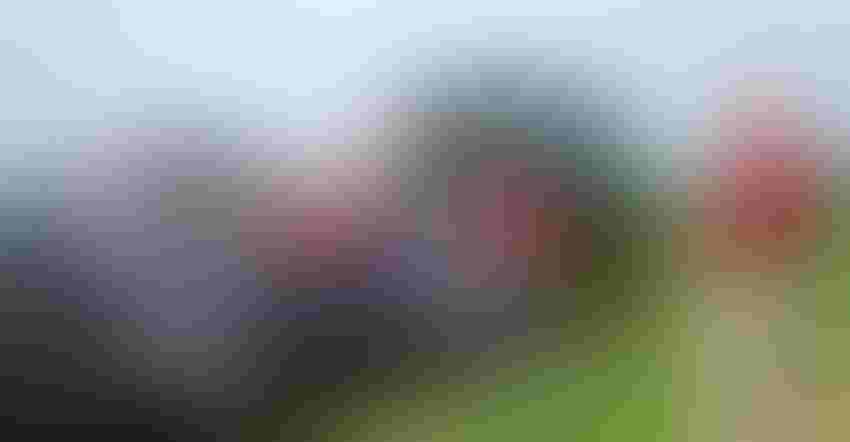 HOT TOPICS: ISU 2019 summer field days cover corn and soybean production, pest control, soil fertility, tillage systems, water quality, and more.
By attending a summer field day at an Iowa State University research farm located in your area of the state, you can harvest a crop of useful, valuable information. There are three such field days in June that are of specific interest to crop producers. Here are the locations and highlights:
June 20 at Crawfordsville. Farmers and farm business representatives in southeast Iowa can learn about the latest crop production research and trends at ISU's Southeast Research and Demonstration Farm field day.
Sessions will cover Prairie STRIPS and how they work, by Tim Youngquist, STRIPS farmer liaison for ISU; crop yield and soil nitrogen prediction with crop modeling, by Sotirios Archontoulis, ISU assistant professor of agronomy; and a herbicide update and herbicide resistance management programs for corn-soybeans, by Bob Hartzler, ISU Extension weed specialist.
"This field day will provide attendees an opportunity to hear and talk to people who are experts in their fields, and who will focus on key challenges facing agriculture in Iowa, like resistant-weed management and improving water quality," says Rebecca Vittetoe, ISU Extension field agronomist.  
Registration begins at 12:30 p.m. and the tour starts at 1 p.m. with a farm and crop update by Myron Rees, farm superintendent. The afternoon tours are free and open to the public.
Certified crop adviser credits are available during the afternoon tour. An additional three soil and water management credits can be earned at a 9 a.m. session, featuring edge-of-field nitrate reduction practices, and adapting prairie strips as a conservation practice in Iowa.
The morning CCA program includes a combination of classroom sessions and field demos. Fee for the morning CCA session is $50 and includes lunch. Register by June 13 for the morning CCA session and noon lunch online or call ISU Extension at 319-653-4811.
ISU's Southeast Research and Demonstration Farm is at 3115 Louisa-Washington Road, Crawfordsville. Follow U.S. Highway 218 1¾ miles south of Crawfordsville, then 2 miles east on County Road G-62, then three-quarter mile north. Signs will be posted near the farm. For more information contact ISU Extension field agronomists Rebecca Vittetoe at 319-653-4811, [email protected]; Virgil Schmitt at 563-263-5701, [email protected]; Josh Michel at 319-523-2371, [email protected].
June 20, ISU Northern Research Farm, Kanawha. Daniel J. Robison, new dean of ISU College of Ag and Life Sciences, will welcome farmers and agribusiness attendees to the Northern Research and Demonstration Farm field day at Kanawha in far northern Iowa.
Robison began his role as dean in January and will speak to field day participants following opening remarks by Matt Schnabel, farm superintendent, at 9:30 a.m. Registration begins at 9 a.m. ISU Extension experts will discuss weeds, herbicides, cover crops and soybean gall midge.
John Sawyer, ISU Extension specialist in soil fertility and nutrient management, will explain winter cereal rye nitrogen response and his fertilization requirement study. The topic is rye seed production response to N application and determination of optimal fertilizer N application rate when following soybeans.
Sawyer will be joined by Camilla Martins, graduate assistant in agronomy, and John Lundvall, agronomy research associate. Prashant Jha, ISU's new Extension weed specialist, will talk about current issues in weed management. He'll discuss the benefits of preemergent herbicides in soybeans, effective use of new herbicide technology in beans and integrated herbicide resistance management.
Erin Hodgson, ISU Extension entomologist, will address corn and soybean insect issues. She'll also discuss current and future research on soybean gall midge.
The field day is at the farm's north location, 310 S. Main St., Kanawha, immediately south of town. It's free and open to the public. Lunch is served at noon and the day concludes at 1 p.m. Learn more at Northern Research and Demonstration Farm or contact Paul Kassel at 712-262-2264 or [email protected].
Following the field day tours, the Northern Research and Demo Farm board of directors will hold an association member meeting. They'll elect 10 new board members. Those interested in serving and helping lead the future of the research farm should contact Matt Schnabel at 515-825-8215, or [email protected].
June 26, ISU Northeast Research Farm, Nashua. From 1 to 4 p.m., the ISU Northeast Research Farm at Nashua will hold its annual spring field day, free and open to the public. The first two sessions are in the Borlaug Learning Center starting at 1 p.m. and 1:55 p.m., respectively.
Dennis Todey, director of the Midwest Climate Hub at ISU in Ames, will begin the program in the Borlaug Learning Center by providing insight on crop weather for 2019 growing season. Angie Rieck-Hinz, ISU Extension agronomist, follows with a discussion of the likelihood of hemp production in Iowa for 2020, including development of regulations, current production practices and economic information from other states.
The on-farm wagon tour starts at 2:45 p.m. with Stephan Gailans, crops research director with Practical Farmers of Iowa, sharing his expertise on oat production and seeding cover crops into V6 growth stage corn. Ed Zaworski, ISU field crops plant pathologist, will discuss plant disease issues in a wet spring and considerations for foliar fungicide applications later in the season.
To reach the ISU Northeast Research Farm,  from the town of Nashua at the junction of Highway 218 (Exit 220) and County Road B60, go west on B60 1.1 miles to Windfall Avenue, then south 1 mile to 290th Street, then east 0.2 mile to the farm. CCA credits will be available. For more information about the event, call ISU field agronomist Terry Basol at 641-426-6801.
Subscribe to receive top agriculture news
Be informed daily with these free e-newsletters
You May Also Like
---