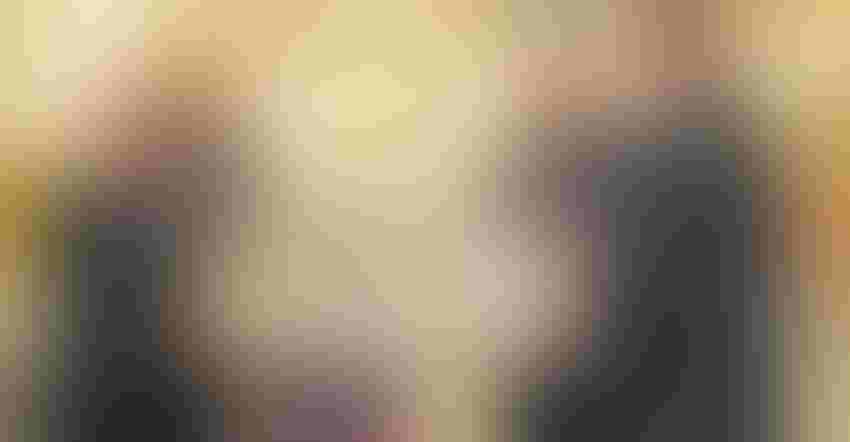 BIG CHECK: At the state capitol, Agtegra representatives present South Dakota State University officials with a check for $500,000 for proposed Precision Agriculture Center.
SDSU
Agtegra Cooperative is the latest agribusiness to donate $500,000 to South Dakota State University for the Precision Agriculture Building Project proposed by the College of Agriculture and Biological Sciences.
Earlier this year, Raven Industries, Sioux Falls, and First Bank and Trust, Brookings each donated $500,000.
Agtegra presented the check to SDSU in Pierre, S.D., in the state capitol building, which was appropriate. The legislature is in session, and lawmakers are considering SDSU's request for funds to build the center. The total request is for $55 million, which includes some renovation of SDSU's Ag Hall and other projects
Why they donated
Besides buying grain and selling feed and crop inputs, Agtegra also provides precision farming products and services to its members.
"We are committed to serving our farmer-members with innovation and integrity," said Agtegra Board President Hal Clemensen in a statement released by Agtegra, the new cooperative formed by Wheat Growers and North Central Farmers Elevator. "It is from our deep commitment to the vital role that precision technology will play in the success of farming that we are committing to this project."
Calling it an investment in the future of precision agriculture in South Dakota, Agtegra Board Vice President Rick Osterday, together with Clemensen, presented the $500,000 to Don Marshall, SDSU College of Agriculture and Biological Sciences interim dean.
"An investment in the future of precision agriculture supports our farmers, our future farmers and agronomists, and our communities," Osterday said. "Technology offers us the best opportunity to excel in our pursuit of improved yields, efficient production and exceptional harvests."
In receiving the donation, Marshall said, "SDSU is extremely grateful for the generosity of Agtegra with this substantial contribution to the Precision Ag project.  We share a vision of the importance of precision technology to the future of agriculture. This gift will help prepare SDSU students for the workforce and enable our faculty and staff to contribute to innovative industry production methods that optimize efficiency and profitability while sustaining natural resources for future generations."  
SDSU is home to the nation's first four-year degree program in precision agriculture. According to Clemensen, this is the kind of project that fits with value of the new cooperative. "This is a future-focused endeavor," he said. "We have a legacy-rich tradition of meeting challenges head-on, and of turning to innovation to achieve success."
"It's vital that we raise up a new generation of farmers and agronomists, skilled in knowing how to apply precision technology to feeding the world's population," Osterday added. "The Precision Ag Center Project can help us achieve that goal, and can set apart South Dakota as a leader in that pursuit."
The new building will be located between the Animal Science Complex, McFadden Biostress and the Alfred Dairy Science Hall on the SDSU campus.
Agtegra in N.D., S.D.
Agtegra Cooperative, headquartered in Aberdeen, is a farmer-owned cooperative with 900 employees in North Dakota and South Dakota. It serves more than 60 communities, approximately 6,770 member-owners and more than 20,000 equity holders.
Agtegra and SDSU provided the quotes from their spokespersons.
Subscribe to receive top agriculture news
Be informed daily with these free e-newsletters
You May Also Like
---