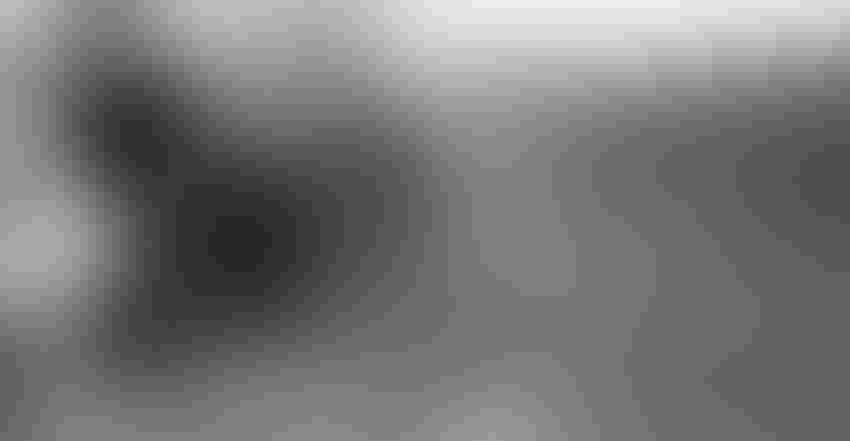 BEFORE POPCORN: Orville Redenbacher is remembered for popcorn, but he was an innovative county Extension agent with a flair for the dramatic in the 1930s.
Virginia Kelly Karnes Archives and Special Collections Research Center
By Kevin Fish
Orville Redenbacher's contribution to gourmet popcorn began long before its initial marketing promotion in 1971. He attended Purdue University from 1924 to 1928 and was involved in experiments underway since 1908. 
Redenbacher's first popcorn work in his professional life was as manager of Princeton Farms from 1940 to 1951. The first thing he did was build a hybrid dent seed corn processing plant, demonstrating he was an innovator. This diversification made Princeton Farms show a profit.  
In 1941, Redenbacher started with hybrid popcorn at Princeton Farms. All hybrid dent corn and hybrid popcorn were Purdue hybrids. Princeton Farms went to Homestead, Fla., with its own nursery in 1941, and started its own breeding program.
However, it wasn't until 1946 that Princeton Farms developed its own popcorn hybrids that had potential.  These new hybrids were Princeton hybrids, and Princeton Farms began producing these in addition to the Purdue hybrids. In 1943, Princeton Farms, under Redenbacher, began producing commercial popcorn, in which the first packaged popcorn was sold under the brand name Princeton Farm.
Better popcorn 
Redenbacher crusaded to eliminate what he characterized as "unspeakably ordinary popcorn" and replace it with a gourmet popping corn that had virtually 100% popability, along with lighter, fluffier kernels and a better taste. As he stated in 1988, "I set the standards for popcorn that other popcorn manufacturers try to duplicate — to go for high quality instead of volume and quantity."  
The final leg to Redenbacher's discovery of gourmet popcorn was while he was president of Chester Hybrids, now Chester Inc. Carl Hartman, the company's breeding expert who was hired in 1959, worked with Redenbacher to develop a new breed of popcorn. A breakthrough occurred in 1965.
Redenbacher and his Chester partner, Charles Bowman, originally named the new popcorn Red-Bow popcorn. However, these initial efforts failed since the name didn't attract many customers. In 1970, Redenbacher met with the Gerson, Howe and Johnson advertising company. Its sales gimmick was to change the name to Orville Redenbacher's Gourmet Popping Corn and to place a likeness of Redenbacher's face on the popcorn container's label. Redenbacher and Bowman were charged $13,000 for the idea.
National icon
National promotion finally began in March 1971, when Redenbacher visited Marshall Field & Co. of Chicago. A manager at the store asked him to autograph his popcorn packages. Prior to the beginning of this autographing session in the store's seventh-floor pantry, Redenbacher gathered the names of the store's 42 officers and department managers, and packaged personalized jars of his popcorn for each one. 
Redenbacher didn't limit himself to his own personal efforts in promoting his popcorn. In late 1971, Chester Inc. and Blue Plate Foods, a New Orleans-based subsidiary of Hunt-Wesson Foods, agreed that Blue Plate Foods would assume distribution. In 1972, Blue Plate Foods began a national campaign, and Redenbacher went on a six-month nationwide promotional tour to persuade grocery store owners that it would sell. In 1974, Hunt-Wesson divested itself of Blue Plate Foods and retained distribution rights to the popcorn. In 1976, Chester sold its popcorn operation to Hunt-Wesson. 
Fish writes from San Jose, Calif. He is the eldest grandchild of Orville Redenbacher. He has written books about his grandfather, and hopes to soon publish a book for the Indiana Historical Society, which will include this excerpt.
Subscribe to receive top agriculture news
Be informed daily with these free e-newsletters
You May Also Like
---