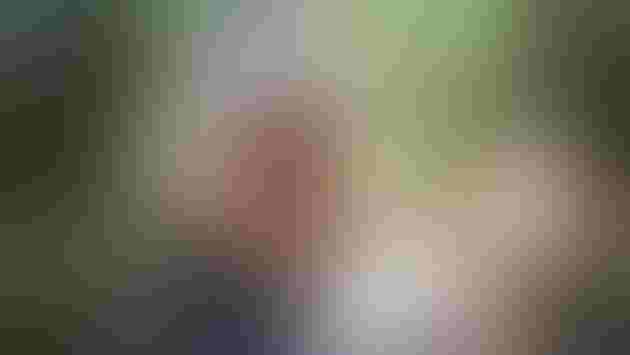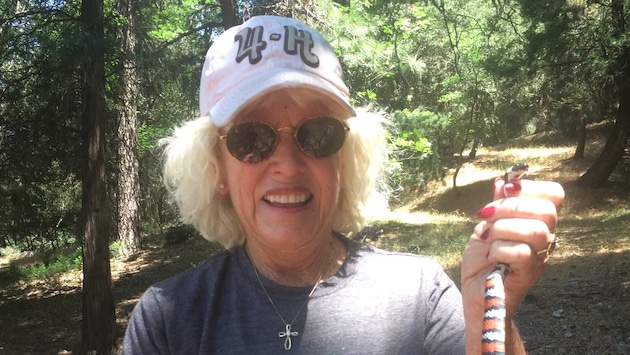 Dee Keese captures a California mountain kingsnake to show campers during 4-H Summer Camp.
Dee Keese/UCANR
A typical day for Dee Keese starts with a 10-mile walk at 5 a.m. and her morning wraps up with a swim. Although Keese is in her late 70s, her daily routine would not surprise you if you knew what she has been doing for the last 48 years.
For nearly a half-century, Keese has been the 4-H community leader for the Palos Verdes Peninsula (PVP) club in Los Angeles County. A youth development program managed through local University of California Cooperative Extension offices, 4-H uses hands-on learning experiences to empower youth to build self-esteem and connect with their communities as emerging leaders.
"When you're pushing 80, working with young people helps to keep you young," Keese said.
4-H a game-changer
In the 1970s, Keese moved to the Palos Verdes area with her first-born son who had a learning disability. Others treated him differently in school, and it didn't help that he was the new kid in town. A neighbor encouraged Keese to enroll her son in 4-H.
"She told me, 'You've got to put your son in 4-H so he can feel good about himself,'" explained Keese. "And let me tell you, it changed my life."
In 1978, two weeks before her fifth child was born, Keese became the 4-H PVP club's community leader and has been in the role ever since.
While reflecting on her earlier days with 4-H, Keese remembered when most members were boys. Girls were not intentionally excluded at the time; clubs just didn't attract them. When girls eventually joined 4-H, it was a game changer.
"All of a sudden, the program shifted focus from solely agriculture and animals to include home economics like cooking and sewing," Keese said. "Now, all my sons do the cooking in their homes. It's a good thing! Because we're moving away from traditional domestic duties, men and women are sharing roles, as they should be."
The PVP 4-H club offers activities like archery, sailing, surfing and geocaching. "Everything we do is to help our youth be better as adults, out in the real world and in the workforce," said Keese. "We're relying on the internet too much. Kids need to get outside and do things."
Over the years, Keese has taken members – who range in age from 5 to 19 – on numerous hikes in places like Havasupai Indian Reservation and Mt. Whitney. She's taken them kayaking on the Colorado River and, these days, co-hosts old-fashioned card game nights on the weekends with other community members.
As a lifeguard and water safety instructor, Keese gives free training to interested 4-H members to become lifeguards. Training courses usually cost well over $200 per person. "If they're interested, I train them and they have another skill to use. And it benefits our club," said Keese. "When we have pool parties or beach days, my kids are prepared to step in and help."
'

She will help anyone'

Ace Yeck, former president of the PVP 4-H club, met Keese 12 years ago and decided to become a 4-H member when he was in fourth grade, following a convincing conversation with her. "She just kept giving me opportunities," said Yeck.

Currently a third-year undergraduate at Loyola Marymount University studying entrepreneurship, Yeck credits 4-H for preparing him for college. "I got all my community service and public speaking practice through 4-H. I remember doing beach clean-ups, feeding the homeless, helping out at the Christmas fair, and all kinds of events," he shared.

During his years with 4-H, Yeck was elected to the state board as an ambassador before he went on to represent 4-H at the national level. "Dee encouraged me every time, so I kept going," he said.

Keese admitted that her life is so full and fun because of 4-H. Her motivation stems from the growth and progress that her students experience. "My kids let me know when I've done something to impact their life. It keeps me motivated," she said.

While thinking about the members she's had over the last 48 years, she couldn't help but stress how important it is that they feel safe. Keese recalls one student who is gay and had a challenging time getting his parents to understand because of religious and cultural barriers. "The family's priest called me and told me that this student felt like I was the only one who loved him," she said.

"I can talk about Dee forever," said Yeck. "One of her best qualities is that she will help anyone and everyone at any time. She wakes up at 5 a.m. and goes to bed at, like, 10 p.m. During that time, she's always helping people," he added.

Because Keese comes from a different generation compared to the kids in her 4-H club, she attributes her successful impact to her ability to adapt. "If we want to keep kids in this, we've got to be flexible! And you've got to do things they like. We can't do things the way it's always been done before," said Keese. "We have to be flexible."

To Keese, 4-H is not just an opportunity to teach life skills or introduce kids to agriculture. It's a chance for them to build community.

"That's what I think my generation does well, having grown up in the '50s and '60s," Keese said. "We're all about that communal living."

[Saoimanu Sope is a communications specialist for UCANR.]

Source: University of California Division of Agriculture and Natural Resources
Subscribe to receive top agriculture news
Be informed daily with these free e-newsletters
You May Also Like
---