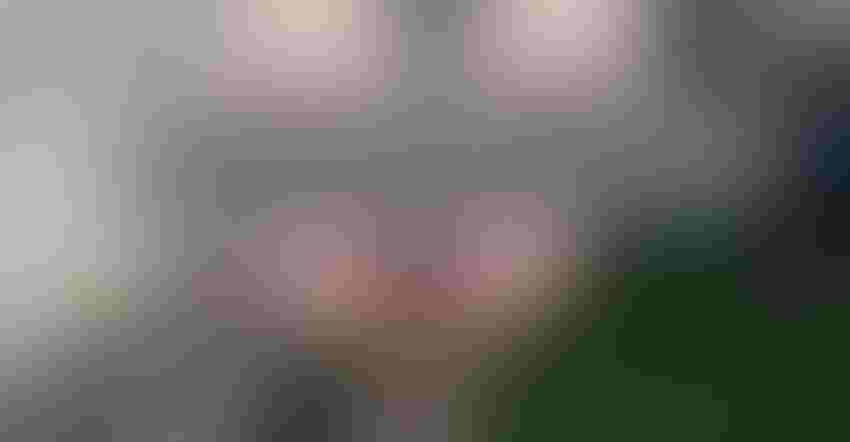 GNARLY NAMEPLATE: It is not easy to weld your name no matter your age. Here Emma Duncan, 10, welded her name on a metal plate as part of her 4-H welding project.
Editor's note: Oct. 7-13 is National 4-H Week. This week we celebrate by introducing you to the Duncans, a first generation 4-H family in Warren County who are taking projects ranging from archery to poultry and everything in between. Second in the series is Emma, the one Duncan who can lay down a wicked bead weld.
There are not many 10-year-olds that can tell you they prefer stick to MIG in the arc welding process. However, after just one year in a 4-H welding project, Emma Duncan can.
"I picked welding because it was unique," the Camp Branch 4-H member says.  She started the project when she was just 9. 
"There were not many my age in welding and it looked like fun," Emma says. "I was one of three girls in the project. The two other girls were the project leader's daughters."
Bill Miller leads the project. "As a father, I have chosen the path of trying to teach our kids to be self-sufficient across board, whether it is raising vegetables or something off-the-wall as welding," he says.
Miller finds it easier for kids to try welding at an early age when it is not intimidating. "My dad taught me to weld in my mid-teens, around 12 to 14, I enjoyed it and found a use for it ever since," he says.
The group meets at the Warrenton High School Agricultural Education shop to learn the basics of welding. "Our first meetings went over all the welding equipment and how to use it properly," Emma says. They were able to learn arc welding through both the stick and MIG welding process.
Stick welding uses an electrode and electric current to join metal. The electrode is a solid coated metal rod that binds to the surface. MIG, which stands for metal inert gas, uses a continuous solid wire electrode fed through a welding gun to join two materials together. The MIG process is popular on farms and ranches.
"I actually like the stick welding," Emma says. "Although, I got the stick stuck quite a bit of times."
Miller says the welding project offers 4-H'ers a chance to learn a trade.
Emma practiced by laying a weld bead down in the shape of her name. "We did one side of the metal with the stick welder and the other with the MIG," she explains.
By the third meeting, Emma welded her first project. "It was a horseshoe made to look like the 4-H clover," she says. After that came a wood rack made from iron rods that the family uses in their fire pit.
4-H PROUD: This 4-H clover was welded together using horseshoes by Emma Duncan a second year 4-H member in Warren County.
"In welding, it is fun to see what you can make," she says, "and not many people know how to weld, so it makes it different than other projects."
4-H fun
The 4-H welding project was such a good experience, and Emma plans to take it again this year. She is also enrolling in archery, leather working, veterinary science, poultry and scrapbooking.
Emma says that while projects are fun, so are the 4-H meetings. She loves the holiday winter party where her club plays "rob your neighbor." In this game, everyone has a wrapped gift. The first 4-Her opens the gift and determines if they want to keep or exchange it with another 4-Her in the club. Play continues until all the gifts are opened. "It is really fun because we have so many people playing," Emma says. Camp Branch 4-H has roughly 80 members.
When the fifth grader at Daniel Boone Elementary School is not attending 4-H club or project meetings, she is on the soccer field. Emma plays the sport year-round.
If you don't find Emma kicking the ball on her family's farm, you might find her with pencil and paper in hand solving a tough math equation. It is her favorite subject in school.
NEW EXPERIENCE: Camp Branch 4-H'er Emma Duncan says 4-H offers her the chance to try new things. This year, she learned to shoot a bow in her archery project.
However, there is also a good chance that paper is filled with a sketch of her next 4-H welding project.
Did you miss one of the Duncan five? We have you covered. Check below for more stories on how this first-generation 4-H family is getting the most out of the organization:
• Becoming a sharpshooter at age 8
• 4-H'er sees life through her camera lens
• 4-H'er makes tending animals top priority
About the Author(s) Editor, Missouri Ruralist
Mindy resides on a small farm just outside of Holstein, Mo, about 80 miles southwest of St. Louis.
After graduating from the University of Missouri-Columbia with a bachelor's degree in agricultural journalism, she worked briefly at a public relations firm in Kansas City. Her husband's career led the couple north to Minnesota.
There, she reported on large-scale production of corn, soybeans, sugar beets, and dairy, as well as, biofuels for The Land. After 10 years, the couple returned to Missouri and she began covering agriculture in the Show-Me State.
"In all my 15 years of writing about agriculture, I have found some of the most progressive thinkers are farmers," she says. "They are constantly searching for ways to do more with less, improve their land and leave their legacy to the next generation."
Mindy and her husband, Stacy, together with their daughters, Elisa and Cassidy, operate Showtime Farms in southern Warren County. The family spends a great deal of time caring for and showing Dorset, Oxford and crossbred sheep.
Subscribe to receive top agriculture news
Be informed daily with these free e-newsletters
You May Also Like
---