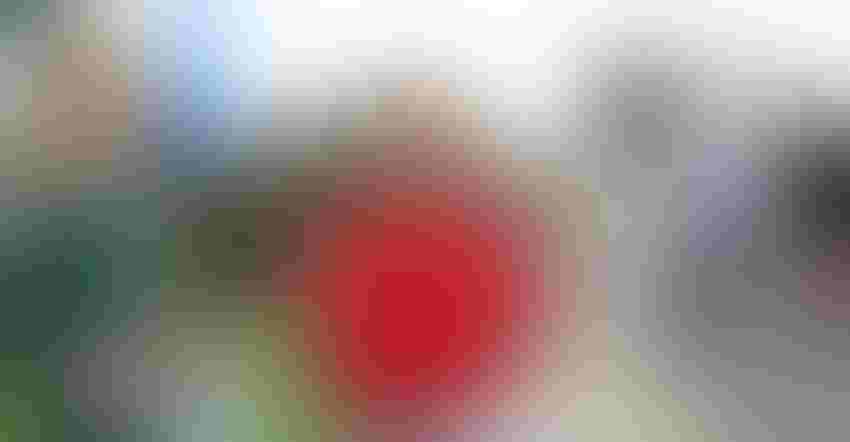 GRAND CHALLENGES: Ohio Farmer Editor Jennifer Kiel (left) interviews Dr. Cathann Kress, the new CFAES dean and vice president for ag administration.
Dr. Cathann Kress has developed a list for the College of Food, Agricultural and Environmental Sciences at Ohio State University, knowing full well she will never check them off. They serve as priority areas and are a work in progress.
The new CFAES dean and vice president for agricultural administration calls them "grand challenges," and she's got four.
"What makes them grand is there is no one right answer," said Kress, who started in her new role May 1. She talked with Ohio Farmer the morning before the Celebration of Ohio Agriculture Sept. 19 at the Farm Science Review.
It's about finding a balance, but even that will keep evolving based on a host of different factors, she said. Her four challenges follow.
1. Water quality. She drew a mental picture of an old-fashioned teeter-totter, with food production on one side and water on the other. "It's constantly a balance to ensure the highest level of production, but at the same time the highest level of water quality," Kress said.
To find that balance, a newly formed task force is working to bring together researchers across disciplines who have been working on this challenge. "We need to identify where we think our niches are, where we think we can have the most impact on water quality in the state and in the region, and leverage those opportunities going forward," said Kress, who also described it as connecting the dots. She cited the need to connect the work at Stone Lab on Lake Erie and all the edge-of-field work, while also engaging the college of engineering, Extension and others.
"Water quality is not just one set of recommendations," she said. "We recognize that it's incredibly tailored and specific. What might work on one farm regarding water quality may not work on a farm that's just down the road. That's part of the complexity. Just as we look at precision agriculture, we need prescriptions for individual farms."
2. Food security. Food production is only part of the equation, Kress said. "There are a lot of people going hungry, and that goes beyond food production. It's an issue of distribution and food waste," she said. "Food safety is another component."
She talked about developing better ways to help consumers understand the "sell by" dates on food products and increasing partnerships with food banks. "Food distribution systems are complex," she noted. "We need to get food to people who need it most, when they need it."
She pointed out that undernutrition in those under age of 5 increases the likelihood of having a lifelong impact, because children are developmentally vulnerable.
On the opposite end, obesity is an issue with an overabundance of calories in foods that are more shelf-stable and available to more people, she said.
3. Developing future scientists and leaders. Across the nation's colleges and universities, students are being prepared to fill only about 61% of the high-tech jobs available in agriculture, she noted.
Recruiting students from a pool that has less and less firsthand knowledge of agriculture is the task. "This is an incredible field," she said. "Some think it's just simply production agriculture — and I say that loosely — but it's about sustaining life, and there's nothing more important than that. Many do not realize the breadth of agriculture."
From science, biology and trade to natural resources, conservation and entrepreneurship, "no matter what your interests are in, there's a roll for you within agriculture. And if you think about it, so much of technology got its start in agriculture," she said.
Agri-science education and teachers will play a critical role in piquing interest and opening up possibilities. She said that once students get into college, OSU has one of the highest retention rates.
4. Rural-urban interface. Kress called the gap between rural and urban communities concerning, as well as the disconnect between consumers, their food and how it's produced and why. "Consumers need to understand why we do the things we do, how that then contributes to food security, or how it contributes to making sure disease is not transmitted. If we don't, ag will be led by consumer-driven types of issues by consumers who don't understand what we are doing."
As an example, she cited GMO and labeling, as well as ag practices coming under suspicion. "Consumers may want cage-free eggs, and companies may start demanding it not fully understanding what that means within the egg production world, whether it's a good thing or not. We've got to get ahead of that," she said.
She also noted with concern the increasing separation of the farm and rural economies. "A strong farm economy doesn't necessarily equate to a strong rural economy," she said, noting that fewer people are needed to accomplish tasks and that agriculture may not need as much from small communities as in the past.
Subscribe to receive top agriculture news
Be informed daily with these free e-newsletters
You May Also Like
---