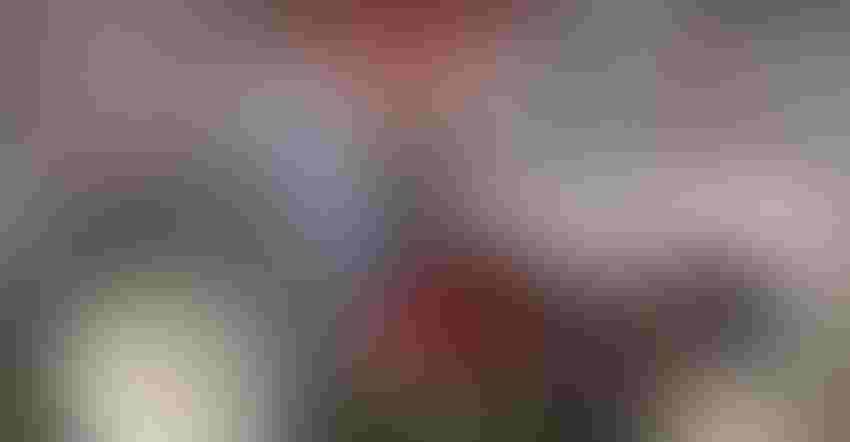 LABOR OF LOVE: In retirement, Donnie Thomas of Hartford, Wis., has rebuilt this Ford 8N tractor and two other Ford 8N's. He plans to work on his inventory of eight other machines.
Harlen Persinger
After retiring as a mechanic and service manager for three auto dealerships around Hartford, Wis., Donnie Thomas began looking for new projects and challenges to work on. In 2010, he saw a 1950 Ford 8N tractor that had sat outside for 30 years and was advertised as junk in the local paper.
"I needed some of the parts, paid $50 and brought it home," Thomas says. "Since the engine was not working, my plan was to completely rebuild that tractor. I tore it apart down to the last bolt, checked all the bearings and brakes, sandblasted and powder-coated all the rims and fenders, and added oversized tubeless tires on the front and back, along with a new seat. However, the biggest change was boosting the original horsepower rating of 25 to 900. That makeover included putting in a V8 original engine plus adding a 671 supercharger [two four-barrel carburetors] on top of the engine."
Like new, only better
Five years and $10,000 later, the 8N — originally advertised as a nice two-bottom plow utility tractor — was completely transformed since leaving the factory with a list price of $1,400 80 years ago. The 8N debuted in 1947 and was a larger, newer machine than the 9N and 2N, featuring more power and an improved transmission. It became the most popular Ford tractor of all time in North America, with over 530,000 units sold worldwide.
During its production years from 1947 to 1952, the 8N was equipped with running boards and painted light gray on the sheet metal and red on the body. It was the first Ford to feature a clutch on the left and independent brakes on the right. In 1950, the 8N design changed to feature a side-mounted distributor as well as a Proofmeter (combined speed meter, tachometer, hour meter), located on the lower right portion of the dash.
Other features included a wide front end, four forward and one reverse gear, 871 blower, mechanical steering, manual drum brakes, open operator station, rear type three-point hitch, PTO, four-speed manual powertrain, 10-gallon fuel capacity and Ford 2-liter four-cylinder gasoline engine.
In retirement, Thomas has rebuilt two other Ford 8N tractors and fancies working on his inventory of eight other machines, including a 1945 Funk Aviation tractor, three early Farmall B's, a 1960 D-14 Allis-Chalmers, a 1960 Ford 4000 and a 1961 Ford 6000. He continues to look for other challenges.
"I'm a member of the national Restored Antique Tractor Club, which provides the opportunity to show off the 8N at local events, run in parades and travel to antique events. It's interesting to see how the younger generation admires the Ford 8N because of the souped-up motor," Thomas adds. "This rig handles perfectly even at speeds over 70 mph, is diverse, and is easy to get on and off. I've always enjoyed working and driving the 8N, so it's certainly my favorite tractor."
Persinger writes from Milwaukee, Wis. To have your favorite tractor featured, email or send in a photo of yourself with your tractor, along with a 300-word write-up about the tractor, to [email protected] or Wisconsin Agriculturist, P.O. Box 236, Brandon, WI 53919.
Subscribe to receive top agriculture news
Be informed daily with these free e-newsletters
You May Also Like
---