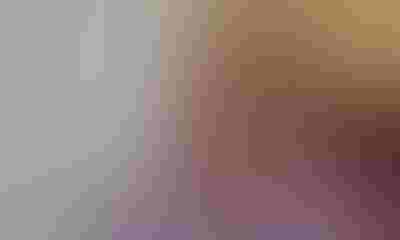 One Indiana Prairie Farmer Master Farmer is worried about crops because of so much water – and he farms on sandy ground.
Related: Indiana Prairie Farmer names 2015 Master Farmers
Richard Kohlhagen, Rensselaer, received another 2 inches of rain a day before the Master Farmer banquet last week. He says many of his fields have been affected by ponding. Some fields in his area appear to have lakes in them.
Yet he's not complaining. "We've seen this before and we'll get through it," he says. Part of the issue now is whether or not corn in better spots will have enough nitrogen.

Welcomed rain! Mike Flock, Corydon, needed the rain that fell over the past two weeks. He farms near the Ohio River in southern Indiana.
Mike Heckaman, Argos, concentrates on cows, not crops. Yet he grows corn to chop. He hires it custom-chopped each year for his dairy herd. "We buy about 50,000 bushels of corn each year for feed, so we hope someone can grow corn," he adds.
Terry and Susan Hayhurst, Terre Haute, are kind of in the middle part of the state where too much rain made planting a bit late, but where they have missed some of the huge deluges that plagued the northern part of the state. They still have field work to do, and need soils dry enough to spray herbicides and apply nitrogen.
Related: Making the most of Purdue's Top Farmer Conference
Mike Flock, Ramsey, is on the other end of the spectrum. "We were actually getting dry until a little over a week ago," he says. "We received 4 or more inches, but in our country, there are sink holes and water moves in pretty fast. Typically, and even this time, we were back out spraying in a couple days.
His comments seem to echo those of other producers from Columbus south, more or less across the southern part of the state. While the north was swimming in water, they were almost to the point of needing rain. In fact more than one person saw corn roll before rains came. It's definitely not one world for weather conditions this year.
Subscribe to receive top agriculture news
Be informed daily with these free e-newsletters
You May Also Like
---