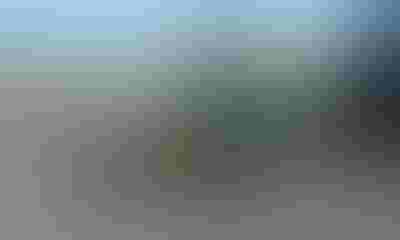 If you visited a planter clinic this year, you probably heard that you should make sure the planter runs level. That means taking a level along in the tractor cab, letting the planer down in the field, walking behind the planter, and placing the level on the frame of the row unit. Is it level, running uphill or downhill?

LEVEL UP? While some field work shows no difference, it can't hurt to make sure your planter is running on the level.
Pete Illingworth, a mechanic and farm crew member at the Throckmorton Research Center near Romney, a Purdue University outlying farm location, took time last spring to help us determine if it really mattered if the planter ran level or not. He changed the pitch of the planter by either flipping the drawbar on the tractor, or adjusting which holes the bolts attaching the tongue to the frame were positioned in. Most planter hitches will give you a range of adjustments for the hitch.
Related: Preliminary results show now real difference running planter level vs. not level
In the end, based on yield, there was no difference for the three positions of the planter. However, Bob Nielsen, Purdue Extension corn specialist, says that doesn't mean that there wouldn't be a difference in some other years. Whether the planter is level or not affects depth placement. Apparently last year in this field it didn't matter. That doesn't mean it wouldn't matter in another year when weather and soil conditions were different.
One thing Illingworth discovered was that the planter wasn't running completely level the way it was set up for normal operation on the farm. It was tough to tell just looking at it, but the level doesn't lie. The bubble inside the level indicated that the units were running downhill just a bit.
It was a good example of why you need to get out and actually use a level to see if it's running the way you think or not, Illingworth notes. Changing hitch position only took a matter of minutes using a hydraulic jack. In 15 minutes, he could determine if it was running level, and change it if it wasn't. That's a small investment in time, even on the first day of planting, to make sure you place seed where you have the planter set to place it, he concludes.
The side-by-side image below offers a look at the planter not-level and level.
ONLY THE LEVEL KNOWS: We checked these or we wouldn't know either. The planter isn't level in the picture on the left. A few moments later after adjustments, it was running level.
Subscribe to receive top agriculture news
Be informed daily with these free e-newsletters
You May Also Like
---