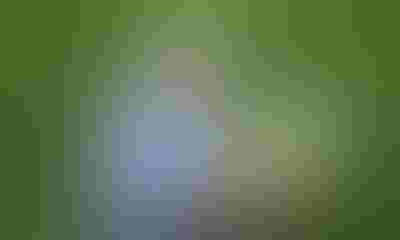 Gerry Danko took a short leave of absence from his college teaching job four decades ago to help two aging men run their farm outside Powell, Wyo.
"I told the president at Northwest College that I have to do this for a couple years, but I'll be back," Danko says. "The president told me that my job would be waiting. Pretty quick, nearly 40 years went by, and I still haven't gone back."
Danko, who has consistently placed high at the World Forage Analysis Superbowl in Wisconsin, may now be the informal holder of the World's Longest Sabbatical.
NEVER LOOK BACK: When Gerry Danko had a chance to help two farmers on their operation, he jumped at the chance, that was 40 years ago.
Now 74 and semiretired, Danko grew up on a farm in Canada, but couldn't wait to try new things, like play college football, earn degrees in teaching and counseling, teach college psychology and coach wrestling.
But perhaps he never gave much thought to that old saying, "You can take the boy out of the farm, but you can't take the farm out of the boy."
When Danko and his wife, Carolyn, moved to Powell in 1969 after receiving offers to teach, he quickly became fascinated with the outstanding crops of sugarbeets, barley, hay, pinto beans and corn that farmers were raising in such marginal ground.
"I grew up on a farm in the Red River Valley of Manitoba, and we had deep, black soil and 24 inches of reliable rain," Danko says. "And here, the farmers were coaxing impressive yields out of pretty fragile soil. To me, it was amazing."
Practices bring interest
Danko, too, says be became equally impressed with how farmers were using irrigation water and technology since Powell and other areas of Wyoming's Bighorn Basin only average about 6 to 7 inches of natural precipitation a year.
"I got so interested in farming that we bought 80s acres outside town, along with some equipment, and started producing hay," Danko says. "I got lots of advice from a lot of good farmers, but you had to ask for it. People just didn't come around and say, 'Hey, Gerry, don't do that; it's not going to work.'"
Among those he mentored under were the late Louis Onstine and his brother.
"Louey became a super mentor, a fatherly figure," Danko says. "He helped me learn how to prepare fields. He taught me about corrugated irrigation and how to adjust combines. He would let you learn, but he would also try and steer you away from those major mistakes that cost a lot of time and money."
As old age settled deeper on the brothers, they asked Danko if he wanted to run their farm.
"Since they helped me so much, I wanted to help them," says Danko, who started managing their farm while taking care of his place, all while teaching at Northwest College and coaching its wrestling team.
"I was getting stretched pretty thin, but didn't have the financial resources to hire people, so I had to make a decision," Danko says. "That's when I went in and talked with the president about taking a couple years off."
Danko says he quickly became passionate about farming and decided to leave his professional teaching job behind. He leased additional acres and began raising pinto beans and corn in addition to hay, and he later acquired more deeded land, which allowed him and Carolyn to run a few cattle and a small feedlot.
"Once I got involved, there was no way out," Danko says. "You could fail and come out, but farming grows on your mind. The tougher it gets, the harder you try."
His classroom: the farm.
You can take the man out of the school, but you can't take the school out of the man.
Gerry Danko may have left his professional teaching and coaching career four decades ago to become a full-time farmer, but he still teaches high school and college students.
 "Northwest College agriculture teachers and the wrestling coach have sent kids to me to work on our farm after class, in the evenings, on weekends and in the summer. We also get Powell High School kids out here," Danko says. "They call it The College of Gerry."
Danko taught high school and college—and also coached college wrestling—before having the opportunity to run a farm. He says his teaching and coaching careers combined with being a farmer taught him so much about life that he became determined to give back.
"About three or four students from Powell High School and Northwest College come work on our farm every year. Many of them already have a strong work ethic so it makes them easy to teach. 'Coachability' is part of their 'being'," Danko says.
He adds that some of the students might be having problems with classes or not being able to finish things they start, and "some are darn sure in need of money."
The students, indeed, earn money, but what they take from farm work can't be compensated in dollar bills, Danko says.
"Some show up with their own tool belts, good work experience and lots of talent, but some don't have any work experience at all," he notes. "But when they come here, regardless of their experience, they know there's the expectation of hard work, and if they stick to it, they get more and more responsibility."
Students often find themselves fixing fence, building corrals, setting out irrigation pipe, framing a hay shed, working on a skid-steer or trimming trees.
After a few months on the farm, Danko says, "Most go away with initiative, responsibility and an even stronger work ethic. One of the kids who worked for us, Bobby Robins, was like a son to us, and now he's helping his father, Pat, run a successful hog business in Salina, Utah."
Danko adds: "For me, helping young people has been very gratifying, much more gratifying than winning at the World Forage Analysis Superbowl."
Since it's so difficult for young people these days to work into ranch and farm ownership or management, unless they happen to grow up in agriculture or marry someone who does, Danko encourages producers to do anything they can to help the next generation.
"I'm seeing a lot more farmers with gray hair, and it seems tempting to take the cash and run—to sell out to a housing developer," Danko says. "Maybe there are some opportunities out there—like sharecropping—that could help some younger folks get started. Help them take on a challenge."
Subscribe to receive top agriculture news
Be informed daily with these free e-newsletters
You May Also Like
---