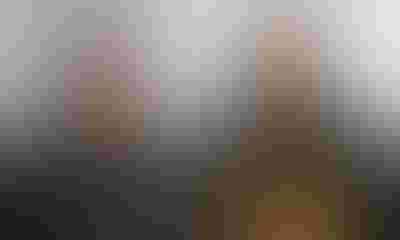 There are many reasons that farmers start doing conservation practices. One of them is just because it's the right thing to do.
"My dad [Jim] was doing grass waterways and filter strips long before it was in the news, or there were programs paying you to do it," says George Brand, who, along with son David, operates the Brand Dairy Farm of northern DeKalb County. "He also tried to teach those things to David and me."

CONSERVATION-MINDED: Both George Brand and his son, David, say they can make money farming and still take care of their natural resources.
Over the years, the Brands have continued to add to their portfolio of conservation practices on their gently-to-moderately-rolling soils. Jim and George went 100% no-till in 1990. Then about five years ago, George and David started doing cover crops. Their default mix is a combination of annual rye, tillage radishes and crimson clover, applied with either a drill or high-clearance sprayer adapted to seed cover crops. The farm also has a number of water and sediment-control basins (WASCOBS).
They test both manure and soil regularly to make sure they're not over- or underapplying nutrients. Then they apply their fertilizer, including manure from the dairy, based on those tests.
Manure is a key resource on the farm. George and David figure using the manure cuts their fertilizer bill in half, but also like the way it complements their conservation practices.
"The manure works fabulous with the no-till and cover crops," says George. "Cover crops open up the soil so well that it really absorbs the manure very quickly. Then the cover crops hold it right there so it's not running off. I figure if your fertilizer's running off, you're just throwing money down the ditch."
Soil's improving
The Brands also like what using the manure in conjunction with no-till and cover crops is doing for their soil.
"The tilth is so much better. It loosens the soil and makes it very mellow-- much better for earthworms," says David. "The planter just rolls right through it, and you couldn't ask for a better seedbed."
George and David say they've seen a very noticeable improvement in their soil's organic matter, too. They estimate the organic matter has easily increased by 50% as a result of their practices.
The Brands say that today there's an even greater urgency for farmers to take good care of their soil.
"Our farm lies in the Lake Erie watershed," says George. "Because of algae problems in western Lake Erie, now there are government programs in place to help farmers start doing things like no-till and cover crops. We need to be proactive so we don't wind up with more regulations."
The Brand family's record of conservation efforts hasn't gone unnoticed. In 2014, they were awarded the Fertilizer Institute's 4R Advocate Award at the Commodity Classic in San Antonio. The four R's stand for "the right nutrient source, at the right rate, at the right time and in the right place."
The Brands have more important reasons for practicing good stewardship than awards.
"We believe we can make a living, but still be sustainable," says George. "Our goal is to leave all of the ground we own or rent in better shape than when we started."
Boone writes from Wabash.
Subscribe to receive top agriculture news
Be informed daily with these free e-newsletters
You May Also Like
---