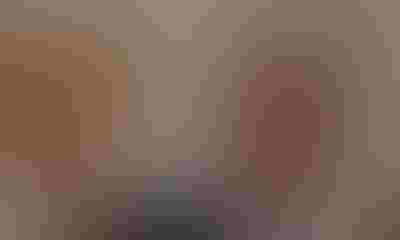 Imagine this scenario. You live near a subdivision. One of the other rural residents in the area lives right next door to the subdivision. A legal tile drain crosses your property, the other rural resident's property and runs across the back lots of several homes in the subdivision. The tile line was there before the subdivision was installed.
Related: Proposed legislation would help set water use benchmark for Indiana

Stopped water: Ken Hedge pulled this round metal plate out of a tile line after residents in a subdivision complained water was backing up on their property.
Normally farmers complain that when a subdivision goes in, developers and builders cut tile line, messing up drainage on their farm land. This case happened in reverse. When people moved into the subdivision, water didn't back up in their back yards. Then after time it started backing up after a big rain. It would go down but slowly. Since it was a county regulated drain and Indiana law covers regulated drains, they contacted the county survey.
Ken Hedge, Boone County surveyor, presented a similar example to this one during the Indiana Farm Bureau Drainage School recently. The sold-out workshop was filled with county surveys and county commissioners plus farmers and lawyers.
"What happened in our case was that a landowner slipped a round metal disk between two tile sections, and water backed up on his neighbor's property," he explains. "There were a few holes in the metal, so it drained a bit, but very slowly. He was trying to keep water off his property."
As it turns out the surveyor used a machine to check the tile and found the blockage. The machine actually got stuck in the circular piece of metal, and forced a hole into it.
"We removed the metal and we never had any complaints after that," he says. "We didn't know for sure who put it there, but apparently they never did it again."
Mark Thornburg, Indiana Farm Bureau attorney, says it's illegal to block off a tile line or ditch to keep water from coming under your property under Indiana law. However, if it is "dispersed water," that is water that flows across the land in one direction, not in a tile line for drainage way.
Related: Big rains bring dirty water and bad memories of soil erosion
The "common enemy" case law applied. A landowner can take action to prevent water from coming onto his property in that case. No one says it's the neighborly thing to do, but case law has held that it doesn't violate the law. Plugging a tile or a ditch does violate the law.
Subscribe to receive top agriculture news
Be informed daily with these free e-newsletters
You May Also Like
---