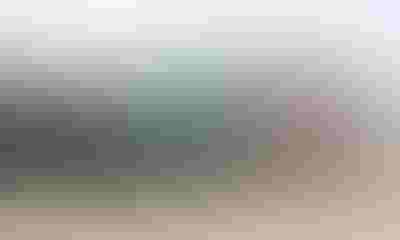 Jon Erickson, commercial agronomist for Mycogen, hopes Wisconsin corn silage producers will use what they learned this growing season when they start selecting hybrids to grow for next year.
Erickson says the growing season for most of Wisconsin this past May through August was ideal. "Other than the southeastern part of the state, we had plenty of rain this spring and summer, and it was warm," he says. "We had the warmest growing season we've had since 2012. A lot of that corn finished very well. We had all of the moisture and the heat we needed for a tremendous crop.

HARVESTING SILAGE: Many Wisconsin farmers saw record corn silage yields this year.
"But about Labor Day it started raining again, and that impacted growers' ability to harvest their corn silage," he says. "We had some areas in the state that had flooding. There were a lot of fields that were torn up this fall due to the necessity of silage harvest."
Erickson says the September rains impacted some farmers more than others.
"Corn started to really dry down about the time the rains started, which deteriorated the quality of the corn silage," he says. "Some guys were fine. They got their corn silage off in time, and they have great silage. Others may have been waiting on custom harvesters, or they got part of their corn silage made and then the rains came and they were delayed."
Erickson estimates that between 30% and 40% of the silage in Wisconsin was made too late due to rain delays. "Some of these guys ended up with more silage than what they need and what they have storage for," he notes. "Many are harvesting it as high-moisture corn or grain."
Spread the risk
Erickson says farmers may want to plant corn silage hybrids with a range of maturities to increase the length of the harvest window.
"Planting a range of maturities spreads the risk by lengthening the harvest window," he says. "The silage hybrids will all be harvested at optimal quality. Of course every year is different, but in general it's a good idea to spread out the risk from the environment by making the harvest window longer so if we get another wet year, you can have good quality throughout the harvest, even if you're delayed a week by rain."
Erickson cautions against selecting longer-maturity hybrids. "Growers wanting to guard against an early fall may want to plant a hybrid that is a moderately shorter-maturing hybrid so harvest can start and the ear is able to finish maturing," he explains. "In the southern part of the state where a grower might push and plant a 115-day hybrid, they may be able to go back and plant a 110- to 112-day hybrid."
He advises growers to review and understand how each hybrid performed. "Producers will want to evaluate the performance of the previous year's hybrids," he says. "Those that are not satisfied will look at replacing those hybrids with hybrids that fit their system. Does the farm have good soil fertility? Will manure be applied? Do they have good drainage? If they do, then they can plant hybrids that respond to really good management.
"Do they take really good care of that crop? Do they scout the fields, use fungicide and put on micronutrients? If they have muck soil or poorly drained soils, then they will want to plant a hybrid that has great roots. Growers that plant their crop and aren't able to monitor it throughout the season may want to choose a workhorse hybrid that doesn't require optimal conditions."
If you are not sure what hybrids to select, Erickson says your seed adviser can help you.
"There are a number of farmers in Wisconsin who are cow guys — they focus on the cows first and crops second. They should plant hybrids that don't need a lot of special care," he says. "Sit down with your seed adviser and pick hybrids that are going to work for your particular farm operation. Most seed companies provide a wide range of hybrids that will spread your risk and give you the highest corn silage and corn yields and highest quality possible."
Subscribe to receive top agriculture news
Be informed daily with these free e-newsletters
You May Also Like
---