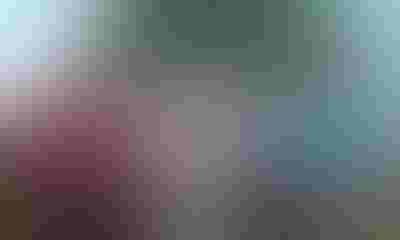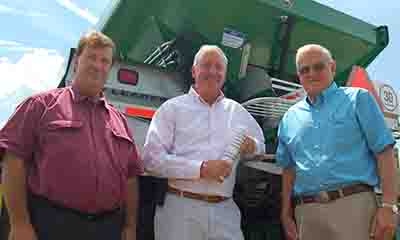 Back 19 years ago, every farmer in the Chesapeake Bay watershed wore the proverbial bad guy's "black hat" – in the public's view. That's when Pfisteria hysteria erupted – blooms of toxic alga that killed thousands of small fish in Bay estuaries.
Right or wrong, environmentalists pointed blaming fingers at farmers. And the public put black hats on all farmers.

WHITE-HAT GUYS: McLean (left), Shea and Hutchison lead the Delmarva ag effort to develop alternative uses and markets for manure and litter.
But Maryland grain farmer Bobby Hutchison from Cordova, poultry producer Andy McLean of Sudlersville and the Delmarva ag community are working to earn their "white hats" and the public's respect back. The two co-chair a 20-member Delmarva Land and Litter Work Group that's marshalling a monumental challenge to make it happen.
They also enlisted coordinating services of Ernie Shea of Natural Resources Solutions, consultancy of Lutherville, Md. This summer, they'll be releasing early results of the Delmarva Challenge project.
Making remarkable progress
"As Bobby Hutchison the farmer, I still wear a black hat," concedes Hutchison. "I farm more environmentally friendly than ever before.
"But we faced slow evolvement of emerging alternative uses for manure and litter, plus inadequate R&D investment in research and development and monitoring. We had to accelerate those efforts."
"Farmers, in general, will do the right thing," adds McLean. "Land application of litter at proper agronomic levels remains the most cost-effective method of managing manure. But alternative use technologies, such as manure-to-energy and value-added products, are slowly emerging based on economies of scale. Success will come from funding by multiple groups, not just environmental groups."
Hutchison, McLean and Shea, together with The Nature Conservancy, pulled together 23 challenge partners to drive the R&D. "The new order is led by coalitions and collaborative shared leadership," emphasizes McLean.
Here are a few findings and actions in the works:
* Development of an annually updated, integrated county-based mass balance analysis of poultry nutrients used and produced is a top priority.
* The group recommends that Delaware, Maryland, Pennsylvania and Virginia ag departments are urged to work towards standardizing regulations and rules for manure/litter storage, transport and use, plus simplify and streamline transport programs.
* Alternative-use technology pilot projects (energy, organic fertilizer, compost, biochar) are underway, primarily for poultry litter. Most, however, don't provide a fully integrated solution for the farm or may require larger-scale technologies.
* As much as 80% of the litter produced in the southern Delmarva for instance, would need to be moved and/or processed for uses other than land application. Transport programs need to be improved and streamlined to be more user-friendly.
* The action plan also calls for funding of a Delmarva Center of Excellence dedicated to ag nutrient management support.
Litigation against agriculture provides no solutions, points out Shea. "We [the Chesapeake Bay region] will be better off with a healthy, vibrant and growing ag industry that's environmentally sustainable."  
Subscribe to receive top agriculture news
Be informed daily with these free e-newsletters
You May Also Like
---