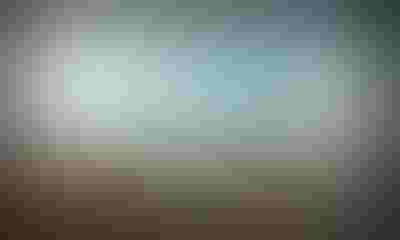 Sometimes, you need to look at things from a different angle to understand the big picture. Jeff Brown, United Prairie agronomy manager, Tolono, says they can help farmers reduce nitrogen loss – and estimate nitrogen presence—during the growing season. They are doing it by looking at it from a totally different angle: below ground.
Soil types, precipitation history, weather forecasting models, all of these factors and tools come into play for calculating potential nitrate loss. But according to Brown, there are two important factors that most programs, applications or calculators leave out: soil moisture and soil temperature.

CALCULATING N RATES: Aaron Grote, technology services, explained United Prairie customers have access to the nitrogen model via Data On Touch. Data On Touch is an accounting software system that houses customer statements, inputs, soil tests and data from the weather stations. (see larger image below)
Their solution: weather stations that track local weather above ground and probes that monitor soil condition below ground. Co-Alliance, a cooperative based in Indiana, introduced United Prairie to the weather stations. Co-Alliance provides the hardware and software for United Prairie to implement the system. 
Picture a five mile grid stretched across Champaign, Douglas, Vermillion, Iroquois, Ford and McLean counties. United Prairie has 34 weather stations strategically placed at the center of each square.
"Positioning is important, so we want to place the weather station on a soil type that represents the majority of soil types in that area," Brown explained. The stations collect real-time air temperature, precipitation and wind speed, plus soil temperature and soil moisture at 2, 5, 10 and 15 inches.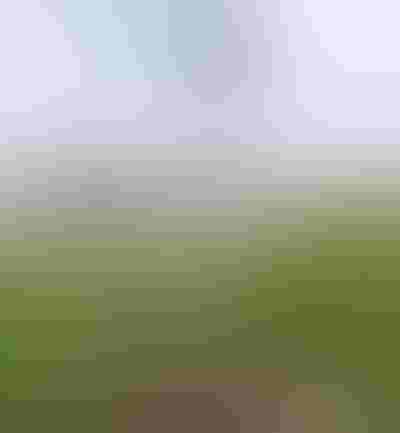 IS NITROGEN STILL THERE? United Prairie has 34 weather stations collecting real-time air temp, precipitation, wind speed and wind direction. Below ground soil probes capture soil temperature and soil moisture at 2, 5, 10 and 15 inches. "With that additional component, we're able to fairly effectively gauge the fate of nitrogen," Brown explained.
"With those additional components (soil temperature and soil moisture), we're able to fairly effectively gauge the fate of nitrogen," Brown explained. "That's the main focus with the weather stations. Real live pieces of equipment, not a NOAA radar or computer-based system."
Striving for accuracy
"The weather station is more accurate than a virtual rain gauge," noted Aaron Grote, United Prairie technology services, explaining that their weather station picked up a 3 ½-inch rain this spring that the radar didn't. "People thought, 'there's no way it could have rained that much' -- it did."
Capturing accurate rainfall amounts is one thing, but understanding what's happening below the surface tells the real story. "If you get a 2-inch rain, but the soil is dry and it doesn't move any moisture down, did your nitrogen move?" Grote explained. "You have no idea unless you have that probe. There's no substitute for real live data."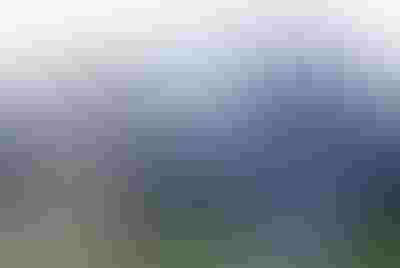 EXPANDING FOOTPRINT: United Prairie is adding more stations as their marketing area grows; Grote (right) hopes to install another 20 weather stations this year. Both Brown and Grote stressed the importance of helping their customers become better nutrient management stewards.
With accurate weather information above ground and data from below ground, United Prairie is able to monitor nitrogen all year round. As June sidedress decisions approach, Grote explained United Prairie customers can log into the Data On Touch nitrogen model. Farmers start by entering nitrogen application history: rate, type, placement and if a stabilizer was used in the fall. Next, add planting dates, hybrids, soil CEC and organic matter information. Nitrogen rate recommendations from the model are based on precise weather history, real-time soil conditions, how much nitrogen is left in the soil at 2, 5, 10 and 15 inches and how much N the crop needs.
"Nothing is 100% accurate, but you have to do what you can, to do things right," Grote said.
United Prairie installed the first weather station last July in their innovation plot in Tolono. Brown noted they were able to track interesting data during the unseasonably warm fall temperatures and heavy December rains. "We saw some conversions and some nitrate loss depending on the typography," Brown said. "What we're finding is that so much depends on overall drainage of a specific field. Pattern tiled, tiled or a wet farm, it makes a big difference."
Throughout the 2016 growing season, United Prairie will pull soil samples from five different nitrogen rate and timing trials every two weeks. Brown explained the data will be used to "tweak the model" for even more accurate recommendations.
 "We're trying to help our growers with records now, so if something like litigation or regulations in Illinois start -- we're ready," Brown said.
Subscribe to receive top agriculture news
Be informed daily with these free e-newsletters
You May Also Like
---