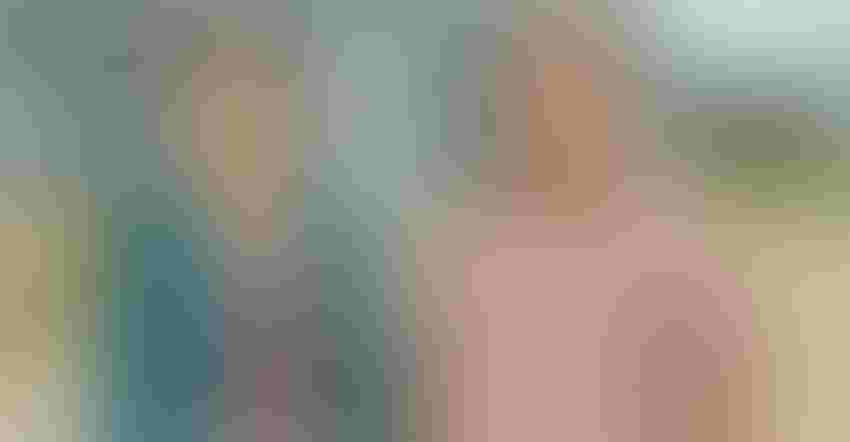 Chao (left) and Toua Yang are finding their poultry barns warmer in the winter and cooler in the summer, thanks to help from the USDA NRCS and its StrikeForce funds. StrikeForce helps farmers in lower-income counties of Missouri afford to upgrade their buildings or install conservation practices.
Photo courtesy Charlie Rahm
Toua Yang and his wife, Chao, love the sounds of silence coming from the heaters in the poultry barns on their southwestern Missouri farm. And because of energy-saving improvements made possible from USDA funding that targets lower-income counties, their heaters are running a lot less frequently.
The USDA's Natural Resources Conservation Service footed most of the cost for the Yangs to insulate walls and ceilings, and to install insulated doors and energy-efficient LED lighting in six barns. The result has been an energy savings of 20%.
"The biggest [expense] to a poultry farmer is heating," Toua says. "The buildings are so tight now."
Energy-efficient
Toua noticed other benefits in his improved poultry barns, too. He says the added insulation in the improved buildings also keeps the buildings cooler in the summer, and reduced drafts result in healthier chickens of more consistent size.
The energy improvements positively affect profits for the Hmong couple — who moved from Wisconsin to Missouri in 2003 to start a poultry farm — and for many of their friends and neighbors who followed a similar path to Missouri.
Toua and Chao have another farm nearby with poultry barns that have not yet had the improvements recommended by a professional energy audit. On that farm, Toua says, the propane heaters run four to five hours more each day. He knows from experience that heating bills will be lower in those buildings when they are upgraded.
He is working with the NRCS office in Barry County to apply for funding through NRCS' StrikeForce Initiative to make energy-efficient improvements on that farm, too.
Program benefits
StrikeForce is a USDA initiative to target extra funding for natural resource concerns in counties that meet certain low-income levels. In the last fiscal year, Missouri NRCS received $3.5 million to provide extra financial assistance in the state's StrikeForce counties. Of Missouri's 114 counties, 46 received the StrikeForce designation.

WHERE STRIKEFORCE WORKS: In Missouri, just 46 of the 114 counties are StrikeForce fund-eligible. The blue-shaded counties show that the majority of those counties qualifying are in the southern portion of the state. (Map courtesy USDA NRCS)
"In the southwestern part of the state, the extra funding has had a huge impact in our ability to provide assistance to poultry growers who requested help to make their operations more efficient," says J.R. Flores, NRCS state conservationist. "In StrikeForce counties, we have been able to fund 100% of the eligible applications requesting assistance for energy-efficient improvements."
StrikeForce financial assistance is also available for conservation practices beyond energy, including seasonal high tunnels, livestock operations and row-crop farms.
Southeastern Missouri particularly has benefited from the increased financial assistance that NRCS can provide for the high tunnels and conservation practices associated with row crops.
"StrikeForce has made it possible for us to fund applications that we otherwise would not have been able to fund," Flores says. "And those extra funds are going to areas that can use a boost."
For poultry farmers like Toua and Chao Yang, StrikeForce is providing welcome sounds of silence.
Rahm is the public affairs officer for the USDA NRCS. He is based in Columbia.
About the Author(s)
Subscribe to receive top agriculture news
Be informed daily with these free e-newsletters
You May Also Like
---