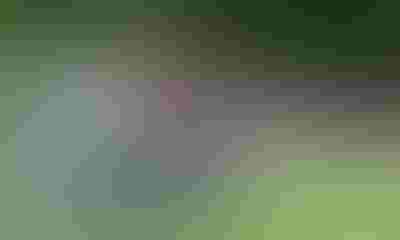 Millstone Creek Farm in Highland County always has something growing. Owners Tim and Sandy Shoemaker have transitioned former Conservation Reserve Program land into hay fields and permanent pastures for their herd of beef cattle, which grazes almost year-around. But one thing won't grow on their farm: "It's not ever going to be growing houses," says Sandy.

Tim and Sandy Shoemaker are the recipients of a 2016 Ohio Conservation Farm Family Award
The Shoemakers, recipients of a 2016 Ohio Conservation Farm Family Award, bought the 150-acre farm in 2004. At that time, the previous owner, Howard Grabill, had already enrolled it in Ohio's farmland preservation program. The land is permanently preserved as farmland with a conservation easement that limits future use to agriculture. Having the easement in place made it possible for the Shoemakers to buy the land at an agricultural value rather than a developmental price, explains Tim. "It made it so we could afford to farm it."
Grabill, who grew up in the farmhouse where the Shoemakers now live, had moved away as an adult, first serving with the military in Vietnam and later working for UPS. Through the years, he returned to the family farm on weekends to help his parents with farm work, and he inherited the land after his mother passed away in 2000. However, due to Parkinson's disease, he realized he would need help to continue managing the farm.
He decided to sell a half interest in the land while keeping a home site for himself. While he knew the land was protected from development, he still wanted buyers who would take good care of it. When word got out that he was considering selling, he was approached by several potential buyers, but he says, "The Shoemakers were the only ones who met my criteria."
Today, Grabill remains involved with the farm and lives on the farm in a unique customized Morton building.
Before moving to Millstone Creek Farm, the Shoemakers had a 20-acre farm where they raised a few cattle while working full time: Sandy with the USDA Farm Service Agency and Tim as a radiological tech. While they have now retired from their off-farm jobs, they aren't exactly retired, notes Sandy. "We really didn't retire; we just changed jobs."
Grassland management
When the Shoemakers bought their share of the land, they did not want to till up the grassland and return it to row crops when the CRP contract expired. "All of us made the decision; we didn't want to till it up," says Sandy.
Instead, they planned to transition the land to pasture and hay ground. Even before the contract expired three years ago, they were tearing out old fencing, building new fencing and improving forage stands.  "It was so much fencing," recalls the Shoemakers' daughter, Abby Baker.
Abby and brother Will both worked on fencing as teenagers, Sandy says. "Tim told them, 'This will make you want to go to college.' " And it did. Abby, a graduate of Wilmington College, works as a math teacher at Hillsboro Middle School, while Will, a graduate of the University of Cincinnati, works as an engineer in Mason.
Both still help on the farm. Abby and husband Stephen held their wedding this summer in the farm's historic bank barn. The wedding led to barn cleaning and repairs, including new flooring, Abby notes.
The Shoemakers also stockpiled forage for winter grazing on the CRP land as permitted by the contract in return for reduced CRP payments. Removing some top growth made it possible to improve the forage stand by frost-seeding clover in with the existing cool-season grasses, Tim explains.
They also improved their access roads, and installed spring developments and water lines so they could intensively graze cattle at the end of the CRP contract. "We can water anywhere on the place," says Tim. "They never have to walk more than about 500 feet to water."
This was the third summer since most of the land came out of CRP. Some filter strips had longer contracts and are still enrolled in the program. As the available pasture expanded, the Shoemakers grew their cow-calf herd by buying bred heifers and began rotating cattle through 13 grazing paddocks. Each paddock is about 7 acres, and the cattle spend three days in each one before moving to the next.
This system gives the paddocks 39 days to regrow between grazing passes. Although the Shoemakers have a grazing management plan in place, the grazing system has been tweaked yearly depending on the amount of rain and growing conditions. The Shoemakers now have a 50-cow herd and plan to expand a little more. "With this intensive grazing, we found out we can run more head than we thought," explains Tim.
The Shoemakers stockpile pasture so they can graze the cattle most of the year. Typically, they feed some hay in August and September when the weather turns dry, and then return the cattle to pasture later in the fall when the grass regrows.
Covering the soil year-round with forage plants protects the farm's rolling hills from erosion. The farm is in the Clear Creek watershed, upstream from the city of Hillsboro water supply. Protecting the soil also protects the quality of the city's water, says Sandy. "We have great soil, and we want it to stay here and not wash down the creek."
Subscribe to receive top agriculture news
Be informed daily with these free e-newsletters
You May Also Like
---