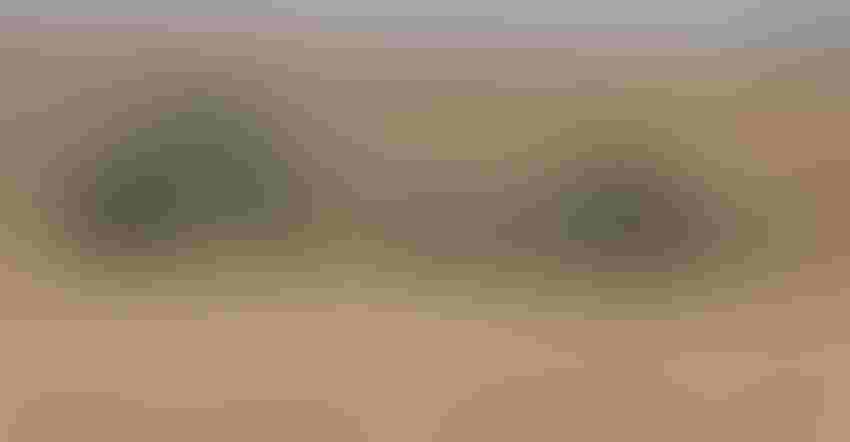 PLANNING FOR PLANTING: Soybeans are planted with an air seeder in file photo.
Lon Tonneson
The planting season is likely going to be challenging no matter what the weather is like, said Jason Hanson of Rock and Roll Agronomy, Webster, N.D. He spoke at the North Ag Expo in Fargo, N.D.
According to Hanson, the top agronomic challenges of 2020 will include:
Selecting seed. The wet weather and late harvest will distort nearly all the yield data coming out of public and private trials and farmers' fields. One of the big questions Hanson said he would ask about all yields is, "when was the crop harvested?" Picking the right maturity will be a challenge, too. Should you pick earlier maturing varieties? Can you trust the ratings?
This year, some varieties and hybrids matured later than how they were labeled and advertised. Will a .04 maturity soybean act more like than a .05 soybean in 2020? One decision will be easy for Hanson. He saw big differences between convention and Bt corn hybrids in corn ear droppage caused by European corn borer. "If there's a chance that corn harvest will be late again, I don't think I'd plant corn that didn't have Bt technology," he said.
Fertilizer. How much fertilizer has been leached out of the root zone? Since almost no fall fertilizer was applied in the Upper Midwest, will a fertilizer shortage develop in the spring? Propane was short last fall simply due to logistics.
There was so much demand throughout the Cornbelt, that retailers in the Northern Plains couldn't get enough to keep up with demand. You might have to plant before you apply fertilizer, Hanson said. Sidedressing or topdressing will be necessary.
Unharvested crops. Will unharvested crops — especially corn — get harvested in time to prepare fields to plant next year? What can be done with residue if the crop can't be harvested and it is too wet to do tillage? What if you have an Environment Quality Incentive Program contract and are locked into no-tilling and aren't allowed to burn off residue? If there isn't an exemption made, what can you do? If you are going to direct seed, what changes will you need to make to your planter to be able to go through the extra heavy residue?
New coulters are a must, Hanson said. "They may look okay, but if they aren't new they probably aren't going to work."
Preparing fields. Chisel plowing and disking may be impossible if soils don't dry out. Very light field cultivation or vertical tillage may be the only types of tillage that will level ruts and incorporate a little of the residue.
Weeds. Waterhemp and marestail (also called horseweed) could be big problems because so many plants went to seed last fall. Also, volunteer wheat, soybeans and canola will likely be widespread where those crops weren't harvested before the October snowstorm.
North and west sides of fields where the snow drifts were deepest will be full of volunteers. Where corn stood over winter there may be a lot of ears on the ground. They will sprout throughout the summer. Some volunteers won't be easy to spray out because they have herbicide resistant traits.
"2020 is going to be a better year," Hanson said. "It is just going to take a lot of planning and hard
Subscribe to receive top agriculture news
Be informed daily with these free e-newsletters
You May Also Like
---