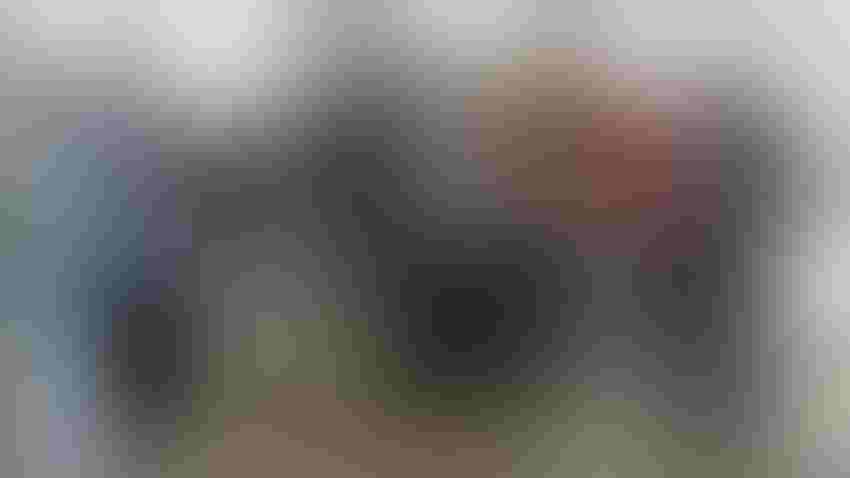 THIS YEAR'S HONOREES: The 2023 Iowa Master Farmer and Iowa Master Farmer Exceptional Service awards were presented in March during an awards lunch and celebration.
Jennifer Carrico
by Larry Buss
The Iowa Master Farmer organization really consists of two entities that work together to perpetuate the principles of good farming, clear thinking and right living. Those entities are the Iowa Master Farmer Association and the Iowa Master Farmer Foundation.
The Iowa Master Farmer Association recognizes individuals in two groups: outstanding Iowa farmers that have demonstrated good farming, clear thinking, and right living; and outstanding individuals who may not be farmers, but have provided exceptional service to the overall success of farmers by their focus on improving agriculture. The Iowa Master Farmer Foundation works to ensure that funding is available well into the future so recognition of outstanding farmers and individuals can continue.
This past March 29, the combined focus of these entities came together to officially recognize the Iowa Master Farmer Class of 2023 in an awards program and luncheon held in Ankeny. This was the 86th class. The total number of Iowans who have been recognized and honored by induction as Iowa Master Farmers is 492. While 492 is a lot of people, it really is not when considering the vast number of farmers working in Iowa since the beginning of the recognition in 1926. This demonstrates the true significance of the program and the real honor of being an Iowa Master Farmer. 
The Iowa Master Farmer Class of 2023 consisted of Jim and Donna Brown of Greene County, John and Mary Fischer of Pottawattamie County and Todd and Denise Wiley of Benton County. Their focus has been row crops or livestock or both, depending on the operation. The Exceptional Service Class of 2023 consisted of professors Paul Lasley and John Lawrence, both of Iowa State University. Their focus has been primarily in the fields of sociology and Extension, respectively. 
Nominate farmers
With the above as background, my focus in this article about Iowa Master Farmers is it is now time to nominate people for the next Iowa Master Farmer class: the Class of 2024. The nomination package is on the Wallaces Farmer website and is due Sept. 15. I am asking that you look around at those people in your area you know, you work with, you deal with, etc. who meet the Iowa Master Farmer qualifications. Good farming calls for a high degree of farming success in growing the operation and achieving a high level of profitability while also focusing on sustainability of the operation for future generations, including soil conservation, water quality, soil health, being innovative, etc. Clear thinking includes practicing good management skills, setting goals to move forward, focus on achieving those goals, etc. Right living includes reaching beyond the farm operation to serve their community by providing leadership to organizations at local, state and national levels with a constant focus on family. 
Take the time to nominate people who meet the ideals of being an Iowa Master Farmer. Many people may deserve an award but do not get it because no one nominates them. Do it now; don't put it off to tomorrow. I can attest to that need. My wife and I had one of our sons pass away this past April, truly unexpectedly. I learned firsthand to not put off things to tomorrow, as tomorrow for an individual may not come.
The nomination form for 2024 is available online at 2024 Iowa Master Farmer Nomination.
Buss is the president of the Iowa Master Farmer Association.
Subscribe to receive top agriculture news
Be informed daily with these free e-newsletters
You May Also Like
---